Alaska Dept. of Education seeks Director of Student Learning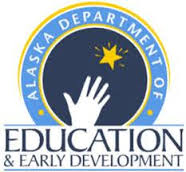 The Department of Education & Early Development is seeking an experienced, committed educator who understands the challenges and diverse needs of school districts across Alaska, and who is able to lead the work of professional educators in the division to meet those needs. The Director of Student Learning will work closely with other division directors to carry out the department's duties as defined in Alaska Statutes and in federal law.
The Director of Student Learning will be responsible, either directly or through division staff, for overseeing the work of the Deputy Director, the Rural Education Coordinator, an Education Associate, and four teams working to ensure that each student in Alaska is offered an education which meets the State standards, and has the supports necessary to achieve excellence in that education. Additionally, this position will be responsible for leading the work of the statewide assessment team to ensure that the department is assessing the efficacy of student instruction and offering assistance to help districts improve student learning.
The position is partially exempt, Range 27, with a minimum salary of $9,010.00 per month. The position is located in Juneau and will report directly to the Deputy Commissioner.
MINIMUM QUALIFICATIONS: 
A Master's degree in education.
Current Alaska Type B Administrator Certificate or proof of eligibility to obtain this certificate upon hire.
 Five years of experience in the field of education.
Minimum of one year of employment as a school administrator.
DESIRED KNOWLEDGE, SKILLS, ABILITIES, AND EXPERIENCE: 
Inspires confidence with loyalty, integrity, honesty, and a positive attitude.
Collaborates with administrative team, reporting staff, school districts, and partner agencies.
Solves problems creatively and with vision.
Organizes self and others with finely honed management skills.
Communicates effectively with staff, the State Board of Education, and school districts.
Exhibits effective interpersonal skills, particularly the ability to communicate with diverse cultural populations found in Alaska.
Experience maintaining or overseeing creation, maintenance, implementation, and assessment of academic standards for students.
Experience and strength in business management, including budget, procurement, and large service contracts.
HOW TO APPLY: 
Applicants shall submit a cover letter describing their qualifications and experience, a current, complete resume including dates degrees were awarded, and written answers of not more than two pages per question for each of the following:
1. What are your core values about teaching and learning?
2. Describe the three most important aspects of your leadership style and what you will bring to the Department of Education & Early Development.
Materials must be delivered to the address below not later than 4:30 p.m. Alaska time, March 15, 2017.
Office of Human Resources
Director of Student Learning Recruitment
Department of Education & Early Development
801 W. 10th Street, Suite 200
P.O. Box 110500
Juneau, AK 99811-0500
Alternatively, materials may be e-mailed to bobijo.grimes@nullalaska.gov.
For more information about the position, contact Bobi Jo Grimes, Human Resources Manager, at 907-465-5536.
Candidates who will be interviewed will be notified in late March and will be interviewed in early April.
The State of Alaska is an EEO/ADA employer. Individuals requiring accommodations should call 1-800-587-0430 or (907) 465-4095 in Juneau or (907) 465-2815 (TTY).