School Improvement
School Improvement Assistance For School Districts
The School Improvement initiative is designed to help districts re-engineer schools by focusing on the achievement gap. Closing this gap is guided by informed decisions focused on:
Examining student achievement
Aligning curriculum and instruction to standards
Building staff and school capacity
Developing community engagement and support
Redirecting and securing resources
Holding systems accountable for results
What is School Improvement about?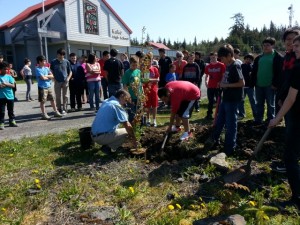 School Improvement is a comprehensive service that assists school districts and their local communities in raising student achievement to meet or exceed state standards by linking a shared vision for education with successful practices. This is made possible through careful examination and development in four major areas – leadership, programs and staff, community, parents, and students, and resources.
A tailored district level strategic planning process is utilized that brings all improvement efforts under one umbrella.  In the case of larger school districts that elect to focus their partnership on only a limited number of schools within their districts, improvement efforts are directed by updating individual school improvement plans.
Through the strategic planning process and follow-up implementation of action plans, school communities engage in deep introspection about student learning and factors that influence learning. AASB believes strongly in local control, and that the best outcomes for all students are strengthened through strong partnerships with parents and community members.
Once selected as partners, districts are eligible to negotiate CE contracts with AASB for funds to support community engagement, thanks to AASB's federal grant, Alaska Initiative for Community Engagement (Alaska ICE). These funds support positive community involvement in the education of Alaska's youth. These contracts range in size from $18,000 to over $75,000, depending on student enrollment and geographic issues.
Community Engagement is the intentional action of groups and individuals working together to create healthy environments that support the growth and education of children and youth.
How School Improvement Works
Step 1
Boards interested in this partnership apply during the spring. Upon conditional acceptance, an AASB staff member briefs district staff and boards on all partnership qualifications.
Step 2
School Improvement consultants conduct "inventories" from which districts are able to identify priorities. Inventory results help districts create "snapshots" of their current affairs, with focus on student achievement and the factors that influence it. An inventory is similar to an instructional management review. Inventory team members serve as visiting colleagues, not as evaluators. No individual in the school is being evaluated. Instead, the review team conducts in-depth interviews with board members, administrators, teachers, community members, parents, and students. The interviews are designed to ascertain district strengths and weaknesses, how decisions are made within the district, how the community is involved, what work has been done to meet state standards, and much more.
Step 3
Strategic planning is an essential step in each partner district's process. Strategic planning helps to establish a vision for the district and develops specific action plans based on an analysis of objective data that benefit student learning in quantifiable ways. Using existing student achievement data, inventory results, and action plans, districts are able to identify priorities and track progress on strategic planning goals.
Step 4
Areas identified as in need of improvement become the basis of a customized plan of professional assistance and guidance. Assistance is based on research and is provided by Alaskans who are acknowledged as experts in their field. Six years of implementation have demonstrated that the process facilitates measurable improvement in student achievement.
AASB School Improvement Partnership Districts (2002-2013)
| District | Partnership Term |
| --- | --- |
| Kodiak Island | 2002-2004 |
| Alaska Gateway | 2002-2004 |
| Yupiit | 2002-2004 |
| Ketchikan Gateway | 2003-2005 |
| Wrangell | 2003-2005 |
| Yukon Flats | 2003-2005 |
| Chatham | 2004-2006 |
| Dillingham | 2004-2006 |
| Pribilofs | 2004-2006 |
| Sitka | 2005-2007 |
| Delta Greely | 2006-2008 |
| Southeast Island | 2006-2008 |
| Unalaska | 2006-2008 |
| Lower Kuskokwim | 2007-2009 |
| Petersburg | 2007-2009 |
| Chugach | 2008-2011 |
| Cordova | 2008-2011 |
| Kenai | 2008-2011 |
| Southwest Region | 2008-2011 |
| Haines | 2009-2011 |
| Bristol Bay | 2010-2012 |
| Craig | 2010-2012 |
| Nenana | 2010-2012 |
| Kake | 2011-2013 |
| Kuspuk | 2011-2013 |
| Denali | 2011-2013 |
Early Learning District Partnerships
Dillingham
Lower Kuskokwim
AASB generally partners with a maximum of six to nine districts at any one time. Over time, AASB has also discovered that progress varies greatly from one district to another during the initial year of partnership as districts gear up and gain a more complete understanding of school improvement. Changes in administrative or board leadership at any point during partnership can also affect districts' ongoing activities. These combined factors make it feasible for AASB staff to serve a larger number of partners.
Partner districts must agree to ongoing participation in a variety of training activities offered by AASB including:
Attendance at the Annual Conference,
participation in AASB Boardsmanship Academies,
on-site school board training, and
other development and planning activities appropriate to the unique needs of the district.
All Alaskan districts can benefit from the process. The web pages are designed so that other districts can learn firsthand what is working in districts and potentially replicate the process for themselves. Partner district activities are also reported regularly in AASB's monthly newsletter, Commentary.
Partnership with Alaska ICE
Partner districts enjoy a close alliance with Alaska ICE. This initiative provides the support and resources to give Alaskans, at the local level, the information, tools, and assistance to work collectively to prepare Alaska's youth for the future. A highly experienced Alaska ICE staff liaison is assigned to each partner district to guide families, communities, and school constituencies in collaborative, strength-based approaches to positive youth development. It is AASB's strong belief that the resulting reduction in risky behaviors will lead to higher numbers of students who demonstrate proficiency on required state academic assessments. The overarching approach is to tap community and school strengths to develop additional supports for youth.