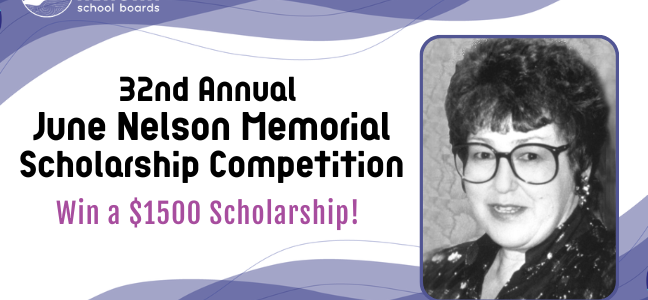 32nd Annual June Nelson Memorial Scholarship Competition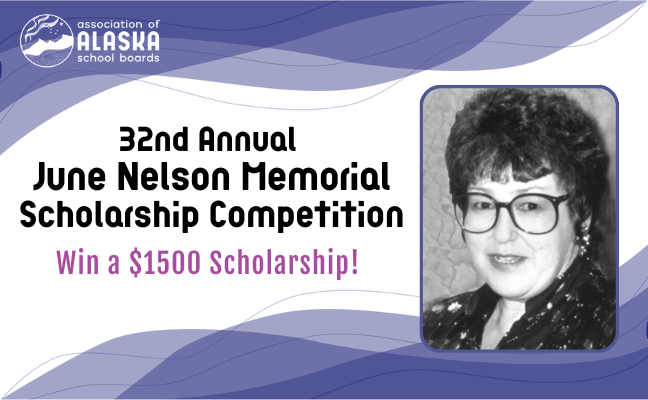 Win a $1,500 Scholarship!
Apply here for the June Nelson Memorial Scholarship:
Returning 2022 Winners
Winners from last year's competition are eligible to apply for a second-year scholarship. Please note this is a separate application with a different essay prompt. Returning winners, click the button below to apply!
2022-2023 Scholarship Application is Now Closed
The Association of Alaska School Boards is proud to announce its 32nd Annual Scholarship Award Competition. The June Nelson Memorial Scholarship is named in the honor of the late June Nelson, a longtime school board member from Kotzebue. June contributed much to the cause of education and will be remembered for her outstanding service on behalf of Alaska's children. This scholarship is made possible and funded by individual contributions of school board members and administrators from across the state!
This 2022-2023 school year, AASB will award up to fifteen $1,500 scholarships to apply toward post-secondary education! Up to two of these may be awarded to returning college sophomores. Up to two scholarships may specifically be given to students planning to attend trade/vocational schools.
Essay Prompt
"How important is your social and emotional well-being, and what aspects of your social and emotional well-being have helped you be successful?"
Please Note
All documents must be submitted in PDF format.
Once an application has been submitted completely, the student will receive a confirmation email.
If you have any questions or difficulties, please call 907-463-1660 or email us.
Deadline
The complete scholarship package must be submitted by April 1st, 2023, at 5:00 pm AKST.
---