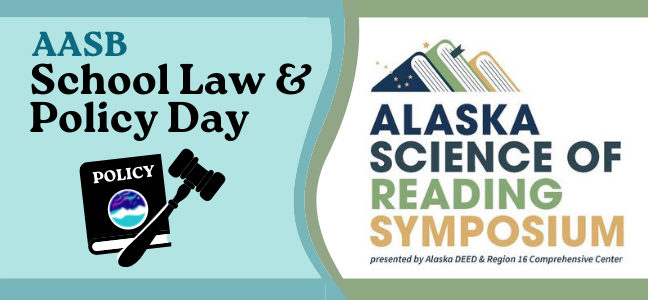 AASB School Law & Policy Day – Resources
Access resources here from the AASB School Law & Policy Day and the DEED/R16CC Alaska Science of Reading Symposium.
---
AASB teamed up with DEED and R16CC for a weekend Extravaganza focused on two critical Alaska Education matters: Education Funding and Reading.
AASB's School Law & Policy Day, originally planned for February, was rescheduled for April 28-29 at the William A. Egan Civic & Convention Center in Anchorage.
School Law & Policy Day attendees received:
Grounding in Alaska Education funding on a constitutional level (John Sedor) and a practical level (Luke Fulp, Deputy Superintendent of Business & Operations, Matanuska-Susitna Borough School District).
Presentation from Georgetown University Professor Chad Aldeman on "How To Make Money Matter More" which looks at how districts are spending money and whether current allocations line up with district goals, and "Where Did All the Money Go?" which will look at the $557 Million that Alaska has received from the three rounds of federal relief legislation, how it has been spent so far, and how district leaders can take steps to ensure it is used creatively and efficiently.
Civil Discourse on Education Funding Issues with the Professor (Chad Aldeman), the Commissioner (Michael Johnson), and the Legislator (Senator Tom Begich).
Following School Law & Policy Day, the Alaska Science of Reading Symposium co-hosted by DEED and the Region 16 Comprehensive Center (R16CC), featured national literacy experts presenting on current best practices and theories of change focused on understanding the science of reading.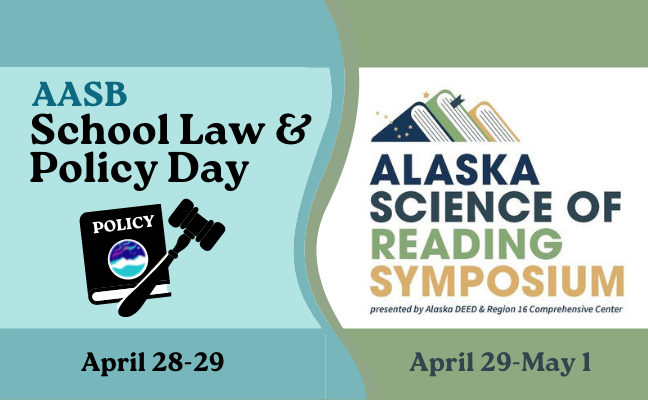 Resources
AASB School Law & Policy Day
Alaska Science of Reading Symposium