Board of Directors
A 15 member Board of Directors, consisting of 11 directors and four officers governs AASB. The Board, elected by membership at the Annual Conference, represents all regions of the state. The membership, as a whole, passes the resolutions, which establish the positions taken by the Association before the legislature and other agencies throughout the year.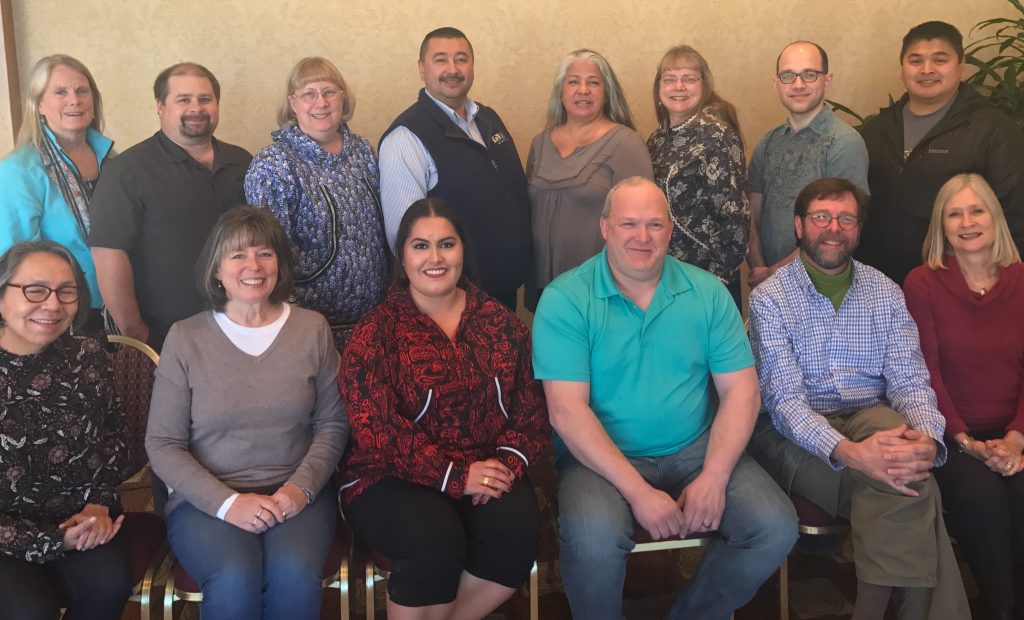 They are: (back row, left to right) Penny Vadla, Kenai; Josh Keaton, Juneau; Kathleen Plunkett, Anchorage (no longer serving on AASB board); Clarence Daniel, LKSD; Cass Pook, Sitka; Sarah Welton, Mat-Su (no longer serving on AASB board); Trevor Shaw, Ketchikan; Lawrence Jones, Northwest Arctic;  (front row, left to right) Barb Amarok, Nome; Secretary/Treasurer Tammy Pound, Unalaska; Tiffany Jackson, Aleutians East; President Mike Swain Jr., Bristol Bay; Past President Pete Hoepfner, Cordova; and Andi Story, Juneau. (Dana Mock, Delta/Greely — not pictured) (Katie Oliver, Kodiak — not pictured) (Deena Mitchell, Anchorage — not pictured)
---
Suggested Reading and Resources
A list developed by AASB's Board of Directors for new board members to better familiarize themselves with Alaska Native cultures and education in Alaska.
Upcoming AASB Board of Director Meetings
Nov. 12, 2018