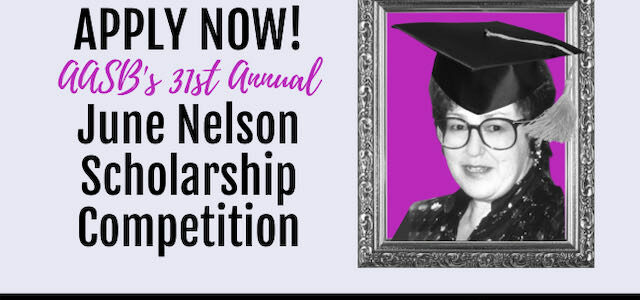 Apply for AASB's 31st Annual June Nelson Scholarship Competition – Deadline: April 1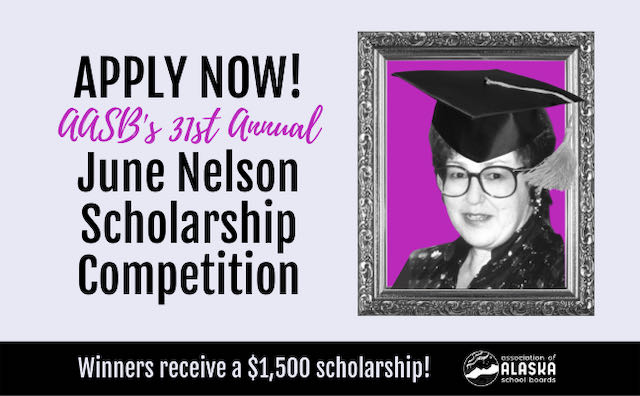 The Association of Alaska School Boards is proud to announce its 31st Annual Scholarship Award Competition. The June Nelson Memorial Scholarship is named in honor of the late June Nelson, a longtime school board member from Kotzebue. June contributed much to the cause of education and is remembered for her outstanding service on behalf of Alaska's children.
This 2021-2022 school year, AASB will award fifteen graduating seniors each with a $1,500 scholarship to apply toward their post-secondary education. Two scholarships may be awarded to returning college sophomores. June Nelson Memorial Scholarships may be applied toward a student's choice of a business, trade, or college institution.
For application guidelines and more information, click here.
Application Deadline: Friday, April 1, 2022 at 11:59 pm.
Winners of the 2021 scholarship may also apply. The deadline is the same but please note, the applications are separate with a separate essay prompt.
Essay Prompt
The theme of the AASB's 2021 Annual Conference is "Working Toward Equity and Inclusion." In light of recent messages and actions nationwide supporting respect for all peoples, please describe how you will move forward as a young adult to advocate for others and do your part to support equity and inclusion.
Required Information and documents to submit (please only PDF files):
Your name and school information.
Response to essay question – up to 750 words in length.
Student involvement and activities history.
Copy of high school transcript with cumulative GPA.
Acceptance letter from a business, trade, or college institution.
Two (2) letters of recommendation – one from a community member, and one from a teacher.
SAT or ACT Test Scores.
If you have any questions or difficulties with the application, please email or call us at (907) 463-1660.
---