Authentic Relationships with Students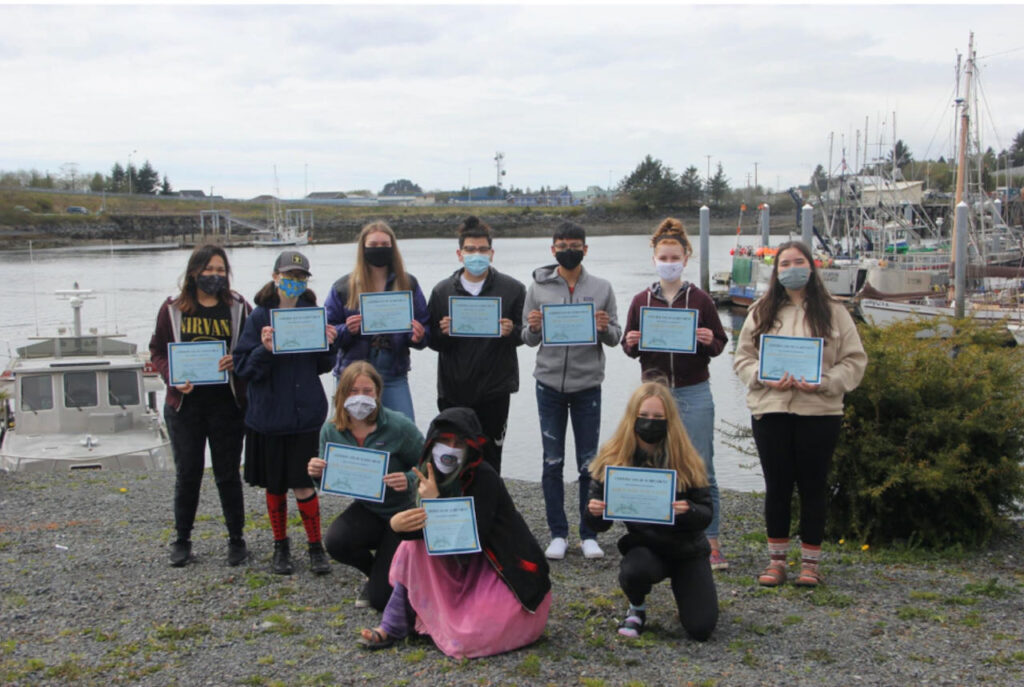 Student Support for Starting Off the School Year
Sitka Youth Leadership Committee (SYLC) members, youth leaders dedicated to promoting equity, diversity, and healthy relationships in Sitka and throughout Alaska, share that as students are returning to schools, they want adults to recognize the importance of listening to young peoples' needs and supporting them.
The COVID-19 crisis has impacted students' education greatly, and returning to school brings with it obvious stresses and concerns. The pandemic has isolated young people from friends and family, and presented mental health challenges. Especially given the difficult circumstances of the past year, it can be challenging for youth to balance school, work, extracurriculars, and the desire to change the world into a place they want to live, which is why young people need adult allies.
How did students cope with Covid 19?
This year's School Climate & Connectedness Survey (SCCS) tells us a little bit about how students from STEPS communities felt during the Covid pandemic and this past year. The survey asked students, families and school staff about feeling safe, connected, and supported.
Student Social Emotional Well-Being during the past year
72% of students said they felt overwhelmed trying to keep up with school work during COVID-19.
51% of students said they felt connected to their peers during COVID-19
44% of students said that it was difficult for them to use the distance learning tools
59% of families said their child was more anxious than usual since COVID-19
Student Support for Starting Off the School Year
While school staff are balancing their own emotional reserves and resilience from the past year, it is important to start off on the right foot and to support students as they transition back to school. While it may be tempting to jump right into academics, students need safety, support, routines and connection first.
The Sitka Youth Leadership Committee asks for adults to be allies. Former SYLC member, Esther Burdick, clarifies that "when we say 'ally,' we don't mean someone who takes up space in conversations targeted to youth or makes decisions for us." You may have heard the phrase "nothing about us without us"—used to communicate that no policy should be decided upon or enacted without the full and direct participation of the group affected by the policy.
This is what SYLC thinks is most important when talking about not just policy change, but adult allyship and supporting youth in general—not speaking for youth but uplifting their voices and allowing them to come to the forefront of conversations that are about them. SYLC encourages adults to listen to students' concerns and make them feel heard. Make sure youth have a seat at the table when discussing their futures, and take their ideas into consideration. Regardless if something is related to education, policies, or any other subject, the most important thing you can do is listen and make sure youth voices are heard.
Create the right balance for leadership
SYLC students remind us that it's important to avoid two extremes. The first is doing all of the work and not giving youth the space to take responsibility for their projects. Simply giving young people tasks is not leadership, is not empowering nor does it teach leadership; rather, adults should support young people in setting goals and identifying the steps needed to accomplish them. The second extreme to avoid is doing none of the work and allowing all responsibility to fall onto the shoulders of the youth. Adults working with young people should develop structures that create safe environments, teach skills, and ask open-ended questions.
While at times a hard adjustment for both students and school school staff, 85% of students said they felt supported by adults at their school during COVID-19. This is a huge victory for educators and for our communities.
Some Strategies from the Field:
These are strategies used by STEPS partners in out of school time and in school learning.
Build relationships and check in with your students:
Take the time to get to know your students. Build relationships with each student to develop trust and shared understanding.
Start or end the day with an SEL check in. This could include daily morning meetings and/or 1:1 conversations.
Focus on building trust and a safe predictable environment:
Listen to student wants and needs. Each student has had a different experience during the past school year and will need different support to successfully transition back.
Create a predictable routine for each day and week of the school year.
Help students and families understand school and classroom expectations and purpose, and create opportunities for feedback and conversations.
Create opportunities for conversations and healing:
When possible students need opportunities to have conversations about their experiences. Create times when students can share with each other, or spend time reflecting on the past year.
Share stories of resilience. This can be done using videos, guest speakers, storytelling, subsistence activities or book studies.
Link students and families to support outside of the school. This could include opportunities to connect with other youth, panels or workshops, and free online counseling.
Consider planning an event focused on youth mental health and resiliency. An example can be seen below.
Contributors: Darby Osborne and Esther Burdick Sitka Youth Leadership Committee, Student Interns.
AASB Staff: Jenni Lefing and Claudia Plesa.
For youth training for school staff or adult allies reach out to sylcintern@nullgmail.com
For more ideas on how to bring this into the classroom, check out the Trauma Engaged Schools Toolkit
---