Culturally Responsive Education – What is it and how do we move from the "Knowing to Doing" gap?

By Lisa Worl, AASB STEPS Partnership Coordinator
Last spring, several of our STEPS annual gathering participants participated in a book study of Culturally Responsive Teaching and the Brain with Zaretta Hammond.
That interest led to an opportunity for 30+ teachers, partners from Juneau, Sitka, and Chatham, Sealaska Heritage Institute, Goldbelt Heritage, and STEPS district staff and partners, to register and join a STEPS-sponsored Zaretta Hammond online training and learning community on culturally responsive teaching.
In the midst of the pandemic, this online, asynchronous training provided a year-long space designed to help teachers and administrators learn principles behind culturally responsive instruction and "close the Knowing to Doing Gap." The participating school staff fine-tuned their ability to use culturally responsive teaching and common language across their district.
While some school districts and partners have strived to offer accurate historical information and culturally responsive instruction, our districts continue to struggle with integrating Culturally Responsive Education (CRE) into all district structures, content, and classrooms.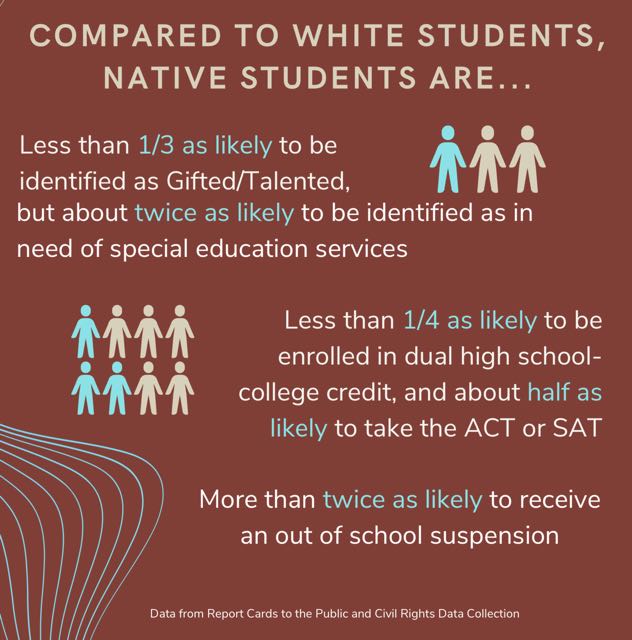 Phil Burdick of Sitka School District offered this insight after working with Sitka staff:
"(We) put this (data graphic, at right) together with and for the Sitka Tribe of Alaska, and I thought it was a good addition to our 'wallpaper' understanding of the Sitka School District. How do we get diverse students who have been under-served ready to accelerate their learning? This is what we are all trying to do through culturally responsive practices.
"But, too often we think the change needs to first focus on making content more responsive or relevant by diversifying or decolonizing the subject matter content. This is necessary at some point, but insufficient by itself to improve student learning. The idea that the primary way to be culturally responsive is to diversify the content is missing an important point — content is made relevant by the student, not the teacher. And, this idea plays into a key misconception about culturally responsive teaching — it is about improving the student's self-esteem and motivation, which is built on the faulty narrative of racial difference that says certain racial groups are not motivated toward self-improvement."
Elizabeth Kent with the Juneau School District offered this reflection:
"In the Juneau cohort, we had educators that span K-12 and work in 9 different schools. As we journeyed through this learning community together, we learned and grew as a group both in our conversations with each other and in deepening our understanding of Culturally Responsive Education. We shared ideas on how we could help shift our students from dependent or compliant learners to independent learners. We looked at data and really tried to better 'see the Wallpaper' that is the backdrop of our classrooms, schools, and district.
"We shared ideas on how to chunk learning and how to better develop relationships that would help us make content more sticky for our students. We shared strategies on how we could better make our classrooms more collectivist and embed the red thread of collectivism in our practices and approaches. Many of us shifted our thinking about Culturally Responsive Education itself. Recognizing that creating curriculum and context like decolonization, social justice, and place based are important in helping shift racist systems and structures, broadening perspectives, and engaging students can help support Culturally Responsive Education but are not enough in and of themselves. That at the heart of Culturally Responsive Education is using students' cultural knowledge as a scaffold in safe classrooms that develop all students' critical thinking and learning."
Zaretta Hammond's primary point is that students' learning is shaped by the "wallpaper" (what is commonly accepted but not discussed about students' learning) and the need for students to take an active role in their learning. Culturally responsive teachers support student learning by ensuring students move from being dependent to independent learners.
Across our STEPS Alaska community and across Alaska, our districts can enrich their students' learning experiences and success by providing professional development on CRE and working towards integrating culturally responsive education in their schools and classrooms. From what our educators have shared, this is not only an interesting way to teach; it is necessary.
---