MINI-SESSION SUMMARY: Advocacy on a Federal Level
Margo Bellamy, Anchorage School District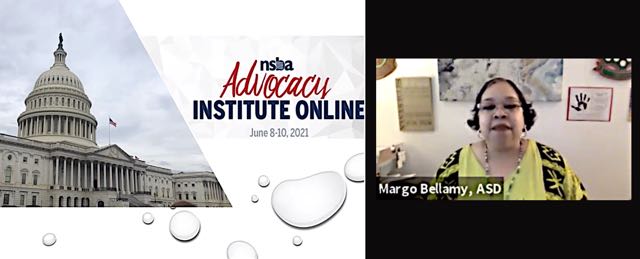 Margo Bellamy discussed the experiences she had while attending the last pre-COVID in-person legislative advocacy event NSBA sponsored in Washington DC.
She recounted that after spending 40 years as an educator focusing all her attention on schools and kids, she totally missed the advocacy piece. It wasn't until she ran for school board that she realized speaking on behalf of kids and families was her total responsibility.
Following her election to the board, she decided to attend the 2020 NSBA Equity Symposium and Advocacy Institute in Washington DC to educate herself. The event is designed to brief school boards on federal issues and the impacts that federal legislation and regulations may have on public education. There is also time allotted to meet with US senators and members of congress to discuss issues.
It is important to embrace national advocacy, she said, because that is where federal policies are set and we as board members can have a voice in that process. Telling our stories and building relationships doesn't stop at the local level, and it doesn't stop at the state level. We have to go higher to the national level.
National level advocacy shapes federal education policy, raises public awareness of critical issues such as school safety and champions the mission of public education to prepare our nation's youth for the future.
In an era of shrinking budgets and increasing mandates, our voice and advocacy are needed to help make a significant difference. It is not enough to leave it up to somebody else. We have got to set our agenda and give voice to it. 
The NSBA Advocacy Institute provided an opportunity to engage in the national conversation about public education. I met so many colleagues from across the nation that I am still in contact with today. It really helps to stay connected and talk to like-minded people. In addition to being an educational forum, the event was a also a great networking opportunity.
We met with our Congressional delegation on legislative priorities to ensure that Alaska kids get the support they deserve. We had meetings with Representative Don Young's aide, Senator Dan Sullivan, and Senator Lisa Murkowski. To this day I am in contact with their offices and if I have a question I can send an email or text and receive an answer. They are very responsive.
During our meetings we advocated for a range of education issues important to our state, such as such as E-Rate, broadband, teacher recruitment and retention, etc. Our six person delegation functioned as a team. Alaska education priorities were divided among us and each member was responsible for sharing their part. Because of our collective experience and expertise, our team was able to present Alaska's story in a very effective way.
The NSBA Advocacy Symposium was a great experience and connected me with other state and national colleagues in ways that have been invaluable.
The education of children must become a top priority of our nation's policymakers. We can also say the same thing about our state policy makers, and about ourselves as board members. I encourage you to continue telling your district's story about kids and learning.
Resources
---