Support Resources for Transforming Schools
Alaska Resources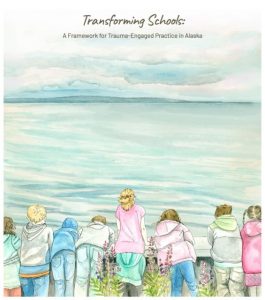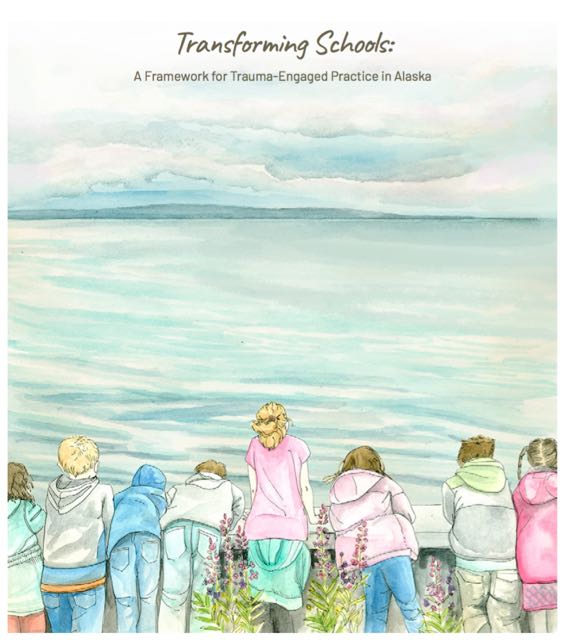 Transforming Schools – A Framework for Trauma Engaged Practice in Alaska
New Transforming Schools Toolkit Resources Are Available Here
As Alaskans we are resilient and on the cutting edge of transforming schools together by supporting the whole student and integrating trauma-engaged practices. New understanding into the impact childhood trauma has on learning and behavior empower schools to provide affected students what they need to succeed and to help break rather than inadvertently perpetuate the cycle of trauma.
This framework brings together lessons learned by school staff and community members within Alaska while integrating schoolwide trauma-engaged approach to improve academic outcomes and well-being for all students. Using stories, research, and best practices, this resource is designed for use by school/community teams seeking to make our schools a place of positive transformation and significant learning for each student.
About the Project
This framework was developed in response to requests from concerned Alaskans across the state. It is a collaborative project of the Association of Alaska School Boards, Alaska Department of Education and Early Development, First Alaskans Institute, Alaska Afterschool Network, Alaska Mental Health Board, Council on Domestic Violence and Sexual Assault, and the Alaska Child Trauma Center. More than 200 community members, school board members, school staff, counselors, nurses, and administrators contributed throughout the state contributed input and feedback.
How To Use The Transforming Schools Framework
Each chapter of this framework includes a story of a student or teacher. The example highlights common practices and transformative practices that consider trauma-engaged approaches. Each story is followed by relevant research and information, and suggested steps. Each chapter also provides essential reflection questions for school and district teams. These reflections can help be the building blocks for shared understanding and widespread integration of transformative practices.
Readers are encouraged to work through this framework with colleagues and community members, and to use the suggestions and reflections questions that feel most appropriate. To get started, readers only need an interest in learning, a commitment to student success, humility, and the spirit of collaboration.
For Additional Information
transformingschools@nullaasb.org
DEED-transformingschools@nullalaska.gov
Or these AASB Staff:
Heather Coulehan, SEL Coordinator, hcoulehan@nullaasb.org
Patrick Sidmore, Data and Systems Coordinator, psidmore@nullaasb.org
Claudia Plesa, Community Engagement Educator, cplesa@nullaasb.org
Konrad Frank, Community Engagement Educator, kfrank@nullaasb.org
Lisa Worl, Family and Partnership Coordinator, lworl@nullaasb.org
Lori Grassgreen, Initiative for Community Engagement Director, lgrassgreen@nullaasb.org