Qualifications of the Candidate
The Board of Education recognizes that selecting the superintendent is one the most important decisions it will make and is seeking a candidate that will guide the district to achieve it's mission to foster and encourage all students to excel to their potential. The successful candidate will be expected to guide and manage the District through the following projects already in progress:
• Implementation of the new strategic plan; (due for completion in late 2018),
• Implementation and transition to balanced governance; and
• Curriculum mapping and alignment initiatives in preparation for K-12 accreditation.
The Board is committed to a selection process that is fair and open to all qualified candidates. Priority will be given to candidates whose experience and background closely matches the following characteristics.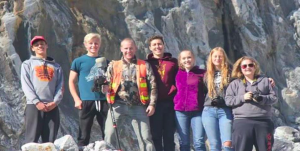 Professional Experience Minimum Qualifications:
• Hold or be able to obtain a Type B administrative certificate with a superintendent endorsement in the State of Alaska.
• Outstanding prior experience as a district or school administrator.
Experience and Skills:
• Grant writing and/or grants management.
• Creation, mapping, alignment, oversight, and implementation of curriculum.
• Strategic budget development.
• Employee (classified and non-classified) evaluations.
• Collaborative management and leadership skills.
• Communication skills focused on building lasting relationships with community, staff, and board.
• A person who values frequent and proactive dissemination of information to stakeholders.
• Strong desire to mentor and invest and develop professional staff.
• Working familiarity with Federal Programs as well as the Universal Services Fund and Erate as it pertains to schools.
• Data driven decision-making.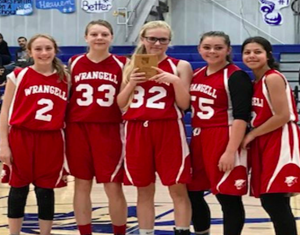 Personal Characteristics:
• Highly organized
• Community minded.
• Team builder and team player.
• Adaptable
• Flexible
• Active listener with strong communication skills
• Strong social emotional skills and awareness of non-verbal communication
• Strong moral compass and sense of integrity
• Problem solver
Compensation
Salary Range: The Board is willing to offer a competitive salary in the range of $105,000 to $120,000 DOE for a 260-day contract. The district also offers a health and life insurance package as well as vacation time.
Tentative Recruiting & Hiring Timetable
• Application deadline: March 23, 2018
• Interviews with Board: Week of April 9, 2018
• Employment begins: July 1, 2018

Wrangell School District Information
Current Budget
• Special Programs/Grants: $507,360
• Operating Budget: $5,879,652
Revenue
• Local: $667,799
• State: $3,641,119
• Federal: $848,488
Undesignated Fund Balance: $486,710
Current Student Enrollment:
• Evergreen Elementary School: 159
• Stikine Middle School: 65
• Wrangell High School: 85

Number of Employees
• Non-Instructional: 15
• Instructional: 42
• Administrative: 3
Wrangell Public Schools Board of Education
Georgianna Buhler President
Tammy Groshong Vice President
Aleisha Mollen Secretary
Jessica Rooney
Dave Wilson
The Wrangell Public School District is an equal opportunity employer.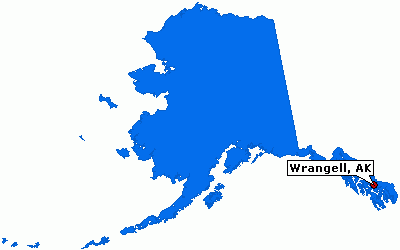 Additional Information About Wrangell
Follow the links noted on these web-sites to learn more about the district, its schools, the community, and its economy.
www.wpsd.us
www.wrangellchamber.org/
www.wrangell.com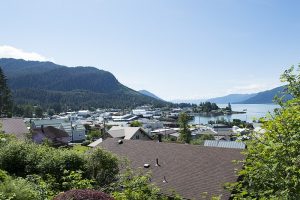 Wrangell, an island community of approximately 2400 residents, is strategically located in central southeast Alaska, in the heart of the Inside Passage and the Tongass National Forest. Wrangell is easily accessible to all other major southeast communities as well as 2 ½ hours by Alaska Airlines jet from the key hub of Seattle, WA, two hours from Juneau, AK and 3 ½ hours from Anchorage, AK.
Primary access to Wrangell is via Alaska Airlines daily jet service or by the Alaska Marine Highway System. Small fixed and float plane companies in Wrangell, also offer transportation between communities. Most boat charter companies also provide water taxi services to nearby communities.
Transportation within Wrangell is fairly easy. Many facilities are in walking distance with the downtown commercial area. The community offers a full range of amenities including a health center and hospital. A recent downtown revitalization project has made Wrangell one of Southeast Alaska's most picturesque communities.
Wildlife abounds in the area. A variety of excursions get you up close to glaciers, black and brown bears, eagles, sea lions, harbor seals, whales, salmon and halibut to name a few. Anan Bear and Wildlife Observatory is favorite spot to view brown and black bears feasting on salmon.
History and cultural influences can be viewed the Tlingit Chief Shakes Island and Tribal House Historic Monument, and Petroglyph Beach State Historic Park. Stikine River provides access to the places where gold miners camped and garnets were mined. The protected waters in Southeast Alaska provide excellent sea kayaking and opportunity for exploration by wildlife charter tours. Fishing is spectacular. Halibut and all 5 species of salmon, steelhead and trout are key targets by visiting fishermen. Muskeg Meadows Golf Course is a USGA regulation course and has tournaments almost every weekend.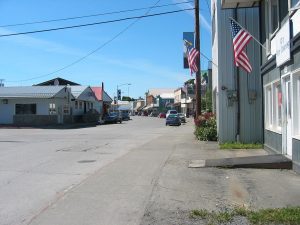 Wrangell Island has over 100 miles of forest roads that offer mountain bikers, hikers, RV'ers, and other explorers access to remote lakes, rivers, campsites, trails and scenic overlooks. If you prefer a birds eye view of the surrounding area, flightseeing to glaciers, fjords, or cabins on remote lakes, or to Telegraph Creek in British Columbia are options.
Wrangell, throughout its history, has been influenced by a variety of cultural and economic activities. From its earliest period of occupation, perhaps as far back as 8,000 years ago, people have taken advantage of Wrangell's unique setting. Petroglyphs found concentrated in the Wrangell area, give evidence for this early occupation.
Wrangell is the only community in Alaska to be governed by 4 nations and under 3 flags: Tlingit Nation, Russia, Britain, and the United States. Other cultures have influenced Wrangell including the Chinese that were imported to work in the fish canneries and the Japanese active in the timber industry.
Wrangell has experienced three gold rushes and was the first route to the Klondike Gold Rush!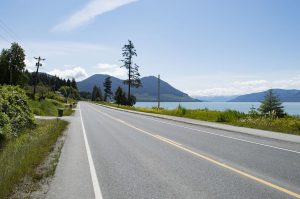 Wrangell Public Schools has three sites that serve approximately 300 students. These include Evergreen Elementary, Stikine Middle School, and Wrangell High School. The district has a reputation of high performing schools. Wrangell High School offers a full range of college prep and career technical courses with a robust extra curricular program. Many of the staff are long term employees with minimal turnover. The community and the district have low transiency rates and the district has been able to maintain a low pupil/teacher ratio. Visitors are welcomed into Wrangell's schools and volunteerism by families and community members is routine.