Academy for Experienced Board Members – The Perfect Pre-Conference Refresher!
No matter how long you've been at it, being an effective school board member requires keeping up with current best practices, new strategies, and emerging trends. AASB's annual pre-conference session, the Academy for Experienced Board Members, is the perfect refresher!
This informative day-long interactive seminar features knowledgeable presenters and in-depth examinations of multiple topics targeted explicitly to the work of boards. The Academy helps attendees to understand their role as board members better and prepares them for a richer, more productive annual conference experience.
This year's Academy focused on four essential board roles: Budget Oversight, Relationship with your Superintendent, Curriculum and Instructional Material, and Policy. Throughout the day, presenters shared best practices in each of these areas, as well as an overview of notable Board Standards.
Budget Oversight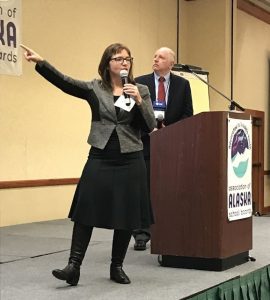 Unalaska City School District Superintendent John Conwell and retired district Business Manager Holly Holman delved into the board's role in finance. They explained how board roles are described in state law, district policies and board standards. A sample budget timeline over the course of a fiscal year was presented, along with related finance elements such as the budget cycle, monitoring revisions and monthly financials, and dealing with audits. Budgets were described as a tool" that represents the financial picture of the school district, providing planning for the future and expressing goals and priorities for the coming year. They are also a public relations document that tells the school story in dollars and cents, based on the best information at the time of development.
Attendees were asked to discuss and respond to the following questions about their approach to the budget process:
What are common questions you usually ask about the budget?
What are common questions you usually ask about the financials and budget revisions?
What are common questions you usually ask about the audit?
Relationship with your Superintendent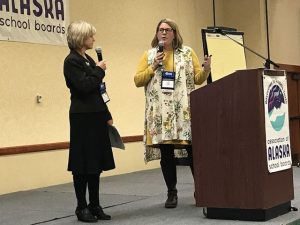 AASB Associate Executive Director Timi Tullis and Delta Greely Superintendent Laural Jackson focused on the importance of maintaining open and transparent communication between the board and superintendent. The realities of accomplishing a working partnership are complex, and board-superintendent relationships can vary between districts. It's important to remember that disagreements can be part of the relationship, but that strength can lie in differences, not similarities.
Relationship-building habits that can help build good communication with the superintendent include weekly check-ins, discussion of agenda items, and having your board calendar handy to refer to. Communication behaviors are also important, such as listening and speaking to be understood, and starting a discussion from the point of agreement, then moving slowly into areas of disagreement. Approaching discussions with your superintendent in good faith, and with a genuine interest in resolving differences can help build mutual trust, understanding, and a shared vision for the needs of students.
Curriculum and Instructional Material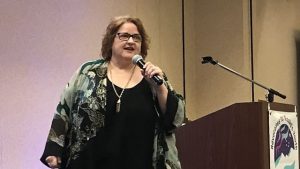 Sitka Superintendent Dr. Mary Wegner explained the board's role in approving district curriculum. Using Poll Everywhere, she led an interactive discussion in which attendees used their mobile devices to text answers to poll questions about what they think curriculum is, a board's statutory role in curriculum, and what board standards curriculum falls under. The group's responses were graphed onscreen in real time.
She recommended Open Educational Resources (oer.org), saying that a league of the most innovative districts have begun to use this resource. Wegner said OER doesn't rely on one vendor to provide the info on what's being taught. Instead, there are a variety of resources.
Dr. Wegner also pointed out that boards are the experts on policy and state mandates, and their guidance is necessary. Asking questions ensures that the committee is meeting the goals and objectives of the district. A transparent and public process with teachers at the core is vital when developing or adopting curriculum. Relying on experts within the district to deal with the specifics, and listening to the viewpoints of the community and committee members helps to inform board decisions, prevents overstepping, facilitates communication with the community, and develops relationships with district staff.
Policy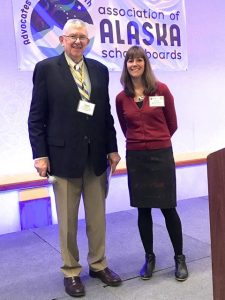 Co-presenters AASB Executive Director Norm Wooten and Juneau School District Interim Superintendent Dr. Bridget Weiss provided an overview of what policy is (and isn't), defined the connection between policy and governance, and outlined the purposes of policy. Simply put, board policy:
Provides the framework for the day-to-day operation of the district
Keeps decision-making situation-based and not person-based
Helps keep the Board focused on governance and Board business
Its main purposes are to help the board comply with laws, create stability, define responsibilities, ensure accountability, provide information, and protect the district in case of a legal challenge. Good policy includes all requirements, and should not contain any provision outside of the district's legal authority, or any language the district is not capable of implementing now.
Steps for creating policy include gathering sample policies, identifying options, legal review, board review and discussion, public comment, ensuring that the board and superintendent mutually agree on the policy's intent, ensuring any administrative regulations are aligned with board intention, board adoption, distribution of policy and regulations to all schools, and superintendent input to the board on any needed amendments as need arises.
Bonus Session: The Resolution Process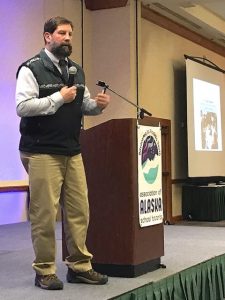 AASB School Improvement Coordinator Lon Garrison tracked the life of a resolution from origin to implementation, walking attendees through key steps that occur over a 6-month timeline, and defining participant roles.
Why do resolutions matter? The AASB staff, board and membership use resolutions as a basis for advocacy and deliberation. Resolutions also provide clarity and direction for testimony to legislative committees, conversations with the governor and legislators, and statements to the press. In short, resolutions let everyone know where we stand!
Participant Comments
The session concluded with attendees offering some of their takeaways from the day:
– "It was amazing to hear about policies. I took eight pages of notes, and I learned a lot. We're going to start reviewing our policies as soon as we get back home!"
– "We're focusing on curriculum this year. I got some great tips on how to move forward!"
– "I've heard a lot of pushback from the assembly and the public about our budget process, and it's nice to hear we're doing it right!"
It was a jam-packed day of useful strategies, practical guidance, and insider tips on how to be a skilled board member. We hope you'll consider starting next year's conference by attending the Academy for Experienced Board Members. We look forward to seeing you there!
# # #