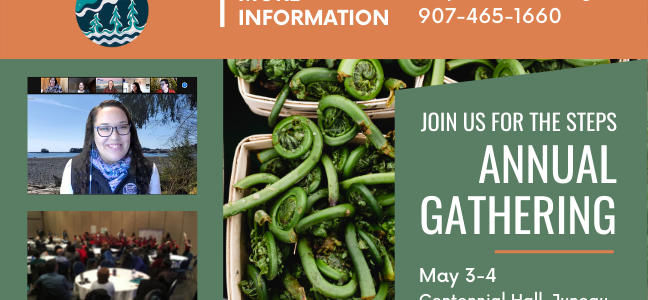 2022 STEPS Alaska Annual Gathering, May 3-4 – Resources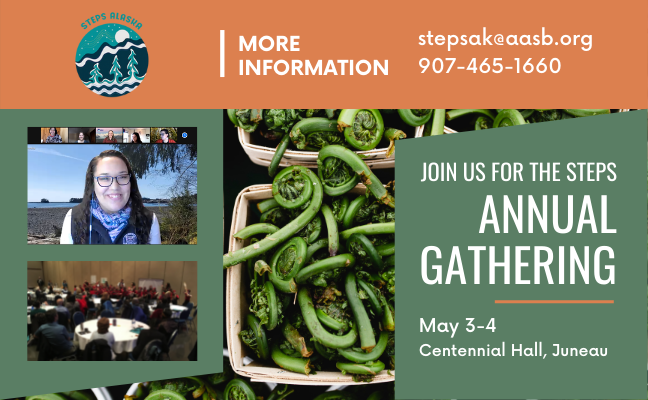 Our STEPS partners are doing amazing work in their communities to support students and families in meaningful ways. The annual STEPS AK gathering is an opportunity to learn from and inspire each other. We appreciate your willingness to share, align, and move forward our work together. AASB is looking forward to hosting this two-day in-person meeting.
---
Annual Gathering Resources
---
Reimbursement
AASB can reimburse for airfare, ground transportation (taxi/Uber), and lodging for core team members. Please fill out the form below.
Reimbursement Form – Must be completed by May 20, 2022
STEPS Resources
STEPS Newsletters
2022-05-26 STEPS Alaska Updates
2022-05-02 STEPS Alaska Updates
2022-03-25 STEPS Alaska Updates
2022-02-24 STEPS Alaska Updates
2022-01-31 STEPS Alaska Updates
2021-12-09 STEPS Alaska Updates
2021-11-18 STEPS Alaska Updates
2021-10-27 STEPS Alaska Updates
2021-09-17 STEPS Alaska Updates
2021-08-16 STEPS Alaska Updates
2021-05-24 STEPS Alaska Updates
2021-04-22 STEPS Alaska Updates
2021-03-19 STEPS Alaska Updates
2021-02-24 STEPS Alaska Updates
2020-11-20 STEPS Alaska Updates
2020-10-19 STEPS Alaska Updates
2020-09-04 STEPS Alaska Updates
2020-08-05 STEPS Alaska Updates
2020-05-29 STEPS Alaska Updates
2020-04-05 STEPS Alaska Updates
2020-03-31 STEPS Alaska Updates
2020-02-21 STEPS Alaska Updates
2020-01-16 STEPS Alaska Updates
2019-11-26 STEPS Alaska Updates
2019-10-22 STEPS Alaska Updates
2019-9-12 STEPS Alaska Updates
2019-5-28 STEPS Alaska Updates
2019-4-24 STEPS Alaska Updates
2019-3-26 STEPS Alaska Updates
2019-2-20 STEPS Alaska Updates
2019-1-30 STEPS Alaska Updates
STEPS Partner Meetings – notes, recordings
November 2021 STEPS Regional Round-Up – Lived Experiences
Slides | Recording
September 2021 STEPS Regional Round-up – Using data to inform our work
May 2021 STEPS Partner Meeting
Meeting website with recording and notes
May 2020 STEPS Partner Meeting
Meeting website with recording and notes
April 2019 STEPS Partner Meeting
PostSecondary Transitions Calendar
EC Work Group STEPS annual meeting 2019.04.30
Cultural Integration session 4-30-19
Chronic Absenteeism session 4-30-19
2019 School Climate and Connectedness Survey slideshow
July 2018 STEPS Partner Meeting
Early Childhood Work Group 2018.07.31
Superintendents Conversation 2018.07.31
Post-Secondary Conversation 2018.08.03
May 2018 STEPS Partner Meeting
Connecting the Dots – May 14 & 15 partner mtg notes
Gathering Notes: Intentions and Sharing
Work Group Results, Partners, Next Steps
STEPS In-person meeting presentation 2018.05.14
Reporting
STEPS 2021-2022 Reporting Quick reference
Reporting Webinar from April 8
Contractor reporting form (upload reports and documents here)
Appendix C – Scope and scaling
STEPS Partner 1 Page Summaries
Healthy Voices Healthy Choices
Community Dialogues
Archive