Youth Leadership and Engagement
AASB's Alaska Initiative for Community Engagement (ICE) was created with a big idea to look beyond the problems facing many young people and shift the focus to finding out what makes youth resilient and successful. In short, AASB members wanted to understand how to help kids succeed, including meaningful roles as youth leaders.
Over the years, Alaska's youth have shown they can be leaders in creating positive change in their schools and in their own lives. Caring adults, teachers, community organizations, and school board members create the conditions for youth leadership through their budgets, school district priorities, school-wide practices, and the opportunities and programs offered.
Why Does Youth Engagement Matter?
There are life-long positive impacts on students who are actively involved in their schools and communities. Engagement establishes skills and competencies that help youth solve community problems, improve personal goal-setting and decision-making skills, and contributes to improved self-image and high school completion rates. (Bloomberg, Ganey, Alba, Quintero, & Alcantara, 2003; Strahle 2013).
Schools that prioritize engaging youth leaders have stronger connections and relationships with their students. This can re-energize adults and contribute to an improved school climate.
How can AASB help our youth leadership efforts?
Local and regional youth leadership workshops: AASB's (The Association of Alaska School Boards') community engagement team offers comprehensive youth leadership programming to mentor and grow our next generation of leaders. Our (AASB) staff travel to schools and regional hubs throughout Alaska to offer customized, culturally relevant youth leadership workshops.
Youth Leadership and Youth Advocacy Institute(s): Our annual Youth Leadership Institute, held in Anchorage in November, and Youth Advocacy Institute, held in Juneau in February, bring together students from across the state to develop and practice their leadership and legislative advocacy skills. AASB recruits inspiring speakers and coordinates leadership-boosting activities that students can take back to their communities and put into action. During the institutes, AASB also offers workshops for chaperones and adults to strengthen relationship-building and mentoring skills.
Ongoing program development and support: AASB Staff assist school boards and districts to build capacity for youth engagement with workshops, mentoring and materials while providing advocacy and leadership skill training for their students. See Youth on Boards.
To find out more about AASB youth engagement and leadership services, contact Claudia Plesa.
Bering Strait School District & AASB Youth Leaders Partnership
Each year, the Bering Strait School District's (BSSD) Youth Leaders program partners with AASB to support student leadership skills and well-being while bringing those skills into practice through student-led projects. As one of the annual retreat speakers, AASB works with students to see a positive school climate as something youth can bolster. Knowing that youth are the experts in their communities and schools, students reflect on School Climate and Connectedness Survey data and then collaboratively identify what they believe their peers would like to see, hear, feel, be, and think in school. Students create meaningful projects based on this vision and the knowledge of their schools, communities, and peers.
The retreat activities allow students to focus on positively impacting their schools and peers as they learn to use a planning process they can adapt to anywhere in life. From their collective discussions, students begin addressing what strengths they can draw upon, what challenges they foresee, and what resources they have at their disposal to succeed in their vision.
We are honored to partner in this way with the Bering Strait School District and to have collaborated on many inspiring projects with the region's youth, including:
Planning subsistence and cultural activities
Reinvigorating drumming and dancing traditions
Building networks with elders and youth
Hosting family game nights
Leading positivity campaigns in school
We would like to thank and acknowledge the Bering Strait School District, whose dedication to the growth of their students made this partnership possible. BSSD Youth Leaders' best practices include training and supporting adult mentors for each school's youth leaders program, incorporating youth voices in decision-making, and training youth to become agents of change, all of which contribute to a strong leadership force in the region.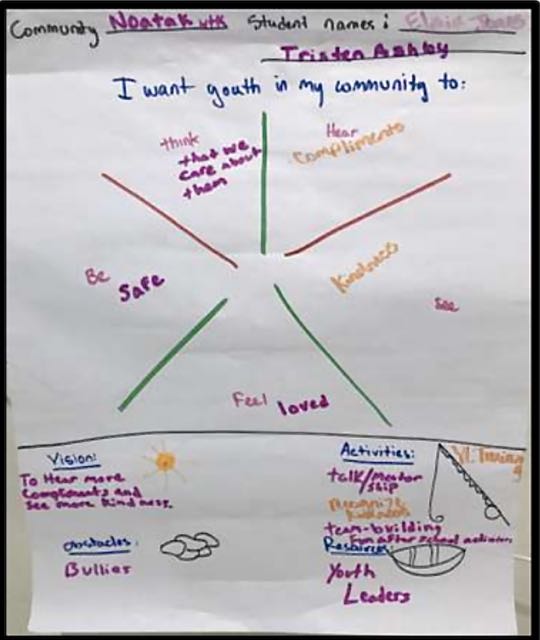 Youth Leadership Institute
YLI takes place in conjunction with AASB's Annual Conference. In 2019, YLI hosted more than 80 students who focused on leadership, self-care, and school advocacy skills by practicing critical thinking, empathy and public speaking. YLI is supported by school districts across the state and the Mental Health Trust Authority.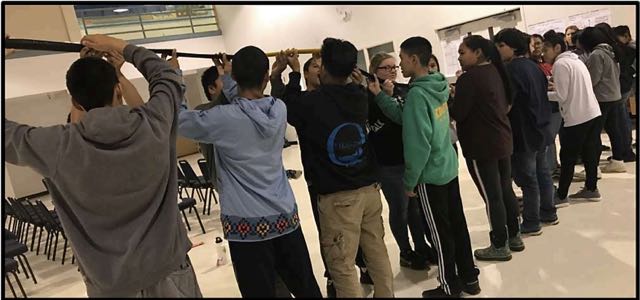 In 2019: 100% of attendees said YLI improved their leadership skills.
98% of attendees said YLI gave them opportunities to interact with students throughout Alaska.
98% of attendees said YLI helped them improve and practice their communication skills.
---
"One of my favorite things at YLI was the Empowerment Planning because the students got to brainstorm about so many things that are useful and ideas that could benefit everyone. The visions they had for the communities were amazing!"
---
How Do We Get Started?
There are many ways to approach youth leadership and engagement in your school. The only wrong way is not to include students at all.
Here are some tips for engaging students in the classroom:
Establish strong relationships with students, build on their strengths, and then connect them to opportunities. (see trauma-engaged schools – relationships as the foundation)
Create a safe and welcoming classroom with the resources you have, online or in person (see school climate and connectedness resources).
Give students a voice and a choice in day-to-day activities and big classroom decisions and create opportunities to build and practice leadership skills.
Understand and help students overcome barriers to becoming involved and create opportunities for engagement.
Find ways to make content relevant to your students and reflect the culture of the community.
Look at your school climate data to understand your students' perceptions of relationships, school climate, roles in decision-making, and culturally responsive practices.
Here are some ways that school boards and school administrators can help:
Ensure two student school board members represent your school. (see youth on boards).
Budget for and staff ongoing youth leadership opportunities and youth leadership groups that are culturally responsive and support achievable goals.
Include priorities in your strategic plan and advisory school board plans for youth leadership and staff training on youth leadership.
Value and support a culture of safe, nurturing learning environments for all students.
Create opportunities for youth and adults to work together as leaders when making decisions that impact students.
Establish intentional staff and peer recruiting strategies for youth leadership.
A Note on Equity in Youth Engagement: Use an equity lens when thinking about youth leadership. Some schools may support and include only students who come from families that have modeled leadership or who may be predictable student leaders. Examine your student leaders to see if they represent one economic class or other identifiable group by gender, race, or ability level. There can be unconscious bias when we choose students for youth leadership opportunities. Use strategies to gradually build leadership skills in your classroom with all students and expand the circle to more equitably grow student leadership opportunities and experiences.
Resources:
Youth on Boards – Includes resources for boards and youth school board members including:
Readiness Assessments for Boards
New Youth Board Member Check-Lists
Strategies for Youth Board Members
Logistics for Supporting Youth
Connecting to Alaska organizations that can help
Helping Kids Succeed – Alaskan Style – This book serves as a tool for individuals helping to make Alaska communities places where youth can grow up to be strong, capable, and caring. This inspiring, practical and easy-to-read handbook spells out 40 developmental assets young people need to shape their own success.