Alaska Needs More Alaska Native Educators (and the University of Alaska Southeast is doing its part!)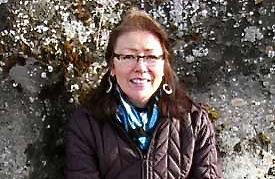 By Ronalda Cadiente Brown, UAS Assistant Dean, Indigenous and Multicultural Education, P.I.T.A.A.S. Director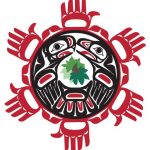 In Alaska, an estimated 5% of Alaska teachers are Alaska Native. The University of Alaska Southeast, School of Education Preparing Indigenous Teachers and Administrators for Alaska Schools (PITAAS) Program strive to increase the number of well-trained education professionals.
Education Commissioner Johnson noted teacher turnover in Alaska hit 12 percent for the 2015- 16 school year, the highest it has been in years. Our data demonstrate that PITAAS graduates maintain a strong connection to their home community.
The PITAAS Program provides scholarships for Alaska Native students achieving junior status and pursuing a degree leading to initial teacher certification or an advanced education degree or certificate. Initially a Southeast Alaska Native focus, PITAAS expanded in 2011 to state-wide outreach.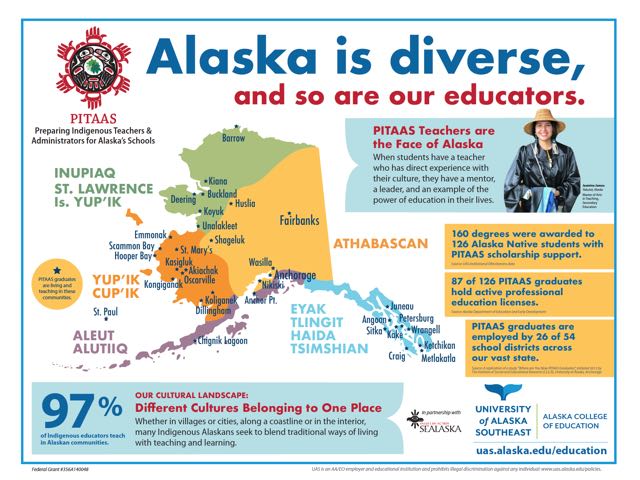 Download this poster as a PDF file
UAS recognized that part of the solution of teacher recruitment and retention, particularly in rural Alaska, would be to attract students to the wide range of education degree programs and supports both on campus and by distance delivery of courses. Within five years of program expansion, the PITAAS Program successfully reached all five regions (Arctic, Interior, Western, Southcentral, and Southeast) of Alaska, each with their distinct and precious Alaska Native cultures and environments. A review of data and research on graduates show an amazing impact.
Since the inception of the program in 2017, the PITAAS Program has served as scholarship support for 126 students representing 160 degrees and certificates. Of these students, 87 hold active professional licenses through the Alaska Department of Education and Early Development (DEED). In addition, PITAAS graduates are employed in 26 of 53 Alaska school districts. PITAAS graduates are employed in 34 Alaska communities.
PITAAS Graduation Summary
Associates and Bachelor Degree Programs: 70
Associate of Arts and Science, Early Childhood Certificate, Bachelor of Arts
Elementary Education, Liberal Arts, Science, Biology, Mathematics
Licensure: 25
Reading, Education Technology, Superintendent Endorsement
Graduate Degree Programs: 65
M.A.T. Elementary, Secondary, Education Technology, Learning Design & Technology; M.Ed. Education, Reading Specialist, Education Leadership, Mathematics, Special Education
The PITAAS Program addresses three priority support strategies in its program design for Alaska Native students: Recruitment with outreach to all Alaska Native tribal, corporation, and school districts, retention activities that include academic tutoring and advising, and cultural responsiveness through cultural activities, club, and events on the UAS campus.
Cultural Connections
PITAAS funds 25% of the Student Services Native and Rural Student Center Director to coordinate and host culturally responsive activities for students attending the UAS campus. Wooch.Een, Tlingit language refers to working together, is a student club meets weekly throughout the school year and is credited with enriching the UAS campus for all students and faculty.
Wooch.Een student club events can be found HERE.
In Partnership with Sealaska Heritage Institute, a Regional Native Corporation
The PITAAS Program sub-award includes close collaboration to develop culturally responsive training for School of Education Faculty, develop a media campaign to promote the PITAAS Program, and Tlingit Language resources to enhance the UAS Tlingit Language program.
Media Campaign
PITAAS, in partnership with Sealaska Heritage Institute, developed a media campaign including social media; coordinated advanced training for faculty; a speaker series of Alaska Native and American Indian educators; and support in the development of Tlingit language resources for the Alaska Native Studies Program providing historical recordings.
View the PITAAS promotional videos:
"I wish everyone could go through a program like mine. Go for it. It's the best. If you go through this program, you will be qualified. I feel like I can take on anything."

– M.H. (PITAAS graduate 2013)
UAS is home to the Preparing Indigenous Teachers and Administrators for Alaska's Schools (PITAAS) Program, an Alaska Native Education Program grant funded by the U.S. Department of Education PR#356A140048.
For More Information about the PITAAS program, please contact:
Ronalda Cadiente Brown, Assistant Dean, Indigenous and Multicultural Education & PITAAS Director
University of Alaska Southeast, 11066 Auke Lake Way, Juneau, Alaska 99801
Telephone: (907) 796-6058
Email: rcadientebrown@nullalaska.edu
Web: http://www.uas.alaska.edu/education/start.html
# # #
The views expressed here are the writer's and are not necessarily endorsed by the Association of Alaska School Boards. AASB welcomes diverse perspectives and civil discourse. To submit a Guest Column for consideration, see our Guest Column Guidelines and email your 400-1000 word submission HERE.