BOARD MEMBER PROFILE: Aleisha Mollen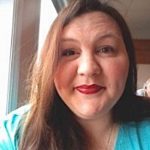 Aleisha Mollen, Wrangell Public School District
How did you come to be in Alaska?
I came to Wrangell, Alaska in 2010 to visit some friends. I found it to be like nowhere I had ever been, and the people were so kind and welcoming that I returned the next summer. At the end of that visit, I knew that I wanted to move here. So I went home, began planning, found a job, and moved to Wrangell in December 2011.
How long have you lived in your community?
I have lived in Wrangell since I moved to Alaska on December 29, 2011.
What are your career background and current job?
Before moving to Alaska, my background was in Human Resources. I had spent seven years in Recruiting, HRIS, and Payroll. After moving to Wrangell, I spent almost five years in the Financial Services industry before returning to HR. I am currently the Accounting Generalist/Deputy Borough Clerk for the City and Borough of Wrangell. I handle Human Resources and Payroll for city employees as well as Property Taxes and some Accounting. It's my dream job (but don't tell my boss or he'll never give me a raise)! 🙂
Describe a teacher or school staff member who influenced you.
When I was a junior in high school, preparing my schedule for my senior year, I found that I had two classes that I needed to take that were both only offered once and at the same time – English IV AP and Health Occupations II. I couldn't imagine taking either of the classes, so I came up with an idea and approached my Health Occ teacher, Mrs. Carrie Sisco with the concept. I asked if I could do an independent study since most of the classes would be me at a local doctor's office. She agreed, and it was the best opportunity for me to learn how to be responsible for my education and to think outside the box. The skills I learned through this have followed me throughout my life.
What might someone be surprised to know about you?
That I was an introvert as a child and a teen – being a single adult and moving 2500 miles away from my family really brought out the extrovert in me!
Why did you run for the school board?
As a student, I have been blessed with a great education and teachers who cared about making sure that we were not only knowledgeable but ready as well. I dream that each child has the same opportunity. By being a part of my school board, I have the opportunity to affect our schools and our staff so that this dream can become a reality for our students.
What special strengths do you bring to the board?
I think that one of the unique strengths I bring to the board is that I do not have children, grandchildren, nieces, or nephews that have been part of our school. Therefore, every child is my child. I come with no preconceived ideas, and I can advocate for each child as if they were mine.
What goals do you hope to achieve during your term?
I hope that at the end of my term we have more complete and comprehensive policies so that our administration, staff, community, and students have a clear and defined path to follow to set everyone up for success.
I also want to continue to better the climate between school, community, and board. We've made great strides, and I want it to continue.
How have you helped to improve education in your district?
My contribution to improving the Wrangell School District's education comes from being informed and asking questions. It is every board member's responsibility to know what is being put before them and to ask questions to understand that. I have taken the time to get to know my community, my schools, my staff, and my students because every decision I make, every vote I cast affects them. Asking questions to get to know them has been one of the most significant ways that I continue to improve education.
What's the hardest thing about being a board member?
The hardest thing about being a board member is that anyone who is not a board member with you will never understand it. You are privy to information and decisions that you can never tell anyone, even if you know that it would help people understand the whats and whys. People might not understand this, and it has the potential to affect relationships. It can be a lonely position. But more often than not, the good that you are doing far outweighs any bad that happens.
What's the best thing about being a board member?
The best part of being a board member is seeing the students succeed at any level. Seeing elementary students' presentations about programs that they have worked on. Seeing middle school students making the transition and beginning to bloom. Seeing high school students coming into their own and making plans for the future. And seeing graduated students moving into adult life, happy, productive, and good citizens of the world. Knowing that you had a part in this is the best feeling in the world!
# # #