BOARD MEMBER PROFILE: Aurora Johnson, Bering Strait School District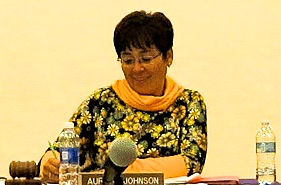 How did you come to be in Alaska?
I was born and raised here in Alaska.
How long have you lived in your community?
30 years.
What is your career background and current job?
I am a Dental Health Aide Therapist (DHAT) which is equivalent to a PA in the health field. I do 80% of what a dentist does drill, fill, extract etc. I just don't do any surgical procedures such as surgical extractions, root canals etc. I serve 5 communities here in the region: Unalakleet, St. Michael, Stebbins, Shaktoolik and Koyuk.
Describe a teacher or school staff member who had an influence on you.
My 4th grade teacher was always encouraging us to do our best and had so much confidence in us that we can be whatever we want to be. I remember him staying well after school so that we can do extra credit. We had him come back to speak at our High School Graduation.
Why did you run for the school board?
I ran for the school board because at the time I had 3 children in the school system and wanted to be more involved with their education. We had just moved back from New Zealand and being in another country and experiencing the education system there I realized I need to get more involved. It has been a pleasure serving.
What special strengths do you bring to the board?
I believe my strengths is having local knowledge of our region. With my job I get to see all the kids in the villages I serve and see first hand how they are doing. I have a sound judgment and keep the focus on what is best for all students.
What goals do you hope to achieve during your term?
Improve the overall learning environment in our classrooms, schools and district including the health, safety, security and happiness of students and staff. With budget cuts making sure we keep within our budget and ensuring the high standards of our kids education.
How have you helped to improve education in your district?
We as board members make decisions that directly impacts the future of our kids. The decisions we make help promote our kids to further their education either through college level or trade school. Stressing the importance of higher education to improve our regions quality of life.
What's the hardest thing about being a board member?
The hardest thing about being a board member is hoping and praying that the decision you as a board made was the right one. Making sure you are prepared for the meeting so that you make sound decisions with the knowledge you gained.
What's the best thing about being a board member?
I feel privileged to be on the Bering Straits School District Board of Education serving the students of our region. I get to observe the improvements we as a board make to better the quality of education. I get to see the difference we've made first hand by seeing more and more college bound students and graduates.
# # #
Each month we'll feature a different board member's story, as told in their own words.
If you are an Alaska school board member who would like to be profiled, click THIS LINK, and answer a few short questions. Before your profile is published in Commentary, you will be contacted to verify that you are the author of the information provided.