Creating a Culture of Computer Science in Alaska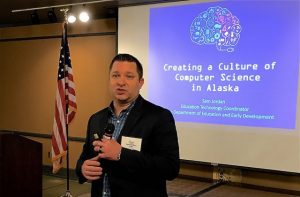 By Sam Jordan, Education Technology Coordinator for the Alaska Department of Education and Early Development
Computers, smartphones, smart systems, and other technologies are woven into nearly every aspect of our daily lives…the essential question for American education is: In a computational world, what is important to know and know how to do?

– Computational Thinking for a Computational World Report, DigitalPromise.org
Many of us have an image in our heads about what computer scientists do and look like. It often involves an isolated person, sitting in a dark room, typing away at a computer. It's an outdated image. The reality of contemporary computer science is that it is interactive, collaborative, and driven by an increasingly diverse, globally minded and creative workforce.
Computer science can be best understood as a mixture of four main concepts:
Knowing how to use computer code and computational thinking,
Having the ability to collaborate with co-workers around common projects,
Having an ethical framework of digital citizenship that guides the decision making process,
Having the ability to tap into individual and collective creativity that solves problems at the community, national or international level.
Alaska has an opportunity to embrace a culture of computer science, and in turn grow an economy of technology driven jobs that reflect our unique landscapes, cultures and aspirations as a state. This opportunity starts in our schools, with basic computer science instruction from kindergarten through 12th grade, continues on with vocational and college level training opportunities, and ends with a nimble, statewide job market that innovates around the needs of Alaskans and the Alaskan economy.
Industries in Alaska need workers with computer science skills right now. According to Code.org, there are currently 671 unfilled computing jobs in Alaska today. With average salaries of $84,747, these jobs fall well above the state average salary for all jobs of $56,710 And the choice of computer science jobs is diverse. Fields needing workers with computing skills include oil and LNG production, cyber security, healthcare, information technology (IT) and shipping logistics just to name a few.
A culture of computer science also means a lifestyle choice. Computer science skills are highly portable, and increasingly unbound to location. This means that skilled workers in Alaska could choose to work from their chosen community via broadband connection, and create work schedules that accommodate family obligations, recreation and subsistence calendars.
The Alaska Department of Education and Early Development and many school districts are raising up a culture of computer science in Alaska by creating professional learning communities around computer science instruction, writing new statewide computer science standards and fostering discussion with businesses that have a vested interest in creating an Alaskan computer science workforce.
As this work continues, Alaskan school boards can further promote this opportunity by 1) embracing curriculum options for their students, 2) empowering their teachers through professional development and 3) by engaging partners to explore how local communities can embrace and benefit from the promise of young Alaskans with these globally relevant skills.
Code.org Resource: Support K-12 Computer Science Education in Alaska
Sam Jordan can be reached at samuel.jordan@nullalaska.gov
# # #
The views expressed here are the writer's and are not necessarily endorsed by the Association of Alaska School Boards. AASB welcomes diverse perspectives and civil discourse. To submit a Guest Column for consideration, see our Guest Column Guidelines and email your 400-1000 word submission HERE.