Empower students to learn and lead with Alaska Close Up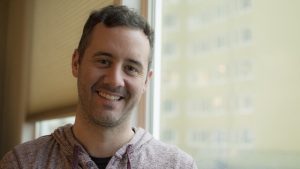 By Jeff Smith, Alaska Close Up Coordinator, SERRC
Today's students are tomorrow's leaders, and we don't have to wait until they're old enough to run for office or be appointed to a commission — or even vote — to send them to our Capital City.
Alaska Close Up introduces students to their state government and their duties as citizens "close up" when it really counts, when they're learning who they are and who they can become.
There are opportunities for students in seventh through 12th grade to visit Juneau for a week-long session to learn and gain hands-on experience through lessons based on local practices and issues, meetings with officials and mock hearings.
Students have unparalleled access to government leaders with this program, spending long hours in the Capitol. In 2018, students had a meeting with the governor and, yes, even took a selfie or two with the top official. Students had the chance to hold meetings with their own legislators and host legislators and staff at a luncheon, where they could share their experiences and hopes for the state.
Students form a mock legislature and hold mock committee meetings and hearings, listening, debating and voting as their peers testify for or against current, high-interest legislation that mirrors what's going on in the state at the time.
Across the street at the Dimond Courthouse, a mock trial will have students exploring the somber duties of our justice system. Students partner with actual judges and attorneys and play those roles, as well as the defendant, plaintiff, juror and witness, enacting the process of a trial with a case concocted by volunteer attorneys.
Students leave with a better understanding of how their government works and their role in it all while building memories that will last a lifetime. They learn about their role as constituents and the power they have even now. They learn about their duty as future voters and leaders.
Whatever each student's future holds, there's something to be gained from an experience like Alaska Close Up. It's difficult for districts to allocate limited funds to meet the various needs of students, but I'll argue for the importance of choosing a program that teaches students the value of civic engagement and shows them the power of their own voice and their own vote.
I look forward to the next generation of engaged, informed voters and committed community leaders. I hope I'll see them in Juneau in February 2019.
You can find information about Alaska Close Up by visiting serrc.org/alaska-close-up, emailing closeup@nullserrc.org or calling 907-586-6806 and asking for Jeff Smith or Pat Bock.
Note: There is an opportunity for partial tuition reimbursement through the Department of Vocational Rehabilitation for students who with an IEP or 504 Plan, or for those who may experience difficulties learning.
Important dates:
Session 1: February 10-15, 2019
Session 2: February 24-March 1, 2019
District Registration Deadline: December 20, 2018

# # #
The views expressed here are the writer's and are not necessarily endorsed by the Association of Alaska School Boards. AASB welcomes diverse perspectives and civil discourse. To submit a Guest Column for consideration, see our Guest Column Guidelines and email your 400-1000 word submission HERE.