PEAKS Results Are an Opportunity to Increase Our Sense of Urgency and Commitment to Excellence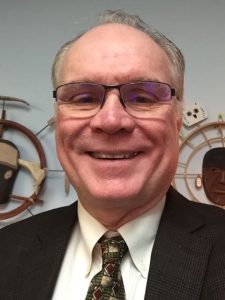 By Rob Picou
Superintendent, Lower Yukon School District
Twenty years ago, as a new teacher in rural Alaska I gave two nice ladies from Juneau who worked for DEED a ride from the airport to the school. I remember one was wearing a bright orange Patagonia. It was right after the first Standards Based Assessment (SBA). Back then, if the majority of the students in a school were below proficient the school was labeled a School in Crisis. As we were driving back to the school, the lady in orange asked, "So, what do you think of the first SBA results?" I responded, "It seems like you folks have spent a lot of money trying to figure out who is in crisis. All you had to do was call and ask me."
Now twenty years later we must respond to the new PEAKS results. As the superintendent of a large REAA with a very high below and far below proficiency rate, I weighed my options. I could say it is just one test on one day in a year, one standard deviation away from proficiency, or even claim cultural bias all of which would be accurate, but it would not change the underlying reality that an unacceptable number of students in rural Alaska are not proficient in reading, math, or science.
There is simply no way to respond to our PEAKS results other than as a crisis. The Lower Yukon School District believes it is in our students' best interest to use the PEAKS results as an opportunity to increase our sense of urgency and commitment to excellence.   We also believe we should use these results to advocate for greater support from our local, state, and federal government. There are many principals, teachers, paraprofessionals, and other classified staff who are working hard to raise academic achievement levels for all students. There are also many parents and grandparents who want the best for their children. It is evident from the PEAKS results our schools, our parents, and our students need help and support.
Our students are so much more than a test score. Given the absence of early childhood education, high educator turnover, flat funding for four years, high levels of poverty, and many, many other challenges these results do not represent our students. These results represent our best efforts as an educational community and the State of Alaska to educate children. We own these results.
The Lower Yukon School District is responding to our PEAKS results by sincerely listening to our parents, grandparents, and community leaders and encouraging a shared responsibility for student learning. We are holding Collective Community Impact meetings in all ten communities. In Hooper Bay, we had over 100 parents, educators, tribal leaders, community leaders, and elders in a three-hour small group discussion about education. We discussed the importance of learning the instinct for survival from nature and becoming a musk-ox herd that protects our youth. We talked about how the schools cannot do the job alone, that without parents and the community joining the schools in a shared responsibility for learning, most students will continue to struggle in school.
We support Governor Walker's Education Challenge but hope those involved spend time listening to parents of children who have not been successful in school. It is evident by all measures our current model of education is not meeting the needs of too many students in rural Alaska. If McDonald's was losing this many customers, they would stop selling hamburgers. Therefore, we hope for transformative change that leads to robust personalized learning experiences for all Alaskan students. We also hope for a continued dialog with the Department of Education and Early Development and the State School Board that empowers local communities to be meaningfully engaged in the conversation about education for their children. For too long, education has been done to Alaska Native people. The PEAKS results demonstrate it is time to do education with Alaska Native people.
As the superintendent of the Lower Yukon School District, I am encouraged about the future because I see our many small successes every day. Last week, I spent time in some excellent classrooms. I watched an expertly trained paraprofessional teach a lesson in reading, a Yupik teacher teach a song. I witnessed a class full of beautiful children paying attention to their teacher while engaged in a learning activity. I am encouraged about the future because I have confidence every school and community can develop the instinct for survival like the musk-ox herd and do whatever is necessary to protect their young. I am encouraged because I have faith in our students.
After twenty years of working in rural Alaskan communities, to the two nice ladies from Juneau, a more appropriate and not so cheeky response would be, "The new Peaks results represent a significant crisis in rural Alaska and how we respond to these results and that we haven't adequately responded to prior results says more about us than about our students."
# # #
The views expressed here are the writer's and are not necessarily endorsed by the Association of Alaska School Boards. AASB welcomes diverse perspectives and civil discourse. To submit a Guest Column for consideration, see our Guest Column Guidelines and email your 400-1000 word submission HERE.