Remembering Bettye Davis: Senator, School Board Member and Dedicated Youth Advocate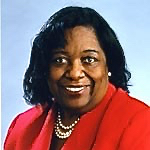 By Norm Wooten, AASB Executive Director
Any time we lose a friend it is in our nature to recollect that person's life and the impacts they might have had on us. As I reflect on the life of Bettye Davis, there are things I should have told her prior to her passing.
My first meeting with her was as a "newbie" school board member in the office of Representative Bettye Davis in her Juneau office. Bettye and I had very different political beliefs, but it did not matter to her. She saw in me a kindred spirit in our passion for a great education for every child and in her eyes, that spirit transcended political affiliation. Nor did she care that I was not a constituent – only that I could be a partner in her quest to improve the lives of children. Our appointments frequently ran beyond the typical fifteen-minute limit until we came to an understanding for moving forward.
Make no mistake – Bettye was not always the voice of smooth political platitudes. Over the years I was frequently the recipient of Bettye waving her finger in my face, demanding and challenging me to support legislation that was good for kids. On those occasions, I felt as if I was being lectured by my mother! I found my responses confined to "yes ma'am" or "no ma'am," not out of fear, but out of respect because her concern for children was evident.
Much has been said about the groundbreaking journey for her race in the Alaska Legislature. While that is true, my recollection is that she had a love for ALL children and was an untiring advocate for them. Betty Davis was "one-of-a-kind" and will be missed.
Bettye, on behalf of Alaska's children, thank you for your service. You were our conscience for those children.
# # #