Resources for Parents and Educators with Students at Home

Alaska schools have closed in response to the coronavirus, and teachers, parents, and caregivers are searching for new ways to deliver instruction and daily activities that are educational, creative and entertaining for students. If you are facing this challenge, there are many online resources listed here that can help, as well as numerous companies offering their platforms and materials for free. This list is being updated frequently, so check back to see what's new. Have a suggestion? Send it here
Alaska Books
Alaska Native / American Indian
Art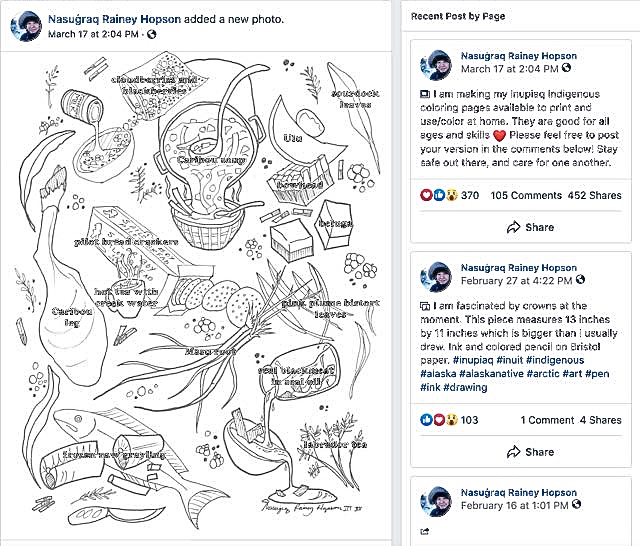 Computer Science
Cooking
Free Digital Cooking Classes For Kids Every Week Day
Distance Learning
Early Childhood
Educational Activities
Educational Content
Common Sense Media: Wide Open School – Common Sense and 25 organizations worked together to collect the best digital learning resources.
LEAP Innovations: Sifting Through the Digital Learning Options – The Most Powerful Personalized Learning Edtech Tools Curated by LEAP
Quill: Writing and Grammar Resources – Free access to Quill Premium, which is a suite of tools to help improve writing and grammar skills
Achieve3000: Reading and Literacy Resources – Free access to Achieve3000 and Actively Learn
ELLevation: Distance Learning Activities for English Language Learners – Activities that will help ELL students better understand videos that are sent by teachers in remote learning
GoPeer: Students from Harvard, MIT, UC Berkley Give Free Tutoring to K-12 Students – GoPeer.org pairs vetted college students who attend top-tier universities with students between the ages of 5–18 for 1-to-1 tutoring lessons.
UC Davis: At-Home Science Activities, Videos, and Citizen Science for Kids – A compiled list of free indoor and outdoor STEM resources. Check out the links for some of our top choices for at-home, STEM educational resources.
Cox Campus: Online Preschool – During the Covid-19 crisis, students can enroll for free online pre-school lessons and learning experiences so your child can keep learning at home
Girls Who Code: Code at Home – In response to the COVID-19 pandemic, which has led to school closures and significant disruption to daily life, Girls Who Code is making CS educational activities available for download free of charge.
MIT Open Learning: Best Online Educational Resources for When You're Stuck at Home – With Kids! – Resources you should bookmark for the next time you're ready to throw the iPad out of the window.
Edutopia: Apps for Students With Special Needs—As School Buildings Shutter – The coronavirus creates a unique challenge for students with special needs—educators share recommendations for apps to support learning at home.
Transcend: Pop-Up Homeschool Tool: A resource list and schedule generator for parents and educators to help design the day at home
Newsela: Helping you plan and continue instruction during the COVID-19 crisis – New articles published every day written in multiple reading level! Newsela is offering free access and advice for distance learning.
Khan Academy: Khan Academy's remote learning tips and tricks. Sal Khan also made a sample schedule for learning from home using Khan Academy.
Epic: School Closed? Epic can help. – Epic is like a Netflix for kids books and is free during this time.
CommonLit: Resources to Support Teleschool Plans: COVID-19 – CommonLit has free and high quality literacy resources.
ReadWorks: Remote Learning Resource Page – Free literacy resources, curriculum, and tools
Overdrive: Libby – Many public libraries use Overdrive so check out their Libby app.
Dreambox: While your kids are at home, keep them engaged in learning with our 90 Day FREE Trial! – Dreambox is a K-8 math online learning program.
Mangahigh: Full Access to Mangahigh for Distance Learning Maths Amongst COVID-19 School Shutdowns – Mangahigh is now free and contains math content for students aged 5-16(ish).
Zearn: Distance Learning with Zearn Math – Zearn is a highly rated K-5 math program that is free and is providing lots of distance learning resources.
Kiddom: Digital Hub for Teaching and Learning – Kiddom is an LMS that includes open education resources (for teachers and students) and is free for teachers.
Mystery Science: School Closure Planning – Mystery Science has free science lessons for teachers and parents.
ST Math: Coronavirus Resources – The popular ST Math program is being offered free of charge during this time.
African American Homeschool Moms: Cultural resources – This website offers a variety of resources including links to TedTalks geared to help African-American parents as they take on the role of teacher.
Galileo Learning: High-quality, engaging activities – Ignite your child's inner innovator by adding one hour of Camp Galileo Anywhere to your daily schedule.
Real Time Curriculum Project: Collections – Curated list of current events resources to build a curriculum for "now."
Rock by Rock: Hands-on Learning Projects Delivered – At Rock by Rock our mission is to equip families and educators with the tools, resources, and supports they need to build socially responsible learners who are confident, capable and ready to lead by making our world a better place one rock at a time. (COVID-19 discount)
Educational Tools
Equity
Fall School Reopening Information
Family Resources
Finance
General Resources
Happiness
Health
Home School Design
Informative Articles and Resources for School & District Leaders
Internet Service Providers
Language
Math
Mental Health
Child Mind Institute: How Mindfulness Can Help During Covid-19 – Tips for calming anxiety during a difficult time
*NEW* KQED Mind Shift: Six Age-Appropriate Books and Resources for Teaching Kids about COVID-19 – Adults and children have a lot of questions about COVID-19. These six resources developed by teachers, epidemiologists and global journalists can help deepen a student's understanding of the topic.
Child Mind Institute: Supporting Families During COVID-19 – A wealth of resources for educators and familities
Psychology Today: Parenting During COVID-19 – Advice for how parents can support their kids and themselves at home
PBS: How You and Your Kids Can De-Stress During Coronavirus – Advice for how parents can support their kids and themselves at home
10 Percent Happier: Corona Virus Sanity Guide – Meditations, podcasts, blog posts, and talks on this page will help you build resilience and find some calm amidst the chaos.
Yale Center for Emotional Intelligence: Managing Anxiety Around COVID-19 – Between the uncertainty, the real health risks, and the hype, fear and anxiety are feelings that are both valid and common. This resource provides a few ideas for managing those feelings.
The National Child Traumatic Stress Network: Public Health Resources – These resources will help you think about how an infectious disease outbreak might affect your family— both physically and emotionally—and what you can do to help your family cope in times of public health emergencies.
Edutopia: Teacher, Interrupted: Leaning into Social-Emotional Learning Amid the Covid-19 Crisis – Advice for how to use evidence-based SEL to support ourselves and our students when we eventually return to school
Edutopia: Teaching Through a Pandemic: A Mindset for This Moment – Advice for coping through this difficult time.
Using Zoom for Tele-therapy – Anchorage Community Mental Health Services and Fairbanks Community Mental Health Services are using Zoom to connect with clients. A picture is worth a thousand words, so when possible, we use Zoom to connect with video. We use an encrypted version of Zoom that is compliant with healthcare privacy laws.
Mobile App: COVID Coach – The COVID Coach app was created for everyone, including Veterans and Servicemembers, to support self-care and mental health during the coronavirus pandemic. Features include education about coping during the pandemic, tools for self-care and improving emotional well-being, graphs to visualize progress over time. Download: iTunes (iOS) or Google Play (Android).
UAA Psychological Services Center (PSC) is offering free telehealth COVID-19 Coping Sessions for people struggling with sadness, loneliness, anxiety, trouble sleeping, lack of motivation or other behavioral health issues. Call 786-1795 to schedule.
Careline is free and confidential. Contact us if you are in crisis, you are a survivor (of an attempt, or if you lost someone to suicide), you are grieving, you are concerned about someone, you are feeling down and need someone to talk to. 1-877-266-4357
Music
Non-Profit & Small Business Assistance
Alaska plans to take applications for small-business aid. To apply, a business needs to complete a copy of the business grant application, a copy of the current business license, all documents needed to open a business account with Credit Union 1, and a completed list of "eligible expenses."
Parent Resources
Photography
Nikon is offering free online photography classes for all of April
Physical & Movement
Go Noodle – Games to keep kids active while learning, encouraging movement and mindfulness. 
Post-Secondary
Reading
Remote Teaching
Remote Working
Resource Collections
School & System Action Plans
Science
Science Journal by Google – Turn your phone into a lab sensor to collect and analyze data
Science Curriculum Available For Parents During School Closures – Ohio Oil and Gas Energy Education Program
Story Time From Space – Story Time from Space is a project of the Global Space Education Foundation. While in space, astronauts videotape themselves reading books to the children of Earth.
Science Time From Space – Understanding basic science concepts is key to enjoying STEM and the world around you. Astronauts onboard the International Space Station have conducted experiments to explore some basic science concepts. Come explore with the astronauts! Use the arrow beside the Science Time Video Tab to access the videos.
Social-Emotional
Statewide Safety Services
Students with Special Needs
Technology Teaching Tools
Trauma-informed
Videoconferencing
Virtual Field Trips
Virtual Teaching Tips
YouTube Educational Videos
Art Videos
Art for Kids Hub has an enormous range of 'How to Draw' videos and art/craft ideas.
5-Minute Crafts Play shares craft ideas, experiments, and tricks that you can try together.
Disney Junior also has a playlist of videos from their Art Attack series.
Easy Kids Craft has lots of enjoyable craft activities that you can complete.
Free School has a playlist of videos that can teach your children about famous artists from history.
English Videos
General Videos
Geography Videos
History Videos
Maths Videos
Music Videos
Physical Education Videos
Science Videos