Thoughts on District Leadership and the Superintendent/Board Relationship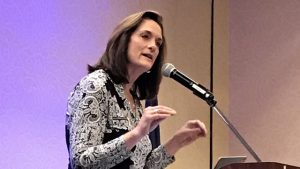 By Dr. Karen Gaborik, Superintendent of Fairbanks North Star School District and 2019 Alaska Superintendent of the Year 
Remarks to the AASB 65th Annual Conference Saturday Awards Banquet
Thank you so much for having me. There are over 48 districts represented at this banquet tonight, and this conference is for school board members. So I'd like to share with you a few thoughts on district leadership and the superintendent/school board relationship.
Superintendents work hard for you. We are keenly aware of who are bosses are, and unlike almost any other industry or business sector, this is a constantly changing landscape. The turnover in some districts is significant. I've talked to superintendents who have only been in the job a few years, and none of the board members who hired them are still on their school board. But every single one of these superintendents is so excited about their work in your communities and so excited to be here with you. We each embrace you, our board members, and we embrace our work as leaders of the district because we believe in the communities where we live, we believe in the people on our teams, and we believe in the students and the causes we serve.
I live in Fairbanks, and we serve two military installations in our district. A couple of years ago I was invited to speak at a leadership training the Ft. Wainwright garrison commander was holding. He saw the work I was doing with my executive team at the district office, and he shared a similar passion for building leadership capacity. He invited me to join him for one of his team trainings and to present to his group. The person who opened the session that morning was Major General Bryan Owens, Commanding General of US Army Alaska at the time. In his welcoming comments, he said, "Always keep in mind your perspective. When you get into senior leadership in your organization, you have a perspective that none of the rest of the organization has. You see and deal with things the rest of the organization could never imagine. To be successful, you have to go to process, and you have to build relationships."
That resonated with me because I've always described myself as a process person. I say all the time to the teams I lead—if we have a good process, we will get to good outcomes. Put your energy and your efforts into creating and nurturing excellent processes at every level. And I truly believe this applies not only to superintendents and all the education leaders in the district, but to the school board as well.
I also tell our school board in Fairbanks—we are a team. The people who deploy your vision for the district are the program directors and those of us who are with you every night at work sessions, at board meetings, at task force meetings and more. When you build your strategic plan, when you establish the vision for the district, when you decide what your goals and objectives are, these leaders are the people who mobilize resources and lead the rest of the district to help you realize your vision, your goals, and your desires for students.
So school board members, thank you for your service. Yours is a huge job, and you carry a great deal on your shoulders. It's a job that nobody really understands except your board member colleagues, both current and past. We as superintendents are here to support you. Our job is to make you look good. What we ask from you is time. Spend time with us, like we are all doing at this conference, but even more. Go out to coffee with us, come to visit us in the office, call when you have questions. Talk with us about the amazing things that are happening in the district and also talk with us about the challenges. Talk with us about how we can best do this work together.
And remember that as superintendents we have been training our entire careers for our job. We have amazing experience and expertise and leadership skill sets that can help you bring your school district to where you'd like to see it go. Join with us to create the best possible school system we can together for each of your communities—systems where every single student in Alaska is a successful learner, and every single student is ready for the world we will send them into after graduation.
# # #
The views expressed here are the writer's and are not necessarily endorsed by the Association of Alaska School Boards. AASB welcomes diverse perspectives and civil discourse. To submit a Guest Column for consideration, see our Guest Column Guidelines and email your 400-1000 word submission HERE.