What Does Modernization of Education look Like? A Vision of Alaska's Education System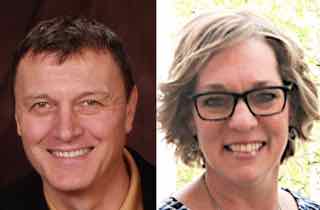 By Bob Whicker, AASB CDL Director and Tammy Van Whye, Superintendent, Copper River
Alaska's Education Challenge

In previous issues of Commentary, Alaska's Education Challenge has been highlighted. To review, the Challenge is a comprehensive analysis and reconsideration of our system of public education. The ultimate goal is for students to achieve and be prepared for career and/or college. Our efforts will look at providing an excellent education for every student in the most efficient manner possible. Alaskans want an effective education system that is affordable and sustainable even in these difficult times. Through a process of gathering public input, the Governor's State Board of Education developed five priorities (Student Learning, Educator Excellence, Modernization and Finance, Tribal and Community Ownership, Safety and Well-Being) and committees to develop recommendations for each of the priorities.
Committee Work

Between April and October, Alaska's Education Challenge committees met and their work is done. The Modernization and Finance Committee made three recommendations: 1)  Establish a systemic foundation for personalized student learning and consistent excellence; 2) Facilitate deep systemic collaboration and alignment to ensure effectiveness, efficiency, and innovation; and 3) Expedite the dollars, expertise, and other assets necessary to enable modernization. These recommendations were designed to be transformative and place student success at the center.  Surely it will take time to put these transformative systems into place.  Our kindergarteners of 2017 will graduate in 2030. As committee members who participated in this discussion, we wondered, "What could our education system look like when today's kindergarten students graduate if we act now on these recommendations?" Here are ideas in rough draft.
Alaska's Education System: 2030
Students
Anna can't believe she is flipping the calendar page to May 2030. It is her senior year, and graduation has been something she has anticipated since she began kindergarten—way back in 2017! Anna loves school. She looks forward to going every morning to see her friends, many of whom she works with on academic projects and socialized with in extracurricular activities in the same classroom, and just as many at distance in other schools and even other districts, whom she knows and communicates with through video conference about their shared classes and their lives. She quickly logs into her district-provided digital device to find her documents for the day in her digital locker space, the assignments for her classes of the day delivered by a teacher in a neighboring school district a hundred miles away, and her district-monitored social network used for collaborative work with her teams in her school and other schools across the state.
Anna's face-to-face classes are full of her classmates, near and far; some of them even attending through video-conferencing robots that come to attention nicely at a desk during lecture or roll around the class to small group work. She looks forward to her hands-on community project jointly planned by her team, her teacher and members of the business community and to communicate to college professors regarding new research on their project. The project planning software that guides and stores documents of the project also has a social networking component that provides opportunities for video conference, voice chat, instant messaging, and email.
Anna carries a full load of classes, some lasting all year, and some delivered in "intensives" lasting a few weeks but all day, every day.  Experts from her community and around the state regularly come to teach work-related skills for jobs currently available and to ready students for college, cultural activities from her own region, and even hands-on science based activities. She loves those intensives as students from the surrounding region come to participate and the time is filled morning to night with learning, and action. During the day, she checks in with her academic "coach" on the progress of her classes and updates her personalized learning plan with assessment data and progress on her own learning goals.
Anna and her parents feel confident that her learning was preparing her for a very successful future and Ann was excited for all the challenges and opportunities before her. She has the support of teachers and professors in post-secondary schools due to dual credit courses she has taken. Business partners of the district know of her efforts also. She knew that her school and her community had worked hard to create a vast array of experiences available to students in her small, rural Alaskan school.
Yes, her school, community and state had worked very hard so that Anna might be prepared for the world before her. In 2030, personalized learning, where student-centered learning with instruction ensuring mastery of the highest standards possible adapt to student strengths, challenges, aspirations and interests is now commonplace throughout our state. School systems and support services ensure meaningful contact and equity of access, regardless of the learner's community or location. Every student is able to connect through speedy broadband with a district-provided or personal device to access vetted learning material whenever, and wherever they are.
Instruction is delivered by highly qualified teachers, both face-to-face and virtually with well trained adult mentors at the receiving location. High-quality content and online courses managed by individual districts is made available to partner districts to increase course offerings for students. Age appropriate short-term intensive learning opportunities that are co-designed,developed and implemented through business, non-governmental agency, and tribal organization partnerships are readily available to all students.
Multi-district student learning teams meet face-to-face and virtually for regional/state projects and competitions. Students have alternative pathways to credit, including dual credit, work credit, and community resource credit aligned to the established state assessment system that supports student learning. In addition, students and parents have a way to rate their school experience through surveys of school climate and customer satisfaction data that is a part of the school accountability system, which even provides national comparisons.
What about teachers?
In 2030, our educational workforce is prepared and ready for this system. Approved teacher preparation programs, which include pedagogy specific to personalized learning and individualized skill development, have prepared teachers to be conversant with modern tools of communication, diagnosis of learning gaps, and assessment tools that guide the learning activities they design for their students. Clearly defined student expectations and aligned paths for teacher preparation between early learning providers and programs, university, trade schools, and K12 systems have helped create consistency across regions.
Comprehensive and coordinated professional development, supported by the state, leads teachers and administrators in best practices for our new education system. Through state support and common calendars, professional work groups gather around areas of personalized learning, maker spaces, project rubrics, and outside credit assessment pieces. Social networks support the sharing of skills and knowledge and make collaboration easy, efficient, and responsive.
Teachers are rewarded for earning micro-credentials—focused, classroom-specific modules of learning that can be implemented immediately to improve instruction and amplify learning. Credentials for recommended course content and end of course assessment are in place to enhance consistency and ensure quality of coursework in districts across the state within a universally recognized personalization framework.
Teachers draw from, and contribute to, a digital repository that supports professional networking, instructional best practices, curriculum development, and resource sharing.  The repository uses a system for vetting and recommending nationally recognized digital content and Alaska teacher-created content, curricula, and other resources for consideration by school districts.
What about of the system of support from the state?
The state system of support of 2030 has changed dramatically, shifting its focus from only assisting low performing schools to providing comprehensive support in the modernization effort. Support has expanded the number of underperforming schools served, but also supports comprehensive personalized learning, and increased efficiency and effectiveness of all our school systems.
Access to early learning and school readiness support have been broadened in every community. Active support is present for parents and students to work collaboratively within and between schools across the state. School districts partner specifically with tribes in areas of academic goal setting, school climate, parent engagement, and community support of schools.  Opportunities for students around the state to gather for learning and experiential activities abound.
Partnerships
A system is in place to provide all districts with support for moving forward in continuous improvement, collaboration, and innovation. Coordination is made possible joint development, implementation, and sustainability of educational programs with business and industry, NGO's and tribal organizations to provide relevance, opportunity, and sustainability of those programs.
A system is in place to assist and bring together districts to share business and administrative functions across district boundaries and to clear roadblocks and barriers to collaboration. Shared school year calendars and bell schedules enable teachers and students across districts to participate in commonl professional development and academic learning activities.
Resources
Financing of Alaska's education system in 2030 is predictable, responsive, and adequate to enable continued modernization. It is efficient, and flexible to adjust to the continuous improvement needed for an excellence. Systems for sharing expertise and other assets are just as important as dollars in enabling student success. Over time, the identification, capture and repurposing of savings resulting from modernization has reduced the fiscal pressure as the system changes. Financial support and incentives are provided to districts that demonstrate savings through increased efficiencies and effectiveness.
Sound far-fetched? Not at all!
The tools and vision for what could be exist today. Modernizing education in Alaska will require a willingness to think anew about what we desire for all of our students, and then working together to do the hard work and heavy lifting required to make innovation the norm in every school, and personalized learning a "given" for every student in our great state.
# # #