2017 DTi Network Conference Set for June 5-7
Noelle H. Lowery, Communications Coordinator, KIBSD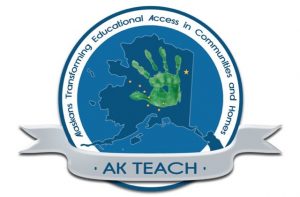 The date is set for the 2017 DTi Network Conference: June 5-7.
Presented by the Digital Teaching Initiative Network — a partnership between KIBSD, Kenai Peninsula Borough School District and Copper River School District — the theme for this summer's three-day conference is "Inspiration, Innovation, Personalization."
The conference will be hosted by the Kenai Peninsula Borough School District in Soldotna, and the list of presenters includes state and national leaders in their respective fields.
The strand-style conference will provide administrators, educators and instructional teams with a unique opportunity to spend multiple days with a single presenter on a single strand topic, and will result in learning skills and pedagogy that can be taken back and applied in school districts and classrooms with confidence.
This year's sessions include:
"Personalized Professional Development Plans through Micro-Credentials" with Dr. Patricia Deklotz – The keynote speaker and Wisconsin Superintendent of the Year developed a successful professional development program for her district focusing on personalization and teacher choice through micro-credentialing.
"Blended Learning Live" with Heather Staker – This co-author of Blended!, "Ready to Blend" co-founder and internationally recognized blended learning expert will be in Alaska for the first time ever. Don't miss this once in a career opportunity to get trained in blended learning by the expert who wrote the book. Seats will fill up fast, so secure one now!
"Advanced Paper Circuitry and Data Literacy" with David Cole – His resume as an Internationally-recognized paper circuitry expert, founder of CV2, NEXMAP presenter/affiliate and Many Labs Affiliate will not disappoint.
"Basic Conductive Materials for All Classrooms" with AKTEACH Paper Circuitry Trainer and Presenter Peggy Azuyak
"Instant Challenge Dayz" with AKTEACH Problem-based Learning and Challenge Leader and Presenter Lisa Cavan
"Unmanned Aerial Systems" with Teresa Hedges, Phil Johnson, Gil DeGuzman and Trevor Neff – This AKTEACH team of UAS experts is leading the way in guiding learners toward career applications for UAV/UAS piloting
Each strand ranges in cost. See the registration form for cost details and to secure your seat today. There is no separate registration fee for the conference, and each strand fee helps to pay for supplies and speaker fees.
For additional information, visit http://www.kibsd.org/Dti_Network_Conference.
More questions? Please email Nicole Fuerst or contact her on Twitter via @nfuerst2.