New Survey Reveals Alaskans Rank K-12 Public School Investment as Top Priority
In the face of proposed budget cuts, Alaskans show overwhelming support for our public school system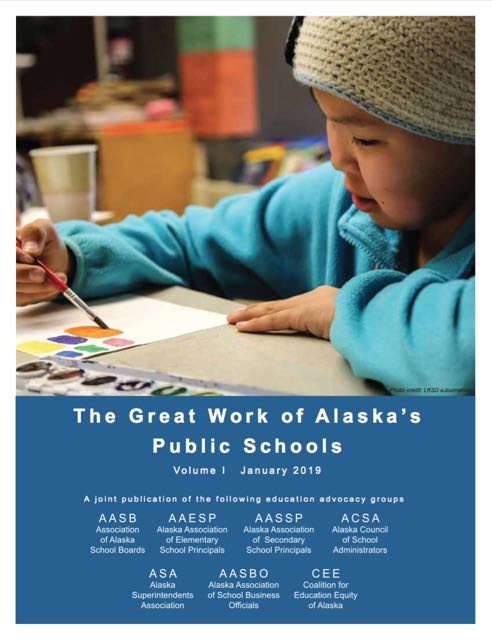 Download a Summary of the Survey Results >
Watch the February 27, 2019 Press Conference >
In recent committee hearings, the Office of Management and Budget has presented legislators with incorrect information that only 54% of school district budgets go toward student instruction, implying that there is ample room to absorb the governor's 24.3% cut to education. According to Alaska's 54 school districts, based on actual spending, the correct figure for student instructional costs is 74.6%. In this excerpt from the 2/27/19 joint press conference,
---
JUNEAU, Alaska — Feb. 27, 2019 — The Association of Alaska School Boards (AASB), the Alaska Council of School Administrators (ACSA), and Coalition for Education Equity of Alaska (CEE) today released the results of a new statewide survey that reveals Alaskans rank investment in K-12 public education as a top priority for government spending.
The survey, conducted by Zogby Analytics, polled more than 400 adults across Alaska about their opinions toward public school education investment. The results show a need for a state budget that reflects Alaska's values and commitment to a quality public education system.
PLEASE NOTE: This survey was conducted January 16-21, a month prior to the release of the governor's proposed budget. The results reflect Alaskans' unbiased feelings about the state's education system, and are a not a reaction to the governor's proposed cuts.
The survey also shows that Alaskans support elected officials who will invest in education and work to make it better for all students. Specifically, Alaskans favor officials who:
Support increased funding for K-12 public education, versus decreasing or freezing spending.
Support improvement and innovation in public schools, versus those who support using public funding for private school alternatives.
"Most Alaskans know that schools are the center of every community, in both rural and urban areas," said Tiffany Jackson, president of the Association of Alaska School Boards. "To continue the work of preparing students for a successful future, Alaska's schools need reliable, predictable funding," Jackson said. "That's why we're asking the legislature to develop a long-term fiscal plan that reflects the true cost of public education. This poll confirms that Alaskans support increased funding for public education."
Other findings demonstrate overwhelming support for the public school system in the state, including:
A majority of Alaskans give the public schools in their community a passing grade, with over 50 percent giving their local schools a grade "B" or higher.
74 percent of Alaskans support state-funded public pre-school.
Most Alaskans also believe public schools should provide well-rounded education to all children versus only core curriculum.
"We are thrilled to see Alaska's values reflected in the results of this survey," said Dan Walker, president of Coalition of Education Equity and superintendent of the Lower Kuskokwim School District. "We are working every day to ensure our students are getting the education they need to remain competitive in the global marketplace. This survey reveals that Alaskans support investment in our schools and we're depending on our lawmakers to build a budget that reflects Alaska's values and adequately invests in Alaska's public education system."
"The goal of all education leaders in our state is to provide a well-rounded, engaging educational experience for every student," said Dr. Karen Gaborik, Fairbanks North Star Borough School District, Superintendent of the Year. "To accomplish that in a diverse state like ours, we must have stable, sufficient and sustained funding so that our educators and their students can concentrate on the learning process."
# # #
About Zogby Analytics
Zogby Analytics is a highly respected, international polling and research company using industry-standard methodologies with a margin of error of +/-4.5%
Website: https://zogbyanalytics.com/