2021 School Climate & Connectedness Survey (SCCS) results now available!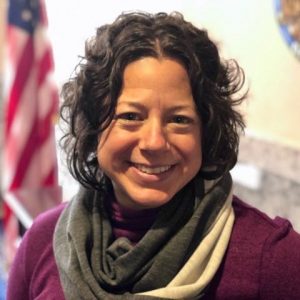 Jenni Lefing, AASB School Climate and Conference Coordinator
School districts received their 2021 School Climate & Connectedness Survey results on May 14. This year, 23 districts administered this statewide survey to transform school climate and strengthen relationships, factors that are linked to student success.
This has been a unique and challenging year, with learning taking place in-person, remotely, or a mixture of both. But, no matter where learning happens, school climate still matters. The importance of school climate does not stop when you leave a "brick and mortar school." Feeling safe, connected, and supported is still essential for students to be motivated to learn and for staff to create positive conditions for learning.
While this year's results are valid, it is strongly advised for districts to look at 2021 results compared to 2020 results with extreme caution due to the unprecedented 2020-2021 school year as a result of the COVID-19 pandemic.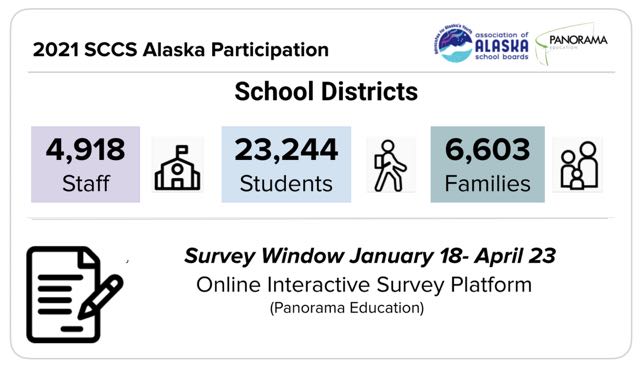 In addition, survey adaptations were put in place to support districts taking the survey this year:
The survey was modified for students doing in-person or remote learning.
Schools can explore perceptions for each topic and question based on how they attended school this past year (in-person, remote, or both).
Districts were provided longer survey windows, and the statewide window was extended from March 19 to April 23.
COVID-19 Impact Questions were developed for grade 6-12 students, staff, and families to gather school climate perceptions specific to COVID-19.
Mode of Learning for Students
Families and students participating in mostly distance learning reported feeling less connected and favorable about school climate compared to those attending school in-person.
Students, families, and staff felt supported by school staff during COVID-19.
89% of families felt supported by school staff during COVID-19.
86% of students felt supported by adults at school.
68% of staff felt connected to other staff during COVID-19.
Students, staff, and families felt overwhelmed during COVID-19 this past year.
69% of grade 6-12 students felt overwhelmed trying to keep up with school work.
58% of staff felt overwhelmed trying to support students this past school year.
53% of families felt overwhelmed trying to help their child with school
Taking the time to explore your school results provides an opportunity to hear how students, staff, and families felt about this unique and challenging year to improve conditions for learning this coming year. We recommend that districts follow these steps after receiving results:
Send out results to key stakeholders

(to include district leaders, school board, school staff).

Decide how and when stakeholders will review results

. Districts that set aside intentional time for staff, school board members, district leaders, and others to review and have conversations around the results, identify focus areas, and create action steps are more likely to see improved school climate outcomes.

Share action steps

. Once action steps are identified, share and gather input on how steps can be implemented, and continue to visit these steps throughout the year.
Included with a district's survey participation is tailored support from AASB to carry out these recommendations. This can include on-site or virtual workshops led by AASB staff to help board members, students, staff, and families use results for data-informed decision-making. Many districts annually use findings from these workshops to help with strategic planning, board goal setting, and creating school action plans.
Districts are encouraged to set aside time for school communities to review and discuss results to use for planning next year. Contact your district's survey coordinator or jlefing@nullaasb.org on setting up these opportunities with AASB staff
Statewide results are available here.
For your school/district results, access your district's public link. To obtain this link, reach out to your district office or jlefing@nullaasb.org.
---