2022 School Climate & Connectedness Survey Results Released! 
Jenni Lefing, AASB School Climate and Conference Coordinator
Earlier this month results were released for this year's School Climate Connectedness Survey (SCCS). Taking the survey is a district's first step to transforming school climate and strengthening relationships, factors that are linked to student success.
31 districts administered SCCS to gather perceptions on how students, staff and families feel about their school's climate, i.e. feeling safe, connected and welcomed. Here are key highlights from the 2022 SCCS survey responses.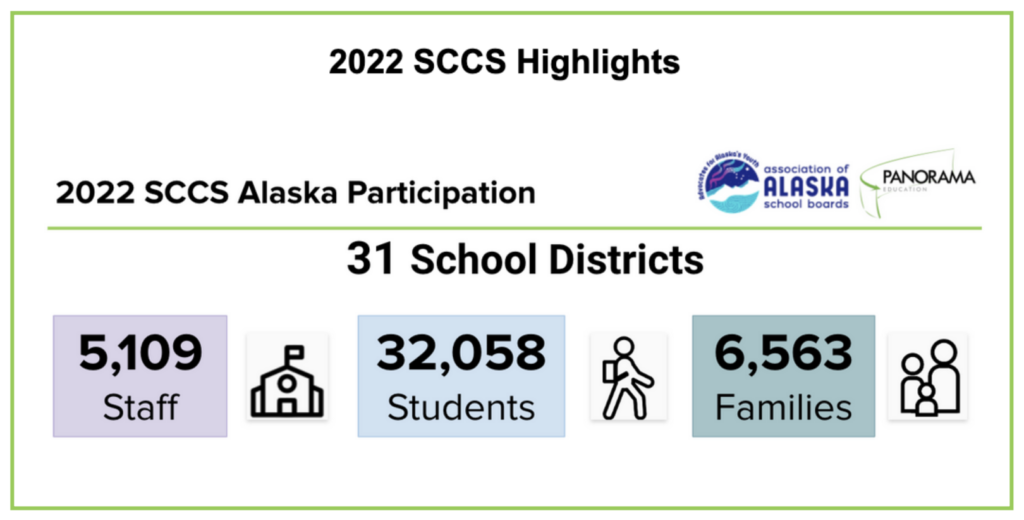 Statewide Highlights from NEW Survey Content in 2022:
Students and families who reported that it was difficult to afford basic things they need, like food, clothing, transportation or housing reported feeling less connected and favorable in all areas of school climate.
27% of students and 31% of families reported that it was difficult to afford basic things they need, like food, clothing, transportation or housing.
Students, staff and families reported learning loss and families felt more confident than students or staff felt about student learning this year.
57% of students, 52% of families, and 48% of staff felt students learned less last year (2020-2021) compared to this year (2021-2022).
45% of students, 60% families 45% of staff reported being quite confident or extremely confident about learning what they need to this school year.
New Student Involvement Questions. The majority of students and staff reported being involved in school improvement.
61% of students and 65% of staff reported that they are provided with meaningful opportunities to develop leadership skills in their school.
52% of students and 60% of staff reported having opportunities at school to talk to staff about their ideas for school improvement .
Taking the time to explore your schools' results provides an opportunity to hear how students, staff and families felt about this year, in order to improve conditions for learning this coming year. We recommend that districts follow these steps after receiving results:
Send out results to key stakeholders (to include district leaders, school board, school staff).
Decide how and when stakeholders will review results. Districts that set aside intentional time for staff, school board members, district leaders, and others to review and have conversations around the results, identify focus areas, and create action steps are more likely to see improved school climate outcomes.
Share action steps. Once action steps are identified, share and gather input on how steps can be implemented, and continue to visit these steps throughout the year.
Each school district has a unique link to look at results. Here you can see student, staff, and family perceptions side-by-side, results over time, comparisons for each school to state and district, and how students responded by sub-groups such as grade level, gender, race/ethnicity, and attendance, and opportunities for strength and growth across topics.
Included with a district's survey participation is tailored support from AASB to carry out these recommendations. This can include on-site or virtual workshops led by AASB staff to help board members, students, staff, and families use results for data-informed decision making. Many districts annually use findings from these workshops to help with strategic planning, board goal setting, and creating school action plans.
Please do not hesitate to contact the School Climate Team with questions about the survey and to figure out how your district can make the most of your school climate data.
---