A New Framework Focuses on Transforming School Practices to Address the Impacts of Trauma
Statewide Partners Release Transforming Schools: A Framework for Trauma-Engaged Practice in Alaska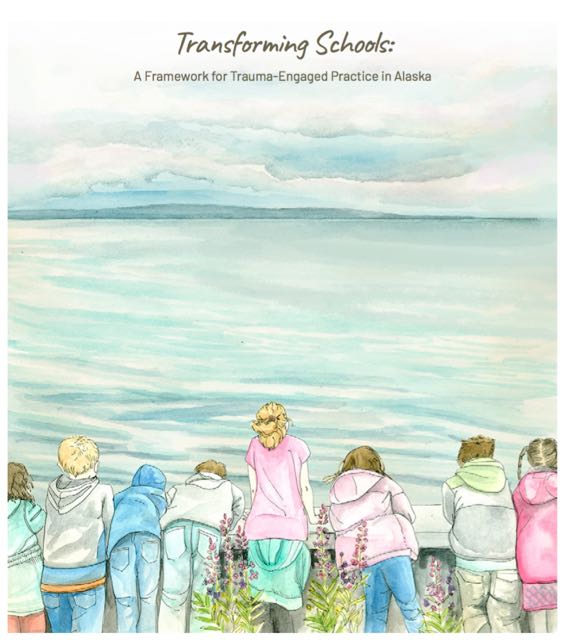 In an effort to dramatically improve academic outcomes, school climate and the well-being of Alaskan students, schools in Alaska are looking to build trauma awareness, and trauma engaged practices.
"Trauma informed practices are at the heart of increasing academic achievement for our students with the most vulnerable experiences.  We have an opportunity to focus on strategies that enhance each child's experience, and we appreciate the efforts of AASB, the Department of Education and Early Development, and partners to provide a statewide frame for this critical work," says Bridget Weiss Juneau School District Superintendent.
While we may not always know which students have experienced trauma, we know that two out of three Alaskan children have been exposed to traumatic experiences. These experiences impact Alaskans across racial, social, economic, and geographic lines, and can lead to higher dropout rates, lower academic performance, lower employment rates, and lower health outcomes.
The good news is, there are policies, practices, and understandings that can create a true shift in how school staff, students, and families work together to support student learning.
Commissioner of Education, Michael Johnson points out that "Resources like "Transforming Schools: A Framework for Trauma-Engaged Practice in Alaska" can help them fully benefit from educational opportunities. This tool, which will be shared with all Alaskans, is an important step in advancing the state's Education Challenge priority of Safety and Well-Being."
Schools, family, and community members each have an important role to play in providing and can work together to create a safe space for children and create learning environments where each student can learn.
Andrea Äkalleq Sanders, Policy Director of First Alaskans Institute, explains "First Alaskans Institute has been a partner in the development of this framework because we know that Alaska's education system is in need of transformation. The lenses we bring are centered on equity, systems change and healing. This framework offers a solid foundation for schools seeking to become trauma engaged. That means not only focusing on adverse childhood experiences that have resulted in traumas, but also adverse cultural and collective experiences that have shaped generations of Alaskans. We hope this resource results in policy change, change of practices, and spurs community healing."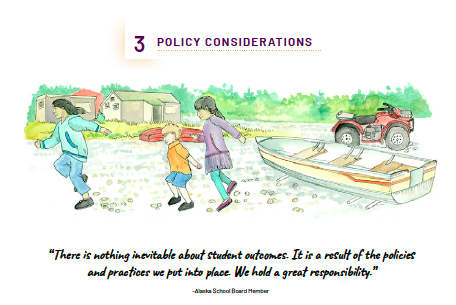 Transforming Schools: A Framework for Trauma Engaged Practice in Alaska offers an understanding of trauma and a framework for transforming practices that place relationship building at the center of all instructional practices and interactions with students.
The Transforming Schools framework provides research and information to illustrate how trauma impacts our brain and our actions.
The framework also offers an introduction to the collective and individual trauma histories experienced within the educational system.
Each chapter of this framework offers practical approaches to integrate trauma engaged practices. Some of the core areas this framework explores are:
Relationships: Caring and supportive relationships with peers and adults are the most powerful antidote to trauma.
Coordination: Common language, understanding, and a shared vision on how to support students school-wide can provide consistent experiences for students.
Skill-building and instruction: Just like math skills, core social and emotional skills that help students regulate emotions or build relationships– can be taught, modeled, practiced, and learned.
Policies: Transformative school policies can range from hiring practices, accountability measures, or embedding school discipline practices that are restorative rather than punitive.
Elders and community members often point out that Alaskans have been supporting, strengthening and healing children, parents, and community for thousands of years. Many Alaska educators have begun integrating culturally-responsive and trauma-engaged practices into schools and classrooms. Therefore this framework is not prescriptive but builds on past and current work, integrat­ing what we know about best practices with Alaskans' unique strengths and circumstances. Each school will have specific needs and cultural context.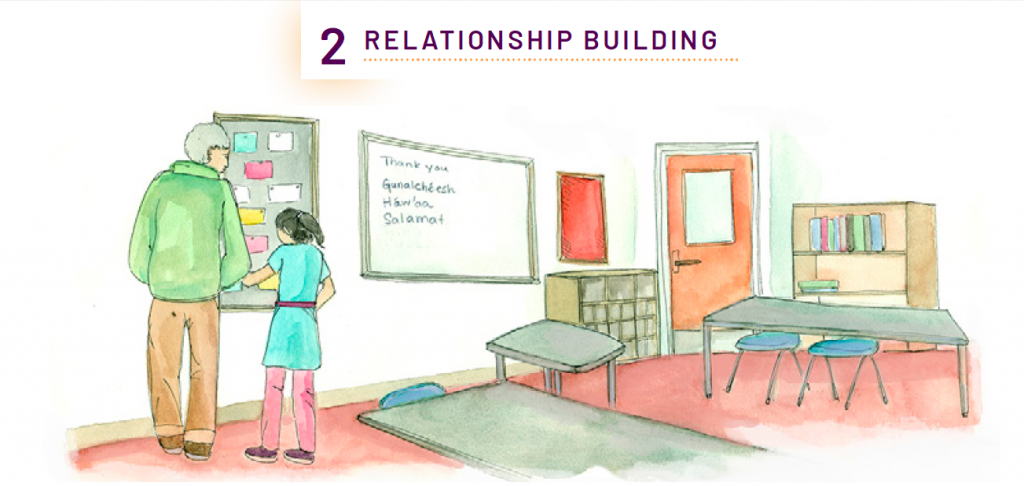 Creating supportive, trauma-engaged, and safe schools requires holistic change, and a mindset shift for students, administrators, school staff, and community members. Community and family involvement are critical to broad and lasting change.
"This framework is unique, both in Alaska and nationally. Some districts will be interested in the research to build buy in. Other districts will use the reflection questions and ideas for action to develop concrete next steps for supporting students in school."

– Sharon Fishel, Department of Education and Early Development

How To Use The Transforming Schools Framework
Each chapter of this framework includes a story of a student or teacher. The example highlights common practices and transformative practices that consider trauma-engaged approaches.
Each story is followed by relevant research and information and suggested steps.
Each chapter also provides essential reflection questions for school and district teams.
These reflections can help be the building blocks for shared understanding and widespread integration of transformative practices.
Readers are encouraged to work through this framework with colleagues and community members and to use the suggestions and reflections questions that feel most appropriate. To get started, readers only need an interest in learning, a commitment to student success, humility, and the spirit of collaboration.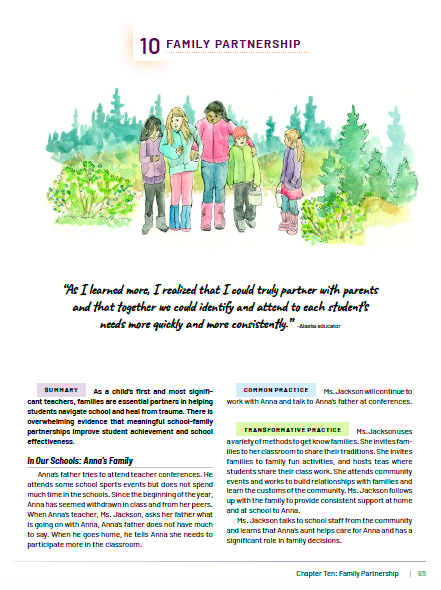 About the Project
This framework was developed in response to requests from concerned Alaskans across the state. It is a collaborative project of the Association of Alaska School Boards, the Alaska Department of Education and Early Development, First Alaskans Institute, Alaska Afterschool Network, Alaska Mental Health Board, Council on Domestic Violence and Sexual Assault, and the Alaska Child Trauma Center. More than 200 community members, school board members, school staff, counselors, nurses, and administrators throughout the state contributed input and feedback.
For More Information
Contact The Association of Alaska School Boards or the Alaska Department of Education and Early Development:
transformingschools@nullaasb.org
DEED-transformingschools@nullalaska.gov
More resources and tools will be updated on these websites:
https://aasb.org/transformingschools/
https://education.alaska.gov/trauma-engaged-schools
Department of Education and Early Development News Release
# # #