AASB's Annual Conference Wrap-Up!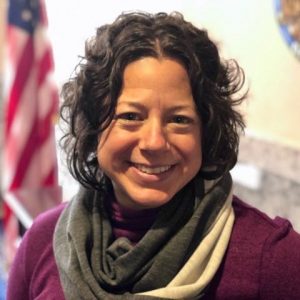 Jenni Lefing, AASB School Climate and Conference Coordinator
It was so good to be in person with so many of you at this year's Annual Conference! Forty-two school districts and over 200 school board members, district leaders, and statewide partners were in attendance.
Throughout the four days, attendees reconnected while learning, networking, and sharing insights. AASB's Annual Conference began on Thursday, November 4th, with two pre-conference opportunities- Ready Set Govern & Experienced Board Member Academy.
About 45 new school board members & superintendents attended this year's Ready Set Govern. Attendees dived into the four key areas of responsibility of a school board; Budget, Superintendent-Board Relationships, Curriculum, and Policy, as well as exploring their legal rights and responsibilities as a school board member with John Sedor. A new school board member said, "This was my first experience attending. Now I see I can participate with my board."
Around 70 school board members attended this year's Experienced Board Member Academy, focused on professional boundaries. Members of the Statewide Professional Boundaries workgroup (AASB, Alaska Department of Education and Early Development, PTPCC, APEI, Lower Kuskokwim School District & Bering Strait School District) presented on a number of areas within the professional boundaries topic.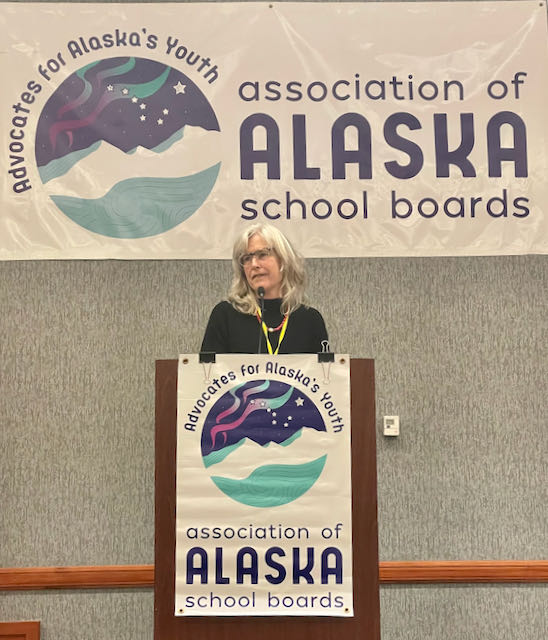 The presentations included the release of AASB's model policy BP 5141.42 PROFESSIONAL BOUNDARIES OF STAFF WITH STUDENTS, available to all school districts. The afternoon was focused on what school boards can do to prevent and respond to abuse, including educating staff on policies and best practices, responding to a boundary violation, and pre-hiring best practices (ex., complete background and reference checks). One attendee noted: [Professional Boundaries is an] "important topic for all members in the importance of training staff to be vigilant of potential misconduct with students."
Friday's General Session was opened by Katie Oliver, AASB's immediate past president; followed by a welcome and land acknowledgment from Margo Bellamy, AASB Board of Director & Anchorage School District Board President; welcome from Lon Garrison, AASB's Executive Director; and Dr. Michael Johnson, Commissioner of DEED.
Friday's keynote speaker was Heather Lende, current Alaska State Writer Laureate and storyteller. She shared stories and lessons from her and her neighbor's experiences in Haines, Alaska, which sparked inspiration and ideas amongst attendees. Ms. Lende quoted from O'Donahue's poem, At the End of the Day a Mirror of Questions, which asks, "based on the evidence, why were we given this day?" Heather noted that she asks herself this question daily and responds with, "Just take a deep breath. It's good that I'm here."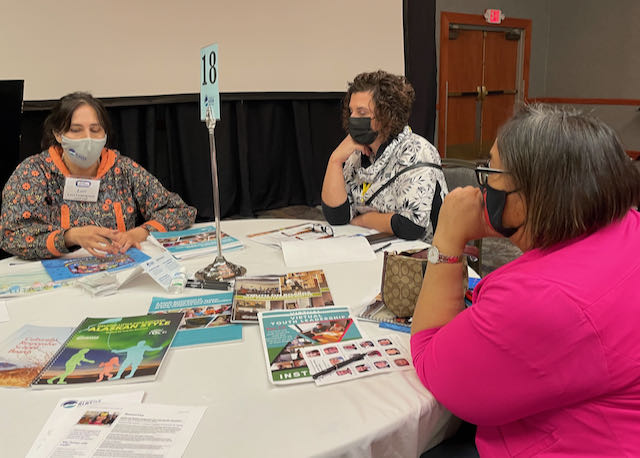 She also mentioned advice from her books Find the Good and Of Bears and Ballots; "Be kind, be brave, be thankful," and "Meet hostility with courtesy," two key takeaways for school board members.
Following Friday's keynote session, there were breakout sessions and afternoon snapshot sessions on topics ranging from teacher retention, clean energy programs, supporting students in reading, e-cigarettes in schools, to helping students plan for post-secondary success.
The evening ended with the annual June Nelson Memorial Scholarship Fundraiser that raised $11,500, which will fund seven scholarships this school year!
Nikkie Whaley, Board Support and Equity Services Manager with the Arizona School Board Association (AZBA), was Saturday's keynote speaker. She shared her story on what led her to be an education advocate, and ultimately to what she does today; leading her association's equity work, including developing AZBA's new Leading for Equity Curriculum.
She shared an understanding of equity, a key takeaway being that equal does not mean equitable. Nikkie shared the example of giving a group of people the same-sized hiking boots to go on on a hike. While everyone received the same boots, those boots will not fit everyone comfortably, and in turn, not everyone going for the hike would be able to do so successfully.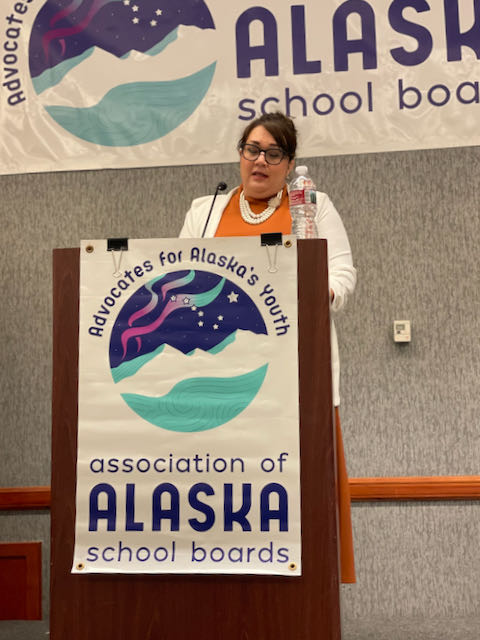 AZBA's Definition: "Educational equity is the fair allocation of resources, based on need, to address opportunity gaps and promote equitable outcomes for every student."
At one of Saturday's breakout sessions, board members gathered to explore the question, "How Are Our Students Doing?" The Social Emotional Wellbeing of Alaska's Students." During this workshop, Lisa Worl and Heather Coulehan from AASB introduced the new Mental Health Supports in Alaska Schools landscape assessment from the Alaska Mental Health Trust Authority. Some board members shared that their districts have supports in place, while student mental health is a new conversation for other districts. One board member remarked that support services are so limited that other districts' students are neglected because they don't get the services they need. One theme that emerged from table conversations was partnering with local and regional organizations to provide student mental health services. Two calls to action also emerged from the table conversations:
Boards should review their board policy 5040 on student wellness to include mental health supports. Reviewing the mental health landscape and the district profiles can help in strengthening student wellness supports.
Statewide training and resources need to be developed and made easily accessible because, as one board member reflected, "Some of our communities are so small. So much falls on the teacher. How can we help students and teachers that are struggling?"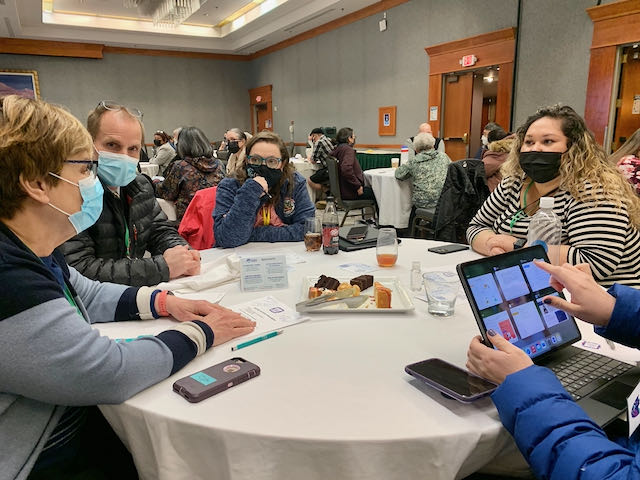 Opportunities to connect with other districts were built into the agenda, including Saturday's roundtables and like-size district forums that provided time to discuss proposed resolutions, share successes, examine issues impacting schools and communities, and explore ways to better engage with students and partners.
As one school board member noted, "Working together with members from around the state makes us a stronger educational entity. The sharing of ideas, successes, and failures enables us to work on our process in our school districts while also enabling us to share promising practices that work in our districts. We are a large state geographically but more of a small state as a family of educators and board members who all work toward the same goal: providing a quality, equitable education for all students."
The day ended with Saturday's Awards Banquet, which recognized:
Those that have achieved levels within the Carl Rose Leadership Awards Program
Outstanding School Board of the Year: Yukon Koyukuk School District
2021 MacKinnon Educational Excellence and Human Recognition Award: Clarence Daniel, Lower Kuskokwim School District
2022 Superintendent of the Year: Bridget Weiss, Juneau School District.
Sunday was the final Business Meeting & Delegate Assembly, where attendees meet to approve the final resolutions that make up the document, Where We Stand 2022. These resolutions provide the basis upon which the association may take a position on a wide variety of topics and issues facing education and students in the state of Alaska.
On Thursday, November 4th, the Resolutions Committee met to examine all existing, new and amended resolutions submitted by school districts. The Resolutions Committee is made up of any district representation that attends the committee meeting. We encourage every board to send at least one representative each year to be part of this process.
This year AASB also offered a virtual attendance option that allowed attendees to listen in to the General Sessions, several breakout sessions, and be part of Sunday's Delegate Assembly. About 30 board members opted for this virtual option because it was a safer way for them to tune into the conference. Others joined virtually because weather or other travel delays kept them at home. And a few board members found the virtual option allowed them to juggle family obligations without missing a session.
Whether you joined us in person or virtually this year, THANK YOU for being part of AASB's Annual Conference! We absolutely enjoyed our time together and hope you found the information presented useful in your crucial work on behalf of students.
We look forward to seeing you at our upcoming events, which include the Executive Administrative Assistant Conference (Dec. 9-10), School Law & Equity Day (Dec.10-11), and two Legislative Fly-Ins during the session.
---