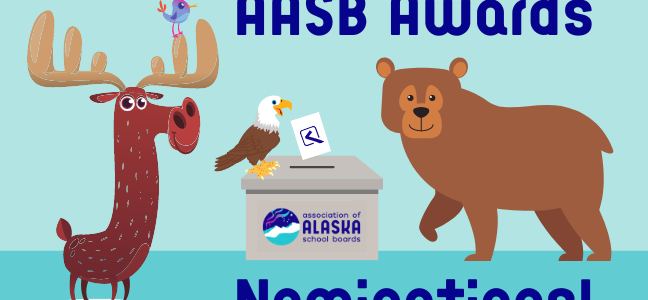 AASB Awards Nominations! Deadlines Extended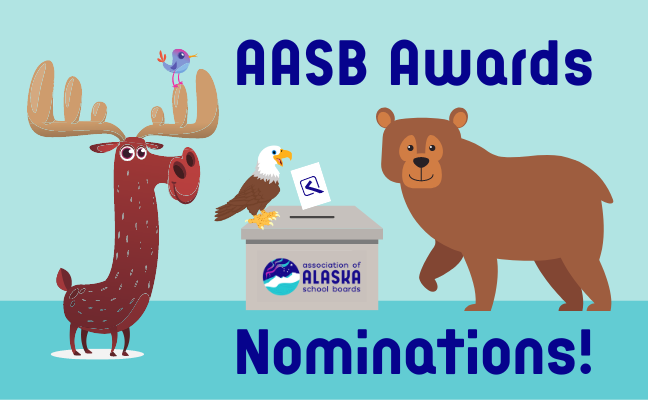 We are pleased to announce the opening of the nominating period for three opportunities for member school districts!
The deadlines have been extended.
BOD Nominations are due October 14th.
Carl Rose Governance & Outstanding School Board Nominations are due October 11th.
Remember to place this on your next school board meeting agenda to meet the submission deadline! Please note that all nominations require official board action.
Carl Rose Governance Award
This award recognizes each year an outstanding school board member for their contributions to Alaska's students. The award is named after long-time AASB Executive Director Carl Rose. We encourage you to consider a board member from your district who has made a difference in students' lives and nominate them for the Carl Rose Governance Award.
Outstanding School Board Award
This award honors a school board who uses their governance authority to effectively serve the students of the district to create our future leaders. Consider self-nominating your own board or another board for the Outstanding School Board Award.
AASB Board of Directors
AASB will have 5 three-year seats and 1 one-year seat open for this election cycle. The AASB Board is made up of 15 school board members who govern the Association for the benefit of all the member districts. Consider nominating a member of your school board for this vital role. Nominated individuals will be interviewed in person at the annual conference on Thursday, November 3rd, 2022. Nominees must be present for their interview to be considered.
Nomination Forms and Information
Outstanding School Board Award
Carl Rose Governance Award
Board of Director Nomination Form
Board of Directors Description and Code of Ethics