Advocacy Tip: Never Forget You Are Elected Officials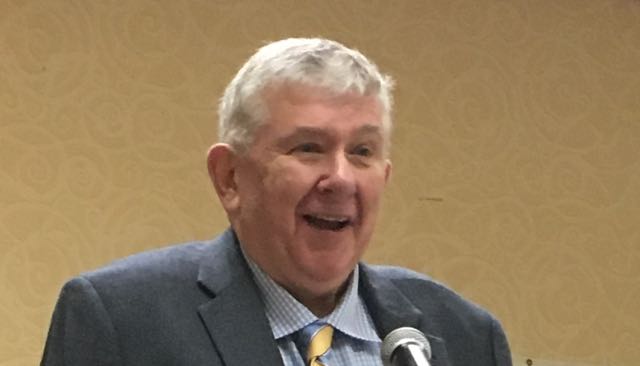 By Norm Wooten, AASB Executive Director
This column has frequently addressed the important role of school board members in their advocacy role. This is a board responsibility that is seldom addressed when one decides to stand for election to the School Board. Yet, it is a critical responsibility of board members.
Some school districts choose to hire professional lobbyists to represent their interests, and these folks do an admirable job having a daily presence in the capitol. However, the most effective advocates are school board members. You are unpaid volunteers, and your representation occurs because of your passion for public education.
I continue to be amazed at the knowledge of board members as they converge on the hill during AASB's Fly-Ins. You come armed with data ready to present your message. Even more compelling are your stories. You paint a verbal picture of your students – both their accomplishments and their challenges. Board members are champions at putting a face over the top of data to humanize the business of education.
When deciding to stand for office, you lay yourselves open to public scrutiny. You allow the public to question your motives and to delve into all aspects of your life. You make sacrifices of your family time and financial resources. You willingly use your vacation time for board business. This is all done with few complaints because you love children and believe in public education.
Often board members "undersell "themselves, not realizing the power they possess. Never forget you are ELECTED OFFICIALS. The Alaska statute authorizes your positions as elected school board members (AS 14.08.041 and AS 14.12.030). You are entitled by the State of Alaska and empowered to govern your school district. You must take an oath, prescribed by statute to fulfill your duties:
"I do solemnly swear (or affirm) that I will support and defend the Constitution of the United States and the Constitution of the of the State of Alaska and that I will honestly, faithfully, and impartially discharge my duties as a school board member to the best of my ability." (AS 14.12.090)
AASB's Board Standards, adopted by all school districts, address board members' responsibility in section 4.5. How effective are school board members in their advocacy role? Here's an example.
Recently CSSSSB 6 – The Alaska Reads Act was introduced. Boards supported Pre-K, but some aspects of the bill were troublesome. You went to the hill during the Fly-In and expressed your concerns. As a result, a committee substitute was introduced that addressed many of those concerns. You engaged with legislators, they listened to you, and they addressed those concerns.
You have the responsibility to make a difference in public education, and you have the power to make it happen. Never approach the legislature with "hat in hand," pleading for consideration. Approach them politely and courteously, yet with the authority and power of an elected official. Your students expect nothing less.
ADVOCACY
The board champions the vision
4.1 Board leads in celebrating the achievements of students and accomplishments of others who contribute to education.
4.2 Board advocates for children and families and establishes strong relationships with parents and other mentors to help support students.
4.3 Board establishes partnerships with individuals, groups, and organizations to promote educational opportunities for all students.
4.4 Board promotes school board service as a meaningful way to make long term contributions to the local community and society.
4.5 The board is proactive in identifying and addressing issues that affect the education of students.
# # #