Alaska's Education Governance Challenge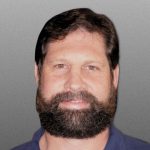 By Lon Garrison
AASB Coordinator for School Improvement
As Alaska's Education Challenge moves forward, we at AASB have taken the time to reflect and consider the portion of the challenge that has seemed to receive little recognition or attention: the challenge of effective and focused governance with the singular purpose to provide each student in each district and each local school an opportunity for an excellent education every day.
This is the challenge that each school board and school board member must meet successfully in order to enable all stakeholders and education professionals to transform and modernize our Alaska education system. Without this critical piece of the education system working effectively all of the visions, innovations, initiatives and modernizations will stumble, sputter and fade away; just another bright flame of excited effort that burns itself out because the wick was too short and not enough wax was left to fuel the effort.
If we want Alaska's Education Challenge to succeed, then school board members and their boards must work diligently to practice informed oversight, while balancing their role as individual members against the need to benefit the whole. Alaska's school boards must become focused on meeting the needs of every student no matter who they are, where they come from, and what their conditions is.
There are many distractions and many opportunities for failure. If boards concentrate on their role to deliberately consider and create the opportunities to succeed, to support, and to lead the people we depend upon to provide our students with an excellent education every day, then our challenge can be met. For school boards the transformation is not a change of the system of governance, but a paradigm shift of the importance and impact that each board can and should exert on improving student achievement.
We at AASB have come to realize that effective education of Alaska's children that results in high student achievement and success is dependent upon much more than just a couple of critical elements. We understand that a more holistic, integrated approach that builds support and engagement by all stakeholders is the only sustainable, resilient approach to improving the outcomes for student achievement.
A critical element of this approach is a governance model that is based upon a platform of equity, enabling the local educational system to effectively address student achievement disparities. The graphic below depicts those elements that we have identified as components important to positively affecting student achievement. Our (AASB) mission statement reinforces for us what we are about:
The mission of the Association of Alaska School Boards is to advocate for children and youth by assisting school boards in providing quality public education, focused on student achievement, through effective local governance.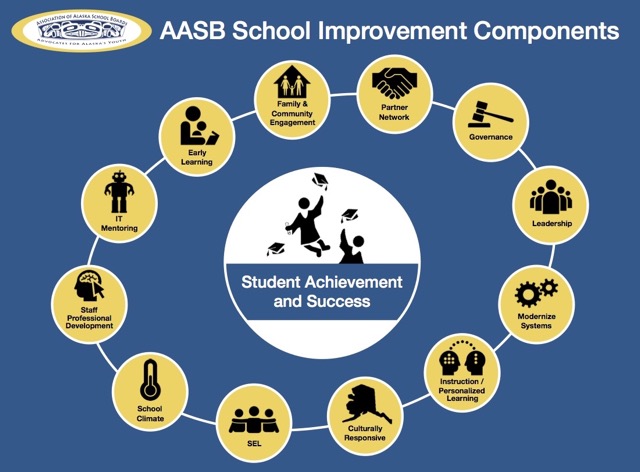 Effective school boards govern through a shared vision and mission with their community and stakeholders. These boards use the urgency to educate each child to drive their work forward. Effective boards consider policies and resource allocation based upon a plan of equity propelled by clearly defined goals and strategies upon which both the superintendent and the board itself can be held accountable.
For school boards, Alaska's Education Challenge is not so much the transformation of delivering an excellent education for every student every day, as it is the challenge to use effective governance to enable that to happen. The challenge is to sit with your fellow board members, bring your voice and perspective to the table and create a governance system that embraces, supports and holds accountable an education system that must do better.
Are you as a board member ready to meet that challenge?