BASIS Navigation Tips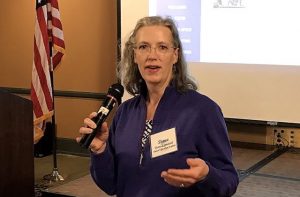 By Shana Crondahl, Alaska Education Update
BASIS Website: akleg.gov/index.php
The Legislature's website has a wealth of information, and with just a little bit of exploration, it's not too difficult to find your way around. The homepage has tabs at the top for floor calendars and a daily schedule of committee hearings.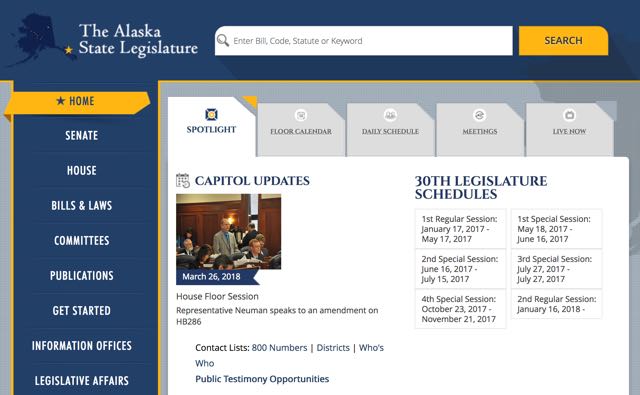 Tracking Legislation in BASIS
One of the tabs on the left-hand side of BASIS is BILLS & LAWS, which has links to legislation, committees, hearings, and many ways to sort and find information on legislation. Some links in BILLS & LAWS are:
Status of Legislation
The best way to find the status of a particular bill is to look up the bill in BASIS. On every page on the legislature's website is a search field where you can enter a bill number. Once you pull up the bill, scroll down and click on the link on the right-hand side of the page to "Display Committee Action with Bill History," and it will show all the hearings a bill has had. For more information on a bill, there are five tabs just above the link to display committee action:
Full Text – Every version of the bill that has been read across on the floor
Fiscal Notes – All fiscal notes that have been read across on the floor
Amendments – All amendments as they are offered on the floor; does not include amendments offered in committees
Minutes and Audio – All minutes and audio of hearings
Documents – All documents associated with a bill that a committee aide has posted in BASIS. This is where you will find sponsor statements, sectional analyses, written testimony that has been submitted to the committee, and proposed committee substitutes and fiscal notes that have not yet been read across on the floor.
Publications
On the left side of BASIS is the Publications Tab, which is a page that has links to various publications, including:
Directory of State Officials
Alaska Constitution
Citizen's Guide to the Constitution
Uniform Rules
Constitutional Convention Files
Executive Orders
Administrative Codes, Regulations, & Alaska Statutes
Legislator and staff contact lists
Handbook on Alaska State Government
Guides to the budget process and the legislative process
Many other things
Legislative Information Offices
In addition to handling all teleconferences, Legislative Information Office staff are there to help people find information, including helping you find your way around BASIS. The eighth tab down on the left in BASIS will take you to a list of Legislative Information Offices. From there, you can click on a specific LIO and get information on the location, phone number, email address, office hours, parking information, and legislators for that office.
# # #