BOARD MEMBER PROFILE: Eunice Hadley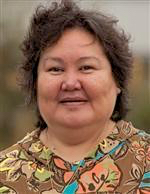 Eunice Hadley, Northwest Arctic School Board Member
How did you come to be in Alaska?
I was born in Noatak, Alaska and raised up at Kotzebue.
How long have you lived in your community?
36 years.
What is your career background and current job?
Housewife.
Describe a teacher or school staff member who had an influence on you.
Mrs. Harky in Noatak, Mrs. Frank in Kotzebue.
What might someone be surprised to know about you?
That I'm married for 36 years, a mom and grandma.
Why did you run for the school board?
I love to see children do good, work hard, and know the Inupiat values.
What special strengths do you bring to the board?
Unity, and more unity.
What goals do you hope to achieve during your term?
To get Kivalina's school built.
How have you helped to improve education in your district?
To see that our children finish school, together stomp out bullying.
What's the hardest thing about being a board member?
Not being united. Yes, we have differences, but we need unity!
What's the best thing about being a board member?
That I know who our children are and what we stand for; getting them graduated.