BOARD MEMBER PROFILE: Helen Gregorio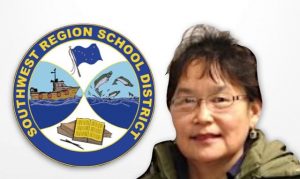 Helen Gregorio, Southwest Region School District
How did you come to be in Alaska?
I was born here.
How long have you lived in your community?
25 years
What are your career background and current job?
Community Health and currently Tribal Court Clerk
Describe a teacher or school staff member who influenced you.
My first-grade teacher made me feel welcome and always had a smile for us.
What might someone be surprised to know about you?
I read myself to sleep 🙂
Why did you run for the school board?
I want to be a voice for the best education for our children, recognizing their ethnicity and appreciating it.
What special strengths do you bring to the board?
I care that student voices are heard and support for all involved in their education
What goals do you hope to achieve during your term?
To see that the goals we set as a board are met and strive to continue to set higher goals for our schools.
How have you helped to improve education in your district?
I helped to revitalize our Yupiaq language and culture program. I believe a person needs to be grounded in who they are as an indigenous person to be successful in life.
What's the hardest thing about being a board member?
Helping everyone involved understand policy when issues arise.
What's the best thing about being a board member?
The reports from the schools, especially when students are giving reports!
# # #