BOARD MEMBER PROFILE: Tam Agosti-Gisler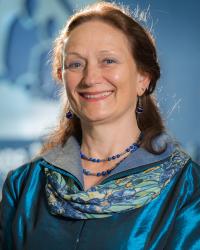 Tam Agosti-Gisler, Anchorage School Board Member
How did you come to be in Alaska?
My family arrived in 1959 when I was a toddler. I grew up in Anchorage.
How long have you lived in your community?
49 years
What is your career background and current job?
ASD Secondary educator, 22 years
School Business Partnership Director, 6 years
UAA MAT Adjunct professor, 3 years
Anchorage School Board, 6 years
Retired
Describe a teacher or school staff member who had an influence on you.
A French teacher and SS teacher in junior high – both strong, independent women who were my mentors. Those are the subjects that I taught in middle school! That SS teacher went on to serve as president of the School Board and in local government so I have followed in her footsteps!
What might someone be surprised to know about you?
I am an avid traveler who's been to over 72 countries and speak several languages.
Why did you run for the school board?
I wanted to help move the educational system in our district into the 21st century.
What special strengths do you bring to the board?
Strong communication skills, oral and written
Deep connections in the community
Innovative ideas
What goals do you hope to achieve during your term?
New school start times and calendar
Expansion of choice programs in district
How have you helped to improve education in your district?
Initiated and guide Board Leadership Academy
Destination 2020 goals, especially in literacy efforts
Communication enhancements
What's the hardest thing about being a board member?
Cutting our budget every year
Increasing demands on time
Receiving some disrespectful communication from public
What's the best thing about being a board member?
Ability to make positive change in the district
Interaction with students
Assisting community in understanding challenges and opportunities in the ASD
# # #