Changing the Profession From Within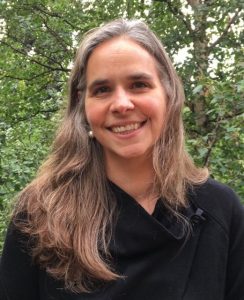 By Karen Martin, Denali Borough School District teacher, Finalist for 2018 Alaska Teacher of the Year
Few teachers have the opportunity to reflect on their education system from a distanced perspective. In 2014, I lived in Finland for seven months as a Fulbright Distinguished Awards in Teaching grantee. My purpose there was to engage in inquiry and research to understand Finland's teacher education and its impact on teachers in the field. There are several deeply challenging moments that live in my memory from that experience—moments of clarity that caused me to better understand my reality as a teacher in the United States. One of those powerful moments was understanding the nature of what it means to be a professional, and this continues to be a driving force in my work and life.
As teachers, sometimes our debates seem to ask for permission to be professionals. Instead, we should be asking hard questions of ourselves about what it means to be a professional and then getting to work on intentionally and collaboratively making changes to raise our level of professionalism ourselves. It is essential that we raise the profession of teaching from within for both teachers and our students. This means changing our conversations to engage in deeper discussions about the evidence of our impact and critical dialogue that challenges each other. It means providing authentic feedback about the actual work in our classrooms and deprivatizing our practice. It requires the enactment of agency, critical consciousness, deep reflection, self-direction and teacher leadership. Ultimately, it means creating and living an intellectual culture of learning that we want for our students.
In this column, my colleagues, students and I will share the work of two different professional learning experiences that are examples of how to raise the profession of teaching and impact student learning. You'll hear the voices of my teaching colleagues in Denali Borough School District (DBSD) who have engaged in action research and video-study as part of professional learning designed on the principles of Finland's teacher education. You'll also hear the voices of DBSD students who were asked to serve on a virtual panel to help rural teachers in Oregon, Idaho, Washington and Alaska see student engagement through the eyes of students as part of the Northwest Rural Innovation and Student Engagement (NWRISE) Network. To learn more about this network of collaboration go to http://nwcc.educationnorthwest.org/nw-rise. These voices combined illustrate a culture of learning that engages both students and teachers in deeper reflection about their learning.
Changing Teacher Thinking and Critical Reflection
For the past three years, teachers in Denali Borough School District have had the opportunity to choose to learn about and utilize action research and video-study in their professional learning communities. The following paragraphs include the voices of some teachers who engaged in this work.
"After taking an action research class with my peers, I became curious about investigating learned helplessness and the lack of perseverance in my students, especially in math. This really bothered me as a teacher. In order to learn more, I decided to video record myself teaching. My hope was to watch my students work, and then try to understand how they were (or weren't) learning in my classroom. Afterwards, I reflected on the recordings with a colleague. This was when I noticed I was part of the problem! I watched myself 'swoop-in' and save the students when they were struggling. I was reacting too soon to any miscalculations in math. Because isn't that the teacher's job? I realized by helping the students, I was really teaching them to rely on me.
During my study, I decided to also video record the students solving challenging problems. I did not allow myself to talk or intervene with their collaborations. This was hard! I had to be patient. In the end, I actually found myself watching and learning from them. Video became a powerful tool to closely observe what the students did and did not know. I could also watch to see if they could explain how they found their answers. From these quick 1-minute videos, I was able to plan activities and more challenging work based on my observations of the students' abilities to interact with each other and learn together."
– Paula Newton, 3rd Grade Teacher, DBSD
"In my experience with action research and video study, it is the most empowering, helpful, and directly applicable professional development I have come across.  The needs for improvement of teachers can vary greatly from one person to the next. Even for an individual teacher, these needs can vary from one moment to the next or from one year to the next.  Teachers deal with an ever-changing reality every time new students come into our classrooms or a new school year begins.  This reality leads to, at times, very specific and challenging professional development needs.  Through action research and video analysis, it is possible to meet both the specific needs a teacher experiences, as well as, the very general and broad improvement structures that might be required in one's practice.
The work of action research begins with investigating problems of practice that come from within a teacher's classroom (though it may be initiated from administration).  From the start, this reality gives this type of professional learning a significant advantage over other forms of professional development as buy-in comes naturally and the work is empowering.  I am going to work on and solve a problem I am experiencing now.  I am going to analyze, collect data and implement positive changes that I will directly see the result of in my practice.  In my experience, my investigation into my own practice involved sharing my work with one or more other educators. This deeper, joint work increased the strength of our collegiality and professionalism.  The power of these methods comes from a few different points associated with their practice including increased confidence, collegiality, and collaborative work."
– Mark Martin, Middle School Science and Math Teacher, DBSD
"Engaging in action research with video study has led to some of the most meaningful professional growth I've experienced. These methods helped me engage in self-observation and personal reflection that was the beginning of recognizing that I can determine areas where I need to grow professionally. They also strengthened my realization that I have, as part of a professional team, access to knowledge about how to learn and implement practices that will help me obtain growth in areas that I have determined that I need to grow in.
Prior to engaging in this work, I had often yearned for more feedback from my principal or peers to help me improve, but that takes others out of their classrooms.  Video study offered me a viable solution where I could be selective about what I wanted to focus on improving and measure the impact of changes I implemented in my instruction through observing myself (alone or with a colleague)!
Sharing my action research with peers, reviewing specific excerpts of video and then collaborating to receive and provide feedback, provided me with insightful feedback that has directly resulted in changes to how I deliver instruction to impact student learning.  Through this process, I have become more reflective in my teaching practice and more willing to ask hard questions of myself."
– Kaymbra Mortensen, Kindergarten Teacher, DBSD
DBSD teachers who learned about action research and video-study: (top photo) Paula Newton and Mark Martin (bottom photo) Lori Brewer, Susan Carlson and Kaymbra Mortensen.
Seeing Learning Through The Eyes of Students: NWRISE Network
The NWRISE Network is a networked collaborative of rural teachers and administrators from Alaska, Idaho, Oregon and Washington that meet twice a year in person at convenings in the Pacific Northwest. The focus of time at convenings is teacher-directed, and teachers work together to investigate or plan multiple methods of improving student engagement and learning. Teacher collaboration continues throughout the year through technology. In November 2017, two students from DBSD were invited to participate in a virtual panel at the winter convening of the NWRISE Network. This was the first time that student voice was brought to the four-year-old network and raised the standard for engaging collaboratively with students in conversations about the design of learning.
The following paragraphs share some of the ideas these students taught teachers across Oregon, Idaho, Washington, and Alaska.
"As a student, I believe that we are at our best when we are invested in something that is relevant and important to us. The best way that I have seen this done (to make it important to the group) is by setting a broad goal and letting students find their own path to completion. This forces students to be creative and to solve any problems that may occur. This also makes students remember the material more effectively than if they were just told the answers. At the same time, it teaches adaptability, problem-solving, and communication, which are all skills we will need later in life.
Finally, this forms a sense of pride and accomplishment for the results that are produced. I have experienced this during my Eagle Scout project, science classes, science fairs, and many other situations that have produced actual results. This includes one experience where a small group I am in set a goal and worked through the process to create a paper-recycling program for my school.
Letting students create their own path and working through struggles is a very memorable way to learn lots of different material while creating real-world solutions students can be proud of."
– Ben Brown, 9th Grade Student, DBSD
"There are certain ways you could structure lessons to boost student engagement. One way is hands-on lessons where students experiment with, design, or create physical things. Another lesson structure that is great is group work. In a group, people can work as a team and learn lots of new communication skills along with the subject. In groups, you can also count on each other. Even though group work is great, it is best in small groups of three or four. Learning games are a great way to engage students; they relax them and add some fun. These are some great ways to engage a class.
Some slight changes to your classes can make students a lot more engaged and focused. You can move a class outside to make things easier to learn for them.
A final way to help students learn faster is by including pictures, even emojis; pictures with words boost learning and reading speed a lot, and they also make things easier to memorize. With some additions to your class plan, students will learn faster and be more engaged. Improving school is all about improving learning. Students learn faster and understand more about topics when they're most engaged.
– Will Tomeo, 6th Grade Student, DBSD
Ben Brown and Will Tomeo as part of NWRISE Student Voice Panel
Raising the Profession to Create A Culture of Deeper Learning
Lev Vygotsky said, "Children grow into the intellectual culture they are immersed in." The voices shared in this writing weave together a vision of a challenging learning culture grounded in evidence of impact, critical dialogue, authentic feedback and deprivatizing our practice—both by teachers and students individually and collectively.
As teachers, we have experienced deeper reflection, critical consciousness and a mindset of inquiry focused on the work that happens in our classrooms.
With students, we have started to ask for feedback about the learning they experience in our classrooms and how to improve learning through their eyes. When teachers live this culture, it becomes more likely that they will model and create the same opportunities for their students.
Autonomy and agency are critical components of our experience, and we are grateful for administrators who trust and value our voices including DBSD Superintendent Dan Polta and Tri-Valley School Principal Nathan Pitt.
# # #
The views expressed here are the writer's and are not necessarily endorsed by the Association of Alaska School Boards. AASB welcomes diverse perspectives and civil discourse. To submit a Guest Column for consideration, see our Guest Column Guidelines and email your 400-1000 word submission HERE.