New Digital Books Showcase Local Stories, Language, and Culture
Yupiit, Yukon-Koyukuk, Copper River, and Hydaburg school districts have collaborated with AASB to create a collection of fifteen interactive digital books featuring Yup'ik, Denaakk'e, Ahtna, and Haida languages.
Each book was created during a series of two-day "Book Slam" workshops held in schools during the 2018-19 school year. Students, teachers, elders, community members, and district staff were involved in illustrating, translating, and narrating the books, which include Native languages, stories, and history of the communities in which they were produced, often from the first-hand accounts of local elders.
Collaboration and teamwork are the keys to completing a book in just two school days. During each Book Slam workshop, AASB staff worked onsite with students, faculty, and elders at participating schools to facilitate the adaptation of local legends and stories, create page art illustrations, translate bilingual text, and record spoken audio in Native and English languages. These multimedia components were then used to construct interactive digital books.
Cultural identity is an essential element of student academic success and well-being. The hands-on experience of conceptualizing and creating a place-based digital book deepens students' knowledge of local history and culture. In some communities elders worked alongside youth, assisting them with the correct pronunciation of their Native language as they recorded audio narration for their book.
Book Slam workshops promote a 'learning by doing' educational experience. When students were given extended time to create, and encouragement to try something new, they discovered their potential to produce these beautiful and engaging books. This growing online library of placed-based content captures the essence of each participating community and serves as a resource for future generations of students.
All of the books created during Book Slam workshops are copyrighted and owned by the school districts. They can either be read online using a web browser, or downloaded to a computer or mobile device for offline reading. Making the books publicly available at no charge acquaints people around the world with Alaska Native languages and helps to preserve regional dialects, history, and traditions.
We hope you enjoy reading these books as much as everyone enjoyed making them!
Read or download the books at these links: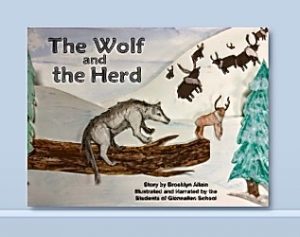 Yupiit School District (3 books)

Yukon-Koyukuk School District (10 books)

PLEASE NOTE: When first opened, the books will default to a side-by-side page configuration. To view the pages full screen (preferred) click on the little gear icon on the top right and switch the "Side by side pages" button off.
# # #