Don't Get Bombed: How to Host Zoom Meetings, Hangouts, Houseparty and More
If you find yourself asking such questions as 'Hello, can anyone hear me?' and 'What is Zoombombing?'—this is your guide
By Nicole Nguyen, Wall Street Journal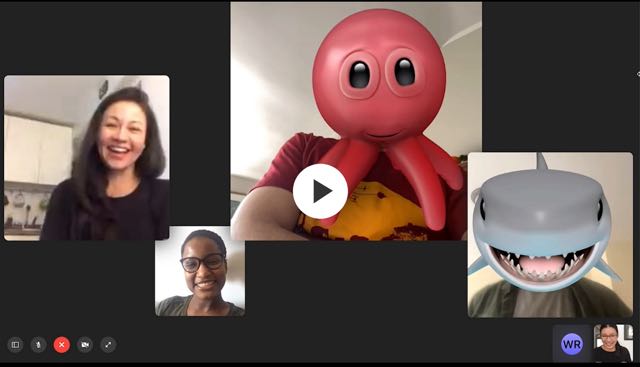 If you find yourself asking such questions as 'Hello, can anyone hear me?' and 'What is Zoombombing?'—this is your guide
During the coronavirus crisis, those of us who can work from home are video chatting, a lot. We've covered the WFH tech tips you need, along with the joys and exhaustion of our new screen-based reality. Now let's talk about how to video chat. If you've got questions, I've got answers.
General Tips
If your laptop gets loud or hot while chatting, unplug accessories and close applications. Try disconnecting your external displays or charger. On some devices, they can cause temperatures to rise, prompting internal fans to spin.
Video chatting can be processor intensive. It's good to close any unnecessary browser tabs. I sometimes also close Slack. Check the Activity Monitor on Mac and Task Manager in Windows to see what applications are putting a strain on your computer.
Can't hear anyone? You might be muted so, er, unmute yourself. (No shame, I've made this mistake many times.) If you're using an external display and your laptop lid is closed, check that your audio settings are not set to your internal speakers. If you have a wireless headset or Bluetooth earbuds, make sure they're turned on and paired.
Elevate your laptop. Chin down is not a good look. Prop up your laptop on books or a cookbook stand. Drink wine? Use two corks to lift the back corners of your computer.
Face the light. Make sure your window or lamp is in front of your face, and not behind it.
Take full advantage of AR filters.Snap Camera is a desktop application for Mac and PC that brings Snapchat's lenses to any video-chat application.
Most filters are fun. (My favorite is called Cat on Head.) Some are practical. Two lenses—Makeup Cool and Makeup Warm—make you look put together, even if you're not.
To use the lenses, open the Snap Camera application and select your lens. Then, in the video-chat software of your choice, select Snap Camera as the webcam. A Snap spokeswoman confirmed that this software runs locally on the user's computer, and no Snap Camera video is collected by Snapchat.
Using Zoom
The hottest video-chat app right now is Zoom, but with popularity comes abuse, as well as increased scrutiny.
What is Zoombombing and how do I stop it? Reports of video-chat crashers, or "Zoombombers," are on the rise. On March 30, the FBI issued a warning for video-teleconferencing hijacking, where intruders disrupt Zoom chats with expletives and pornographic images.
There are a few effective ways for a host to avoid interruptions. First, in Settings or when you create a new meeting, opt to Generate Automatically. Don't use your Personal Meeting ID, which anyone with your unique 10-digit number could join at any time. And always require a meeting passcode.
Another solution is to turn on a feature called Waiting Room, which requires attendees to be admitted by the host. You need to sign in to the Zoom web portal first. Then, click Meetings and select a meeting topic or schedule a new meeting. Under Meeting options, select Enable Waiting Room.
Very important: Make sure you are the only person who can share your screen. In the meeting, tap the Share Screen button and select Advanced Sharing Options.
Once the meeting has started and everybody you invited is in, you can lock the room from the More menu. For big groups, use the same menu to mute everyone as they enter, and don't allow participants to unmute themselves. You can also hover over participants' names to remove them.
Why do I look terrible on these calls? It's probably because you haven't gotten a haircut or put on makeup in a few weeks. (Me neither!) For a quick fix, open the Zoom app, go to Zoom preferences, then Video. Under My Video, enable Touch Up My Appearance, which gives your video a silky, soft skin-smoothing focus.
How do I hide my messy house from co-workers? Easy: When you're in a meeting, click on the down arrow next to the Start/Stop Video icon and select Choose Virtual Background. Download some fun meme-inspired backdrops at zoommeetingbackgrounds.com or beautiful naturescapes from Unsplash. Just be aware, it doesn't work with all computers and operating-system versions.
My audio or video won't work. Help! In preferences, click on the Video tab to change cameras and preview your picture. In the Audio tab, you can choose your preferred microphone source and speaker. (Choose "Same as system" if you're switching between video-chat apps.) Before hosting or joining a meeting, test your audio and video at zoom.us/test.
You also might be muted. If so, you'll see a red line through a microphone icon on the bottom left. Long-press your space bar to cancel mute as you talk.
Do I have to download the app? If you have Google Chrome or Firefox, then no. When you click on a Zoom meeting link, there's an option to "Join from your browser," in tiny letters below. Zoom's web product is not compatible with Safari for Macs.
Zoom via web browser gives you access to the meeting, but you don't get all of the bells and whistles. You can't turn on virtual backgrounds, for example.
What's up with the 40-minute limit for free basic accounts? If you (or your host) are not paying for Zoom, calls with more than two participants are limited to 40 minutes. (One-to-one calls have no limits.) But some people are seeing this message: "Running out of time? Here's a gift from Zoom. We have removed the 40-min time limit on your next group meeting."
What's the deal? A Zoom spokeswoman said the first time you hit the 40-minute mark, the courtesy message pops-up. After that, you'll be cut off when time runs out and will need to upgrade to the $15-a-month pro plan for longer meetings. (The company has lifted the time limit for free accounts used by schools.)
Is Zoom private? I heard the app is sending my data to Facebook. Following a recent Vice report, Zoom said it would remove a Facebook SDK in its iOS app that sent Zoom user data to Facebook, even if the user didn't have a Facebook account. That information included the user's phone model, city, carrier and unique advertising identifier, which helps companies track user behavior and target users with advertisements.
The latest version of the Zoom iOS app does not send this data to Facebook. iOS users should update their apps if they haven't already.
In a statement, the Zoom spokeswoman said the company "does not mine user data or sell user data of any kind to anyone." Zoom collects data such as a user's IP address and device details, which, she said, is used to optimize the service for different settings and hardware.
Using Google Hangouts Meet
For many with a corporate Google account (including us), the Hangout has become a meeting-room staple. Now, during the work-from-home mandate, it's been a go-to option.
Wait a minute: What's the difference between Google Hangouts, Hangouts Meet and Duo? Google has a confusing slate of video options right now. For regular Gmail users, there's Google Hangouts, which can be used to message and video chat other Google users. Duo is an entirely separate video-chat app that's end-to-end encrypted and intended for friends and family to catch up.
For companies and schools, there's Hangouts Meet, which is Google's supercharged, enterprise-only version of Hangouts. It works a lot like Zoom. It can support between 100 and 250 people on one chat, depending on which tier you're on. (Hangouts supports up to 10 people, while Duo supports up to eight.)
Do you need a Google account? You need a Google account to video chat on Hangouts and Duo. If you host a Hangouts Meet, however, you can invite anyone, even if they're outside of your organization and don't have a Google account. Just send them the link.
Can I use Hangouts Meet with friends and family? Technically, yes, provided one person has a corporate Google account. But should you use it? Probably not. Do you want your company admin looking at whom you're calling? Even among Google options, Duo is better because of its encryption.
How do you start or schedule a Hangouts Meet? If you have a corporate account, go to meet.google.com to start a meeting right away, or go to Google Calendar, create an event and choose Add Conferencing to auto-create a Meet link.
Can't hear? If you're having audio difficulties, just call in. You can dial into any Meet meeting using your phone. From the Meet or Google Calendar app, tap the phone number under "Join by phone." The same is generally true for Zoom meetings.
Everything Else
There are many options for video chatting—too many to cover here. Worth an honorable mention: Skype, the OG video-chatting service acquired years ago by Microsoft. You can Skype from your phone, the web, a tablet—even through Alexa. The feature you need to know about is background blur. Hover over the video icon and select Blur My Background. There's also a free capability called Meet Now that allows you to set up a call that people without Skype accounts can join.
As for the others, there are all the services built into social media platforms, like Snapchat (up to 16 people) and Facebook's Messenger (up to 50 people) and Instagram (up to 6 people), which offer fun augmented-reality filters. Plus, there's Apple's FaceTime, which is built into Mac and iOS devices.
One app that's quickly gaining popularity is Houseparty, a confusing-but-fun video-chatting platform that allows for more fluidity than the rest. When you open Houseparty, you're "in the house." Once you're in, anyone who is your friend can immediately start video chatting with you. And then, anyone of your friends—or your friend's friends—can "join" your room. Up to eight people can fit in one room.
It can get a little chaotic. Think co-workers suddenly mingling with exes. To prevent anyone else from joining, tap the lock icon at the bottom of the screen.
Houseparty can be a lot of fun, but the amount of notifications is dizzying. To turn them off, tap the smiley face on the top left of the screen, then Manage Notifications. Disable "Send out my notifications when I open Houseparty" and Get My Friends notifications.
Then, tap the back button, and select the settings icon in the top left of the window. You'll want to turn on Private Mode—it locks every room you join.
Recently, there were rumors swirling about an alleged security breach on the service. The app's maker, part of Epic Games, denied that any passwords were compromised. In any case, if you have Houseparty regret, scroll down and select the Privacy Menu. That's where you can delete your account.
# # #