Equity and Policy
Lon Garrison and Lisa X'unyéil Worl, AASB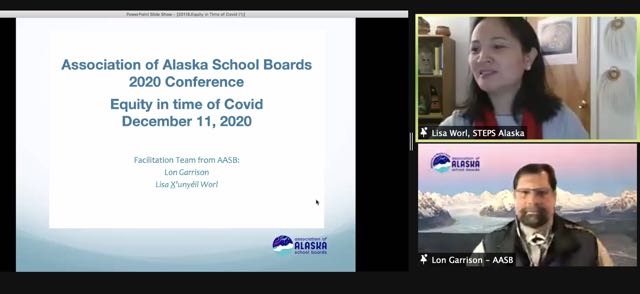 Lisa Worl began the presentation with a definition of what equity is not: deficit thinking. The key to improving academic outcomes is not fixing the student, she said, but fixing the system so it provides an opportunity for the student to succeed.
To illustrate this point, she shared a quote from Zaretta Hammond, author of Culturally Responsive Teaching & The Brain: "When operating from a deficit thinking paradigm, educators and policy makers believe that culturally and linguistically diverse students fail in school because of their own deficiencies or because their families don't value education, not because of social inequalities, unfair school policies, or differential treatment in the classroom."
Educational equity requires raising the achievement of all students, while narrowing the gaps between the highest and lowest performing students, and eliminating the racial predictability and disproportionality of which student groups occupy the highest and lowest achievement categories. It is not a program or initiative and does not equate to "doing diversity work."
Worl shared a slide from William Parrett's recent keynote address at AASB's annual conference that illustrated a framework for collective action. The image depicted a student surrounded by a supportive school culture, positive influences from their family, school and community, and actions that included a focus on learning, building leadership capacity, and a healthy and safe learning environment.
Lon Garrison suggested that when boards review and update policies, they bring an "equity lens" to policies that on the surface may seem mundane. It is also important to regularly review your district's data. How are achievement or disengagement statistics?
Board governance practices that affect student achievement include:
Establishing clear and focused expectations for Superintendent related to improving student learning for ALL students.
Setting and communicating HIGH EXPECTATIONS with clear goals and plans for meeting those expectations.
Committing to breaking the link between race, poverty, and educational outcomes.
Championing excellence for ALL students.
Committing to monitoring progress toward closing gaps.
Attendees met in small group discussions to discuss board roles in equity, and key equity issues that could be put forward on the board agenda. Some of the ideas they shared included giving positive support to every student regardless of achievement level, legislative advocacy for high speed internet to improve instructional delivery especially in rural areas, embedding equity in all board policies, providing culturally relevant education, improving cultural and community orientation for new teachers, and adopting policies that provide safe environments for kids to learn.
Garrison closed by stressing that when members meet as a board, they can take action to improve how the district performs, and how students can be protected from abuse and neglect.
Lon Garrison & Lisa X'unyéil Worl Slides