Executive Director's Report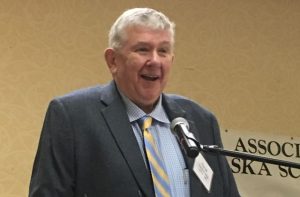 Norm Wooten
The 30th Legislature has convened and looks very different from the 29th Legislature. The House has organized around a coalition of 17 Democrats, 2 Independents and 3 Republicans. The House looks to be a moderate body with the stated purpose of coalescing around a fiscal plan that has a mix of new revenue and moderate reductions. The Senate remains in the hands of conservatives who seem to be in agreement that government still needs to become smaller and are not receptive to taxes. The "elephant in the room" will likely be how and if the earnings reserve will be utilized in some form to help pay for state government. The 60 individual legislators likely have 60 opinions as to the appropriate way through to fiscal stability. This is democracy. A wiser person than me once told me, "Democracy is a messy business – and the only thing going for it is – it's the best!"
So what is the school board role in all this business? Since the second largest state appropriation is education funding it is a certainty that that it will be part of the budget discussion. Several legislators have stated, "Everything is on the table." School board members have many roles and advocacy is high on that list. Some are reluctant and even uncomfortable in assuming the advocacy role. However those who voted for you expect you to advocate for their children and their education – including the funding to properly deliver it to their children's school. They expect certain things from you as their representative on the school board. These include:
Representing their child's interest.
Being informed on the issues.
Ensuring a safe learning environment.
Making certain the best teachers are in the classrooms.
Having the right teaching materials.
Passing an affordable budget that still delivers what their child needs.
The list could go on and on but what I suggest is that they also expect you to guard their interest in Juneau. And that means advocating for your students in front of the legislature.
Board advocacy occurs in numerous ways both at home and in Juneau. Some of those ways include:
Meeting with leaders in your community or speaking before civic groups. Talk about the district's successes – but also talk about the challenges and funding realities. Provide information about your local budget, including how it supports classroom learning, future plans and unmet needs. Encourage questions.
Work with groups in your community for opportunities to showcase your students and teachers. Let them see the good work the district is doing for their children.
Regularly use your social media accounts to share information and to brag about your schools, students and educators.
Highlight outstanding educators and students during board meetings.
Don't forget to say "thank you". A brief hand-written note or a quick email to an educator shows your appreciation for their efforts.
Brag on your district at every opportunity: at the grocery store, at church, at the post office. Positivity is contagious!
And especially plan to attend the AASB Fly-In in Juneau February 11-14. We need to show strong support for education. Bring your story with you. Be prepared to tell legislators ways you're delivering innovative programs and finding efficiencies within your district. Michele Egan, Director of Corporate Communications for Alyeska Pipeline, will be with us to assist you in framing your message. Remember, your advocacy efforts are not an expense – they are an investment in your students!
Norm Wooten is the Executive Director of the Association of Alaska School Boards

Portions of this article were taken from the Oklahoma School Board Journal and are used with permission of Shawn Hime, OSSBA Executive Director.