First Alaskans Institute Now Recruiting for 2018 Summer Internship Program
First Alaskans Institute (FAI) announces our 2018 Summer Internship Program to place Alaska Native, American Indian and rural undergraduate and graduate students into organizations around Alaska to provide dynamic leadership development and employment experience. In order to apply, students must be high school graduates currently enrolled in a higher education institution, or recent graduates of a higher education institution.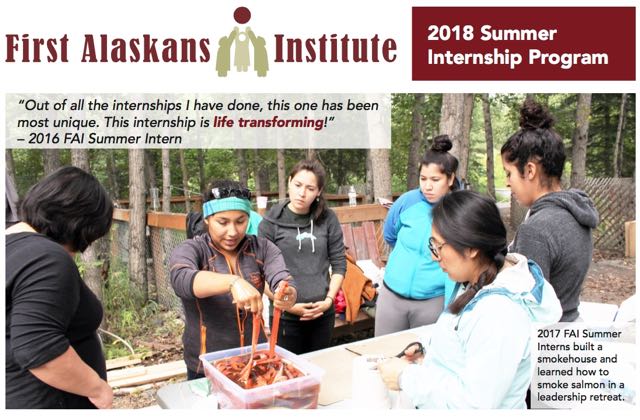 Frequently Asked Questions about the Internship Program
Q: Can a student who has accepted an intern position recruit for an employer partner organization?
A: Yes. Students can take the initiative to approach organizations (who they may consider being employed after college graduation) to partner with FAI. The organization will seek executive approval and budgeting.
Q: Can an employer partner organization recruit for an individual intern?
A: Yes. Employer partners can take the initiative to approach students to apply for the program, and potentially the intern will be placed at the employer partner organization."
Learn more about the First Alaskans Institute 2018 Summer Internship Program
Download Individual Application and Employment Forms
Applications Due: March 2, 2018