Fund The Future Campaign Shows What Learning Looks Like In Sitka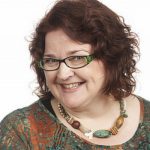 GUEST COLUMN
By Dr. Mary Wegner, Superintendent, Sitka School District
How can we tell the story of quality learning so that policy makers and funders understand the complexity and needs of our public education system? Sitka Schools asked ourselves this very question three years ago, and the result was the development of an advocacy campaign currently called Fund the Future.
Fund the Future is a collection of videos that help to tell the story of what learning looks like in Sitka Schools. Voices from students, staff, board members, and community members combine to paint what we hope is a compelling picture about why we need adequate funding. Our goal is to highlight the good things happening in education and why it matters to our collective future.
The first year we called our campaign Keep the Promise, which was in line with AASB's legislative priority to encourage the legislature to keep the HB278 promise they made to education the previous year – you remember the "Education Year" when they decided the funding level they wanted K-12 education to receive and developed a three-year plan to reach the funding targets.
Our Keep the Promise campaign had a web page with a video and a story that extended the impact of the video and/or provided context to the video, and then legislators received a few short emails every week with a picture and narrative we hoped would tease them to click on the embedded link to visit the web page.
To our surprise no one unsubscribed from our emails and our open and click through rates were about double the industry standard. When lobbying in person, a number of legislators commented to me that they liked the videos and the positive message about public education.
Today our Fund the Future campaign consists of a web page with videos and stories [some still to come] that we share with legislators during AASB and ASA/ALASBO fly-ins. The web page also serves as an on-going way to share our Sitka story with the world.
In times of economic challenge, it is more important than ever to effectively communicate that what we are doing matters. We did not have the internal capacity nor expertise to do this alone, so the school board initially set aside $5,000 to contract with a videographer/communication expert. Our Fund the Future campaign budget varies, depending on our annual focus.
Fund the Future started with the school board asking a question of significance, and we hope that our advocacy is adding to the collective narrative about the value of Alaska's public education system.
The views expressed here are the writer's and are not necessarily endorsed by the Association of Alaska School Boards. AASB welcomes diverse perspectives and civil discourse. To submit a Guest Column for consideration, see our Guest Column Guidelines and email your 400-1000 word submission HERE.