Improving Student Achievement with Educator Excellence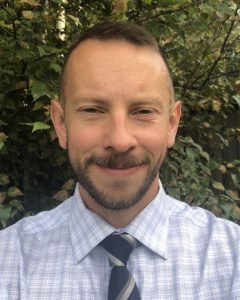 By Jacob Bera, Eagle River High Art teacher, Cross Country Coach, Alternate 2019 Alaska Teacher of the Year Finalist
Alaska's public schools are filled with shining examples of excellence, as well as areas we can improve upon. As an educator and parent, I care deeply about our ability to provide a well-rounded public education in these tough economic times. I'm also invested heavily in closing the achievement gaps that exist between student groups and increasing attendance rates.
As we look for answers to the challenges above, research has continually shown that the single most influential factor in improving student achievement is ensuring every student is taught by an effective and inspiring educator. During my career, I've spent countless hours outside of the classroom working with school leaders and legislators to answer the following question:
"How do we attract and retain the most effective educators?"
This is an especially challenging question given that a majority of Alaska's educators are trained and recruited from out of state. Based on my experiences, I'd like to share three ideas I continue to advocate for.
A more secure retirement option for Alaskan educators
My wife and I are both educators, born and raised in Wisconsin. Making the move to Alaska in 2003 was a difficult choice for us. Personally, we were leaving family and the support system they provided behind while starting a family of our own. Economically, we knew the cost of living was much higher in Alaska, especially health care. Because of the Federal Windfall Elimination Provision (WEP) and Government Pension Offset (GPO), we knew that any Social Security benefits we previously earned would be reduced by becoming a public employee in Alaska. This is because, unlike the private sector, Alaska's educators are not allowed to participate in Social Security.
The beauty of Alaska's natural environment, along with a competitive salary and secure defined benefit pension were enough to bring us to Alaska. And luckily we moved when we did. Due to years of underfunding pension obligations and the liability that produced, the legislature decided in 2006 to change to a defined contribution retirement system for new public employees. Like a 401k plan, this meant their retirement savings could eventually run out.
A few other states have moved to a defined contribution or hybrid retirement plan, but no other state in our nation has a defined contribution only plan for educators and no option to earn Social Security benefits. This is a huge disincentive for attracting and retaining the best educators, and I have seen the impacts of this policy change firsthand as colleagues and friends move back to the lower 48 for more retirement security. School districts are left to pick up the additional cost of attracting new employees and providing professional development, and students lose their favorite teachers to the lower 48.
We see the wisdom of creating financial incentives for the oil industry to survive and thrive in Alaska, and rightly so. We should approach public education the same way. Advocating for a change in our state retirement system is one option. Another is allowing a statewide or local vote by educators to enter back into Social Security.
Empowering effective educators through autonomy
I am most effective when I have the freedom to create learning experiences unique to my students. I am guided by our State and National Standards, and I'm responsible for helping my students meet those standards each year. As an art teacher, I am fortunate to have a bit of freedom to create. But that's not always the case for my colleagues.
During my career, I have witnessed energized and inspired educators lose steam year after year when they simply feel they're delivering a curriculum they have little control over. Like me, they've been trained to identify factors unique to each classroom and personalize instruction to fit individual student needs. But when that autonomy doesn't exist, it's a helpless feeling to know you're not serving each student effectively.
School boards can work with administrators, and more importantly, with educators to strike a balance between management rights, curriculum, and teacher autonomy. Hold educators responsible for the results they have control over, but also show trust in their ability to be successful in the first place. In my experience, having that autonomy was an empowering feeling that challenged me to own the results in my classroom and constantly work to improve student achievement.
Promoting National Board Certification
In 2013, a colleague encouraged me to work towards National Board Certification (NBC), which is an advanced teaching credential that goes beyond state licensure. Following national standards for what highly accomplished teachers should know and be able to do, candidates work on completing a rigorous portfolio that proves students are achieving in their classroom. You must have three years of experience and currently work in a classroom to apply. This is unlike a Master's degree, which one can earn before entering the teaching profession.
Numerous studies have shown that students achieve more when taught by an educator with National Board Certification. A 2017 study in Mississippi found that kindergarten and third-grade students performed at a significantly higher level on literacy assessments. A Washington state study found that National Board Certified teachers produce gains of up to 1.5 months of additional learning.
So how can local school boards help? The Anchorage School District offers a $2000 salary supplement each year I hold a National Board Certification. Some districts have explored alternative salary schedules for National Board Certified employees, or additional salary supplements for working in schools where they're needed the most. Lastly, school boards can work together with NEA-Alaska by promoting their highly supportive "Jump Start" program for educators looking to start National Board Certification.
This year, I was fortunate to be named one of five finalists for Alaska Teacher of the Year. My experiences in Alaska have shaped the skills I've learned to earn that recognition, and I am grateful. I strongly believe that if we can create those same conditions for every Alaskan educator, our students will benefit the most.
Jacob Bera is an Art Teacher, Fine Arts Department Chair, and Head Cross Country Running Coach at Eagle River High School. He was named the 2019 Runner Up for Alaska Teacher of the Year. Mr. Bera loves teaching, and loves Alaska.
# # #
The views expressed here are the writer's and are not necessarily endorsed by the Association of Alaska School Boards. AASB welcomes diverse perspectives and civil discourse. To submit a Guest Column for consideration, see our Guest Column Guidelines and email your 400-1000 word submission HERE.