'Inspiring Today's Leaders' Theme of Elizabeth Peratrovich Day Celebration
Tiffany Jackson, AASB Director of Membership Services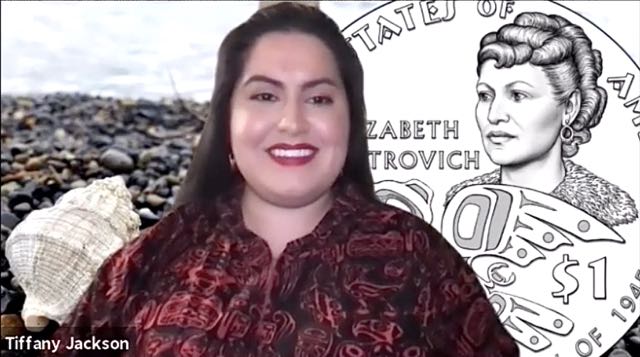 Every year the Alaska Native Brotherhood/Alaska Native Sisterhood Grand Council celebrates Elizabeth Peratrovich Day, and honors the work Elizabeth Peratrovich and Roy Peratrovich did for Alaska. This year, despite the pandemic, was no different.
In true Alaskan style, the ANB/ANS GC looked at the current environment as an opportunity. They partnered with First Alaskans Institute, and put on a virtual celebration with speakers from around the state, available to everyone with an Internet connection, with the theme "Elizabeth Peratrovich, Inspiring Today's Leaders"
I was honored to be asked to speak at this event, along with many others from across the state. Elizabeth Peratrovich has been such an inspiration to me, ever since my mother shared her story with me. My remarks are included with this article.
I encourage everyone to watch the video of the Elizabeth Peratrovich Day Celebration hosted by the ANB/ANS Grand Council and First Alaskans Institute, as all the speakers were incredible.
However, if you have just a little bit of time, I highly suggest watching Betsy Peratrovich speak about her grandparents, and how much Elizabeth Peratrovich valued education. Betsy begins speaking at 54:56 of the First Alaskans Institute video. Betsy shared a quote from Elizabeth saying "We are getting a background for the future by going to school". Betsy also shared more about how much Elizabeth Peratrovich valued education, and encouraged others to pursue education.
If you have a little bit more time, you can check out video and text of the remarks I shared below.
Tiffany Jackson Remarks
Elizabeth Peratrovich Day Celebration, February 16, 2021
Hello, and thank you so much for inviting me here this evening. My name is Tiffany Jackson, I'm Tlingit and Unangax from Sand Point Alaska, my Tlingit name is ka steech and I'm Raven/dog salmon and Qagan Tayagungin. My parents are Dick and Edith Jacobsen, my grandparents are John and Ivy Jacobsen of Sand Point Alaska, and Alfred and Carmel Widmark from Klawock and Juneau, Alaska. My grandpa Alfred, my grandma Carmel, and my auntie Emma Widmark, were all very involved with the Alaskan Native Brotherhood and Alaska Native Sisterhood, so I feel deeply honored to be invited to be with you all this evening as we honor Elizabeth Peratrovich, and this year's theme "Inspiring Today's Leaders".
When I was a young girl, my mother shared Elizabeth Peratrovich's story with me, of how she fought against discrimination, and for the recognition of the rights of all Alaska Natives. Her story resonated with me so much, when I had an opportunity as a teen to represent a hero from my home state on a national level, I chose to share Elizabeth Peratrovich's story as an Alaskan hero.
The theme tonight is Inspiring Today's Leaders. It's because of the strength, preparation, and persistence of Ms. Peratrovich, individuals like myself, and upcoming leaders are able to do the work we do. I was the Executive Director of my Tribe for 9 years where I helped lead initiatives in tribal justice, cultural education, higher education, and child literacy.
Thank you Betsy for sharing the quotes from Elizabeth, sharing her support for education, and recognizing the importance of education to make us strong and prepared for the future.
Like Elizabeth, I advocated for public education, and the academic success of Alaska Native students, and all students, as a school board member for 12 years. I served twice as president of the Association of Alaska School Boards, and was on the board when the association set the goal to empower Alaska's school boards to transform the educational system to increase the academic success of Alaska Native students and increase graduation rates of Alaska Native students who are grounded in their cultural identity, with the ability to successfully pursue their goals.
I also became the first indigenous person to serve on the National School Boards Association Board of Directors since its inception in 1940. The first at that time, in its 75-year history. Something I was incredibly proud of, and still incredibly sad was possible in this day and age. Through my work and advocacy there, and with support of others, the NSBA board then proceeded to formally recognized the council of Alaska Native, and American Indian school board members, opening the door for more indigenous representation at a national level.
My ability to step into positions of leadership started with my parents, who are both incredible leaders, and because my mother shared Elizabeth Peratrovich's story with me, I was largely inspired by the work of Ms. Peratrovich.
I'm not sure if you can see the PopSocket on my phone. It's a beaded Elizabeth Peratrovich coin from Yukon River Designs. When I first saw these last spring, I bought one for myself, and my mother, and my sister. Daily, I touch it, and remember the strength and persistence Ms. Peratrovich exhibited in her work, which in turn inspires me in my work, and will continue to inspire our upcoming leaders for years to come as we continue to keep her story alive.
Frequently over the past few years, I've shared, we need to be unapologetic in the work we do for our people. Unapologetic in demanding tribal rights. Unapologetic in the pursuit of justice for Alaska Native people. Unapologetic in insisting Alaska Native students receive the best education, where our culture is recognized and respected and included in their education.
Elizabeth Peratrovich articulated "Asking you to give me rights implies that they are yours to give". Because of her strength, and her advocacy, leaders like myself, and upcoming leaders, CAN be unapologetic in doing the good work we do to serve our people.
Thank you for having me here to share in the celebration of Elizabeth Peratrovich, Inspiring Todays Leaders. She has certainly inspired me to be the strong Tlingit and Aleut woman I am. Qagasakung Gunalchéesh.
---