It's all about Relationships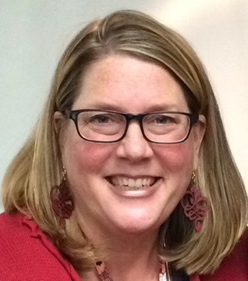 By Timi Tullis, AASB Associate Executive Director
Over my 21 years at AASB, I have had the opportunity to work with thousands of amazing board members and hundreds of outstanding superintendents and school staff.
I treasure each and every one of these relationships. When I have gotten stranded in communities throughout Alaska, I pick up the phone and give a shout out to a current OR former school board member, the superintendent, or the executive administrative assistant. These individuals are the ones that make a difference for kids in your communities, and I am blessed they've made a difference in mine.
Relationships are everything to our association. Without these relationships, we are nothing. The relationships you have with your fellow board members can make or break the board team. The relationship you develop with your superintendent will have long-lasting effects on your district. Long-serving superintendents make a difference in increasing student achievement and staff retention. Again, relationships are KEY.
During this COVID-19 time, we are struggling with relationships. How do you welcome new staff, new superintendents, new teachers, and, more importantly, NEW STUDENTS when we can't be together in person? How do we offer training to all of you, our membership, that is meaningful and allows for relationships to build when we can't meet in person? Rich Carlson, former superintendent and current member of our team here at AASB (as well as a mentor for new superintendents), said that the saddest part of holding our conference virtually is that we miss out on developing connections and the relationships. He's right.
However, since we know this is how we will be for a while, I am trying to look at the bright side and focus on some of the positives:
We can all take the time to focus on ourselves a bit more than normal! Build-in 

time to take care of yourself

,

if you are not traveling to work because you are working from home, take those extra minutes each day and focus on self-care and/or self-growth. Take time to learn about being a better board member. Read through those policies that you have always wanted to do but never had time. I have read a lot and even taken the time to learn some new painting skills! 
People who have struggled to travel to our conferences for various reasons, including but not limited to traveling restrictions, work commitments, and family obligations, can now attend virtual training from the comfort of their own home, OR better yet at their local school building/ boardroom. We are encouraging boards that live in the same community to go to the boardroom and sit 6 feet apart AND attend the training sessions together! What a great way to connect and learn together as a board.
Now is the time that boards can spend time together digging deep into areas they have always wanted to grow. Not many are traveling, so people are in town and can gather either via Zoom OR better yet in person with proper social distancing. Take advantage of this and 

gather and learn together

. Read through your by-laws, or take a look at your annual calendar, there are endless areas you can focus on as a team. 
Not that we haven't known this all along, but 

the relationship between students and the teachers is essential to student success

. This time we're in is highlighting that even more. There is a newfound respect for teachers and all they bring to students' lives, and now is the time to thank them for all they do for each and every student. 
Districts are learning and implementing 

new and diverse ways to deliver instruction

. This pandemic had pushed us all to do things differently. Some of what is being implemented may never go away, and districts will continue to think differently and change their delivery modes to meet students' and families' needs.  
Lastly, we are relying on each other now more than ever. Families are partnering up with other families to create small learning pods, and teachers are connecting with families in a variety of ways to help each student reach their highest potential. Community connections and partnerships are teaming up to support one another through this pandemic. The relationships that are built now will help us all as we move forward in the future. 
Important MUST DO's Now
Show Grace and Kindness; Everyone is working hard to figure this out. There is no 'book' or 'plan' as to how to maneuver through this crisis. Everyone is doing the best they can, and guess what; half the community will be happy, and the other half will probably be upset. You must listen with open hearts and ears to individuals as they struggle with this. You must support the decisions the board and the superintendent have made, even if it was not what you wanted. Lastly, you must be kind, kind to everyone. We don't know what anyone is going through, and each individual is dealing with this differently. Kindness is key.
Engage and attend meetings fully; Don't just log on, but always read through your packets, and be prepared for your meeting. IF you must be at home, find a quiet space where you won't be interrupted. NOW is the time to focus on your role as a board member and govern without overstepping. Being on top of the discussions and knowing what is happening is critical.
Pick Up the Phone; I know I can barely keep up on emails right now, and I also know how important it is to connect to my team. CALL people. Set aside time to call the superintendent to check in on them, they have been working ALL summer and making update after update on the plan to start school this fall. CALL the board member who frustrated you last week and try to ask good follow-up questions to understand where they stand and elaborate on how they came to their decision. Calls are so much better than emails or texts during this time.
During challenging times, remember the words of Helen Keller: "Alone we can do so little, TOGETHER we can do so much." Our relationships matter, and we can't wait to be back in person with you, but until then we are here to help out in any way we can, and committed to helping you be the best board member you can be! 
---