Join Us For the April 6-9 Fly-In. Your Voice Is Needed!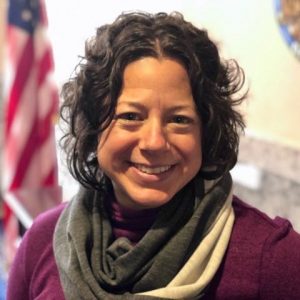 By Jenni Lefing, AASB School Climate and Conference Coordinator
Turnout was great for AASB's February Leadership & Legislative Fly-In and the Youth Advocacy Institute. More than 100 board members, superintendents, and students made the trip to Juneau to learn new skills and advocate for education during this critical legislative session.
The first day's focus was on school board members fine-tuning their boardsmanship skills. This was done through sessions on how to effectively plan and run school board meetings, reviewing the Open Meetings Act, and learning about the process of evaluating your Superintendent.
One school board member said, "information provided helped me to understand my position on the school board." School board members noted they learned specific tips to bring back to their board, such as how to handle public testimony, the importance of Robert's Rules of Order in running a meeting, and executive session rules.
On Sunday, Youth Advocacy Institute students joined school board members for many of the sessions, including Advocating with Your Students. This session included a panel of students and school board members sharing the most significant issues in their districts and how they are partnering with each other (students and school board members) to address these issues. In turn, school board members discussed how they advocate and could advocate alongside students.
The rest of the morning was spent learning about current legislative issues and bills being discussed at this point in the session. Attendees then met in like-size district forums to discuss topics and legislation that they are most concerned about this session, and to develop talking points around those topics. Each group shared highlights of their sessions, and in turn, these priorities emerged for this session:
Stable Fiscal Plan for Alaska
Education Requires a Reliable, Immediate, and Long-Term Investment
Supporting Opportunities for Dual Credit or Middle College for Alaska Students
We're hoping for an even bigger turnout at the next legislative Fly-In, April 6-9. Please join us in Juneau and add your voice to the chorus of education advocates this session. Alaska legislators need to hear from you! Register Here.
Press coverage, presentations and resource materials from the February Fly-In can be found here.
# # #