McDonald One of Four Finalists for National Superintendent of the Year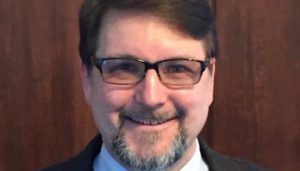 Stewart McDonald, Kodiak Island Borough School District Superintendent, has been selected as a finalist for the 2017 National Superintendent of the Year (NSOY). McDonald was named the Alaska Superintendent of the Year in August which qualified him for the national award.
"I owe this recognition to an incredible team of colleagues. All of Alaska can celebrate this spotlight as if it was their very own.  I say to them Quyannaasinaq! Thank you very much!  It is an honor to represent an example of Alaska's innovative schools.  More importantly I hope to draw attention to the brilliant capacity of our children." said McDonald.
Dr. Michael Johnson, Commissioner of the Alaska Department of Education and Early Development, congratulated McDonald on his advancement to the final four, "Congratulations to Stewart McDonald, Alaska's 2017 Superintendent of the Year, on being selected as a finalist for the 2017 National Superintendent of the Year Award by the School Superintendents Association.  AASA's selection of Superintendent McDonald recognizes his abilities as a leader and innovator in public education."
"Stewart McDonald, a passionate leader dedicated to innovative student learning, will be a tremendous representative of Alaska," said Dr. Lisa Skiles Parady, Executive Director of the Alaska Superintendents Association (ASA). "We congratulate Mr. McDonald for this well-deserved recognition and wish him well as he joins the other prestigious superintendents also selected."
"I am thrilled Stewart McDonald has been recognized for his work on behalf of Alaska's students, and offer him my sincere congratulations," ASA President Sean Dusek said.  "He has done incredible work in his district."
This marks the 30th anniversary of the NSOY program, which honors school system leaders throughout the country. The program is administered nationally by AASA, The School Superintendents Association.
The four finalists for the 2017 AASA National Superintendent of the Year are:
McDonald has been invited to join the other finalists and meet the national education community during a press conference on Thursday, Jan. 12, at the National Press Club in Washington, D.C.
The applicants were measured against the following criteria:
Leadership for learning – creativity in successfully meeting the needs of students in the school system.
Communication – strength in both personal and organizational communication.
Professionalism – constant improvement of administrative knowledge and skills, while providing professional development opportunities and motivation to others on the education team.
Community involvement – active participation in local community activities and an understanding of regional, national and international issues.
Reprinted with permission from the Alaska Superintendents Association