Lisa Worl Receives 2021 Carla Timpone Award for Activism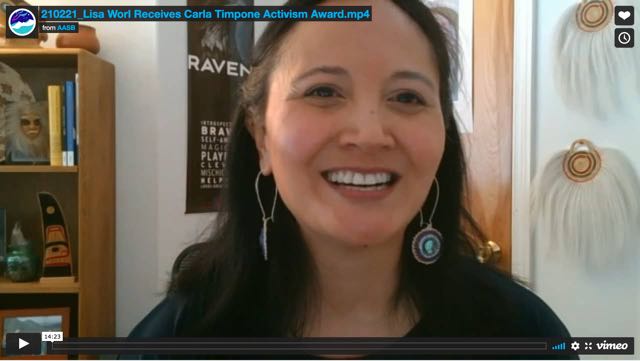 At a virtual ceremony, the Alaska Women's Lobby presented longtime education advocate Lisa Worl with the Carla Timpone Award for Activism.
Ms. Worl was introduced by State Representative Andi Story, with whom she served on the Juneau School Board.
"Lisa is probably best known for her commitment to public education and advocacy for children," Story said. "She served 16 years as a parent volunteer and substitute teacher, with the belief that parent involvement in schools improves the quality of education for all children."
Story went on to list Ms. Worl's many contributions to local and state education, including four years on the Juneau School Board, a member of the Great Alaska Schools steering team, and a legislative aide. She joined the staff of AASB in 2018 to help align educational practices from Pre-K to graduation and was recently chosen to serve on a municipal Systemic Racism Review Committee tasked with identifying racial and cultural barriers and addressing systemic bias.
In her acceptance remarks, Ms. Worl emphasized her passion for being a voice for kids and families who struggle. In thinking of the message she wanted to share in her acceptance remarks and the message she wanted to leave with others was, "How do we support these families who are doing the best they can to survive?  How do we tap into their strengths, their resiliencies, so that they can thrive? That is the goal," said Worl. "All our kids deserve to feel safe in the classrooms and schools. They all deserve to be supported in such a way that they can thrive, learn, and become who they're meant to be."
---
Video of Representative Andi Story's introduction and Lisa Worl's acceptance speech, as well as the full text of her remarks, can be accessed below.
Watch video of the entire 2021 Carla Timpone Award for Activism Ceremony
---
Lisa Worl Remarks
Accepting the Carla Timpone Award for Activism, February 21, 2021
X'unyéil yóo xat duwasáakw. Ch'aak' naax xat sitee. Kaagwaantaan áyá xát. Kóot hit áyá xát. T'akdeintaan yádi áyá xát. Xunaa Kaawu áyá xát.
Good afternoon, my Tlingit name is X'unyéil. I'm Kaagwaantaan of the Kóot hit and child of the T'akdeintaan. My maternal family is from Hoonah and my father, adopted by the T'akdeintaan, is Filipino. Many of you know me as Lisa though I actually carry both my great-grandmother's Tlingit and English names, X'unyéil and Lillian.
Atlein gunalchéesh. Thank you Alaska Women's Lobby. I'm deeply honored to be receiving the Carla Timpone Activism award. When I first was notified, I was shocked and humbled. So much of the work I do, I feel is behind the scenes and about our kids in the schools.

I am thankful for my support circle, some who joined us here today. Gunalchéesh to my husband, my kids, my mother and mother in law, sisters, colleagues and friends who have served as my sanity circle and sounding boards as I've done my work through the years. My kids, including all my bonus kids, nieces and nephews are often my motivation and inspiration as I do my work; wanting to make their learning and place of learning safer and more equitable than I felt I had when I was growing up.
When advocating and working in public education, it can be easy to feel overwhelmed. To borrow a phrase from Valerie Davidson, this work is both "hard work and heart work" because when you speak and advocate for all kids, some, like me as a child, are trying their best to learn while trying to survive.
When I think back on my teen years and time in high school, I was both a good honor roll student and at-risk of dropping out at any moment. I was getting by and was surrounded by many other students like me who were on track to becoming a statistic. How incredible and grateful I am that we've now learned enough to understand and have terminology and teaching around intergenerational trauma, trauma engaged schools, culturally responsive education and also resiliency to put context to what I lived and what others are still experiencing. My resiliency factors were my culture and my large, extended family. Unconditional love and support and high expectations kept me on track. Having family who always let me know I was loved and special.
It is true that it takes a village to raise a child. It is because of the strength and love of my mom, Grandma Lillian, aunties and uncles that I was able to keep on. I have not done this alone.

I think about the opportunities I've been given because of people like Marilyn Weiting, an Indian studies teacher, who sought me and other students like me in high school to encourage us to apply and attend AFN Youth Convention or the Close Up program in DC. I'm grateful for others who saw a determined youth and gave me a chance to work, encouraged me to join site council, who pushed me to give testimony and advocate for our kids.
The more I learned about our history, the school system and saw that there really weren't many people like me who were speaking up and providing input, the more I knew we needed it. I can see now that while my childhood was difficult at times, it helps inform and guide me to understand what our kids and families need.
I have served as a conduit. I am just one person. However, through our collective voice, our community, school board, and our elected officials hear how policy impacts us in real ways. I've witnessed how our collective voice helped policy makers prioritize Native language programs and back off harmful, deep cuts to education funding.
All our kids deserve quality public education. They say education is a great equalizer. But that assumes that our education experience is equal. Unfortunately, this pandemic has shown us how much this isn't true. In these past months, we saw how many of our kids would go hungry without the lunch programs and others who didn't have internet connectivity or devices when our schools shut down and went to remote learning. Now, as kids are returning to the classrooms, we will need to offer support to their mental well being as well as academic support so that they will be able to successfully transition back into school as so many have been impacted by the pandemic with sickness, loss of family and unemployment.
Which brings me back to Alaska Women's Lobby and the work you do to advocate for Alaska's women, children and families. Thank you for being that voice in the Capitol. Thank you for being the eyes and ears for some of our most vulnerable. Our kids rely on us to be their voice. To speak up for them. We can all use our voice, our connections and our work to support our kids. They are precious. We must be brave and unapologetic as we vocalize their real and critical needs. Gunalchéesh – Salamat.
Who was Carla Timpone?

In opening the 2021 Virtual Carla Timpone Award for Activism ceremony, host Sally Smith described the event's namesake as "an extraordinary person whose activism has changed lives and laws."
"Carla was quiet," Smith said, "but when she was assigned a job to do, stand back! Lists appeared, assignments were made, and women turned out to get stuff done. Her accomplishments challenged and inspired the best of us."
Timpone is credited as the founding mother of the Fairbanks Women's Shelter, and served on the Network on Domestic Violence and Sexual Assault, the Committee for Equality, as a delegate to the first Women's National Convention, as a participant in the first National Conference on Domestic Violence, legislative chair of the Commission on the Status of Women, and a member of the AWARE board. She also worked with the Girl Scouts, ond was active in numerous political campaigns.
Carla summed up her own activism this way: "The ability to affect political change is the true measure of the tremendous impact of the feminist movement. Being involved in that process, serving on the commission, working with the Domestic Violence Network, and grassroots organizing, has been an extraordinary personal experience. Activism is its own reward."
"Although we lost Carla to ovarian cancer 18 years ago," said Smith, "her legacy assures that she will forever be a part of Alaska.."
---